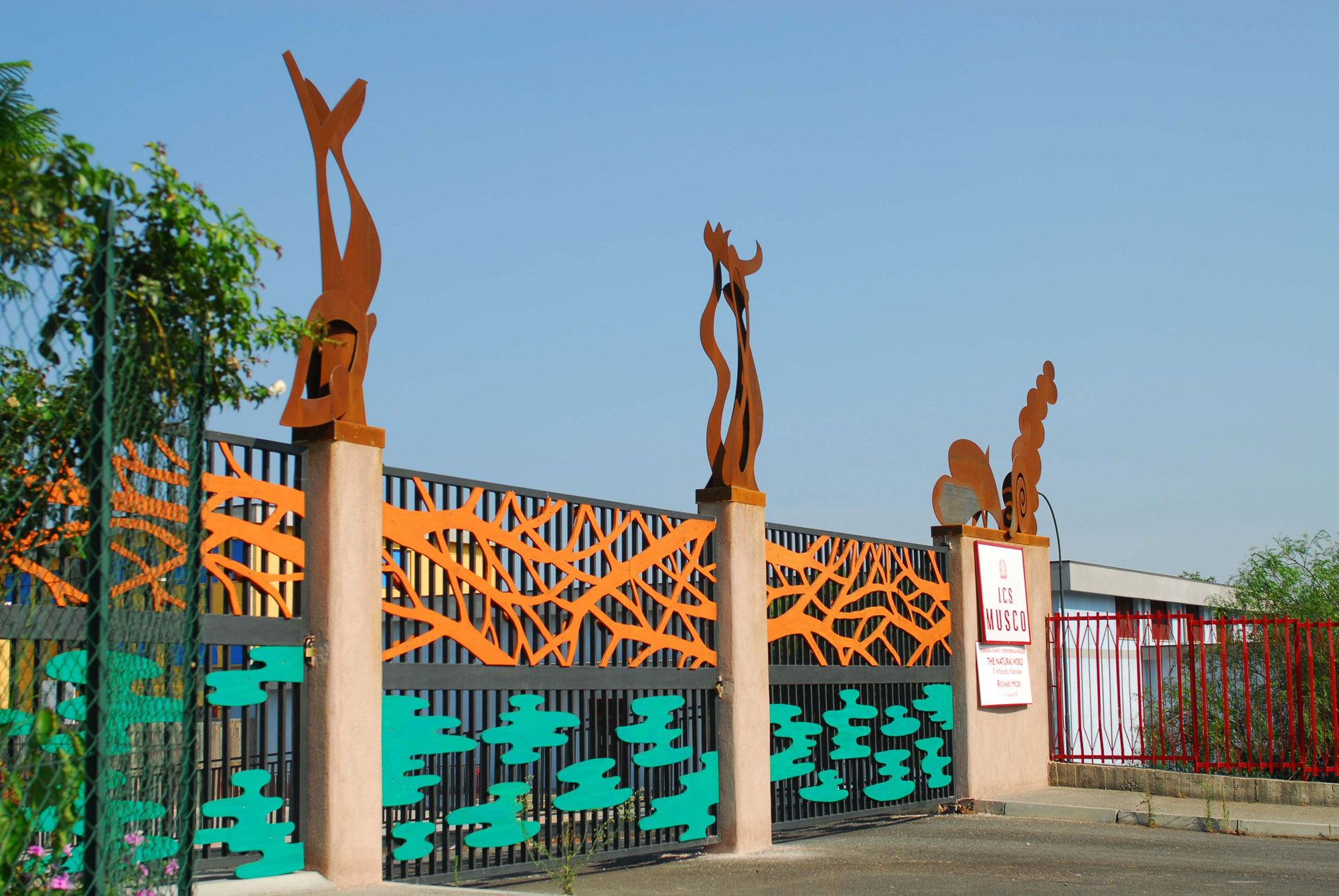 "The Natural World" | Corten Steel, Polychrome Marine Plywood | 49 x 25 x 24 inches | 2007
01 Sep

Illuminations: Ones to Watch
---
Richard Helzer's basswood sculptures, dense with symbolism and organic references, pull the viewer into a surreal experience. His sculptures, painted with pigments similar to metal patinas, incorporate a poignant and simultaneous induction of both enchantment and fear. His pieces, narratives of our times, comment on man and nature — the infinite in the face of the finite.
In an interesting avenue of investigation, Helzer revisits the idea of the altar — an elevated place of magnitude as well as the sacred — questioning not only the objects placed there, but the purpose for exalting those objects. Sitting in a room, surrounded by his vivid sculptures induces a silent conversation. His sculptural dialogues speak — at times they scream, other times they whisper.
Director of the School of Art at Montana State University in Bozeman, Richard Helzer is represented by the Gallatin River Gallery, in Big Sky, Montana, and has had his work selected for commissions by the Angelo Musco School, in Catania, Italy, as well as Rocky Mountain College, in Billings, Montana. His sculpture has shown in exhibitions across the country as well as in Europe, most recently at the Ucross Foundation, Ucross, Wyoming; Charta Anima Manet, Bevagna, Italy; and Sculptural Concerns, University of Kansas, Lawrence, Kansas. Helzer has also had many solo exhibitions over the last 35 years, including the Walsh Gallery, Washington, D.C.; the Extra Moenia Gallery, Todi, Italy; and Paris Gibson Square Museum of Art, Great Falls, Montana.
His artwork is in 25 permanent collections, including those of Bill and Melinda Gates; Paris Gibson Square Museum of Art, Great Falls, Montana; Geoffrey Gamble, President Montana State University; Nanjing College of Art, Nanjing, China; Singer Corporation; C.M. Russell Museum, Great Falls, Montana; Rocky Mountain College, Billings, Montana; and Angelo Musco School, Catania, Italy.