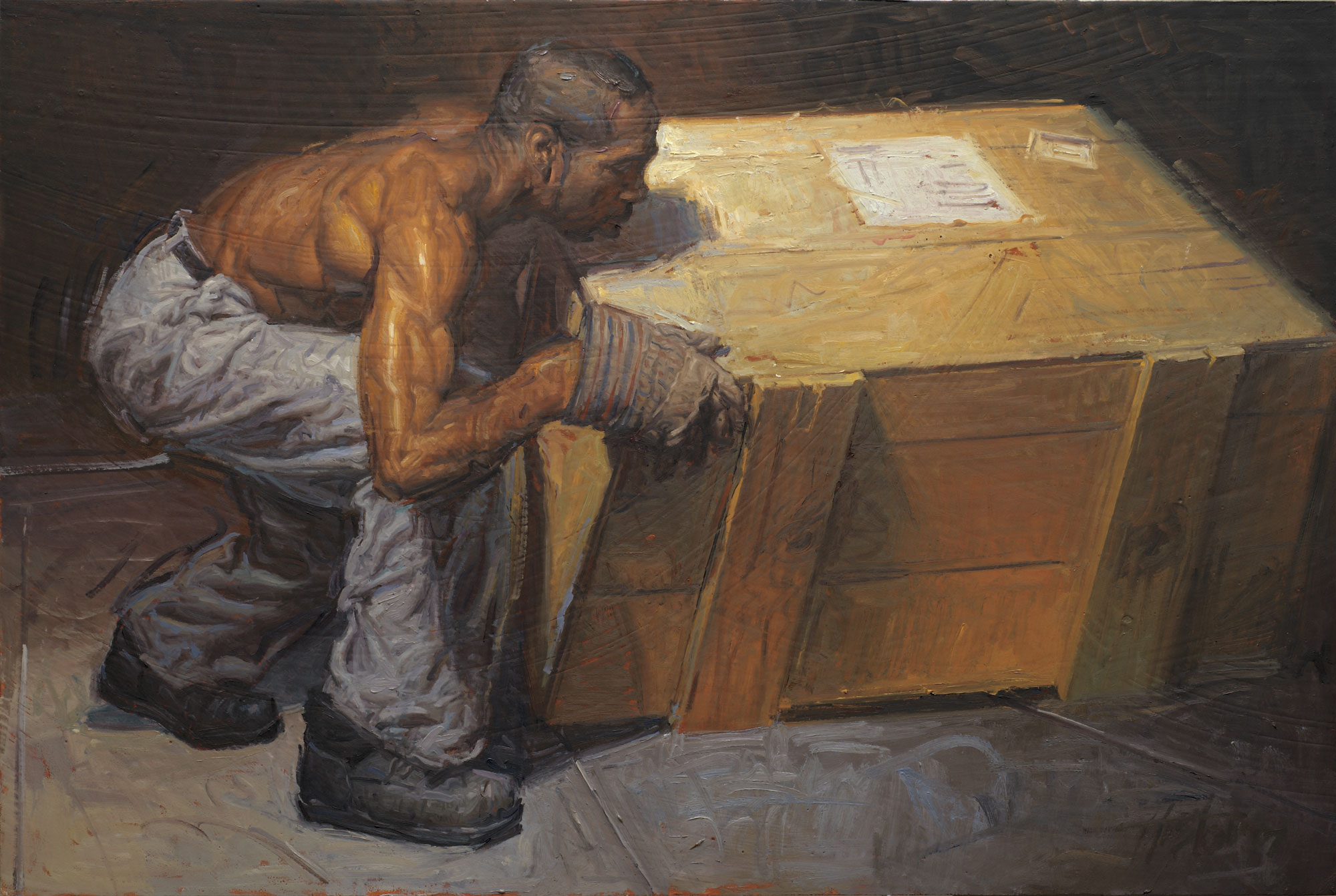 "Tip It" | Oil on Panel | 24 x 36 inches
30 May

Illuminations: Ones to Watch
---
Suggestive of Renaissance painters such as Caravaggio, Steve Huston's work concentrates on the male figure and the role of workers in our contemporary culture. Referencing metaphors to modern-day heroes — raising the boxer to the status of a saint, the construction worker to that of an apostle — Huston reframes parables in a contemporary setting. His exquisite variants of light and dark take on a spiritual but present-day meaning, and by building on our preconceptions of the working man, Huston reflects on the religious aspects of gritty, everyday life.
In an eight-foot portrait of a brutal and stunning boxer cloaked in his silken fighting robe, hood up, red gloves on, the light glancing off him is so ethereal as to be divine, especially as it is juxtaposed against an almost pure void. This darkened background obscures place or implication and, without context, exemplifies a more mystic relevance. Huston's coarse, raw depiction of modern-day martyrs is a fresh voice in the dissonance of a cluttered world.
Huston's work appears in the collections of Anthony Broy and was featured in part of his collection at The Bob Rauschenberg Gallery at Edison College, Fort Myers, Florida. His work is also included in the collections of the Seven Bridges Foundation, Silas Rhodes, founder of School of Visual Arts, and in the home of magician David Blaine.
Steve Huston has exhibited one-man shows annually at the Eleanor Ettinger Gallery, New York; Sullivan Goss: An American Gallery, Santa Barbara; and Diane Nelson Fine Arts, Laguna Beach. He has also shown in the Summer Show, Albemarle, London; Corpus Maximus Group Show, Yarger/Strauss Contemporary, Beverly Hills; and at the Pasadena Museum of Contemporary Art, California Art Club, 93rd Annual Exhibition, as the Gold Medal winner.