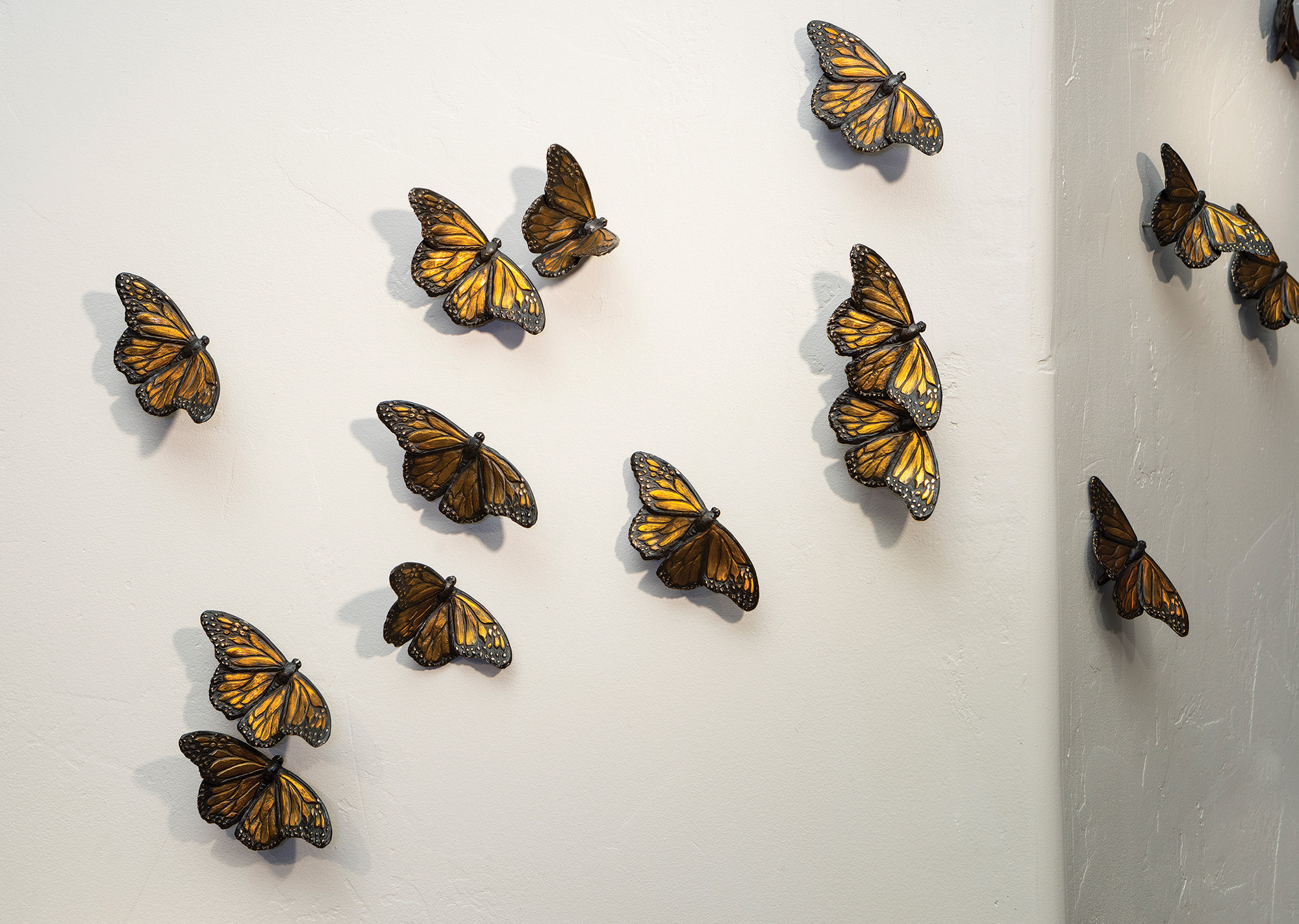 "Monarch Butterflies" | Bronze | 2.5 x 4 inches each | 2016
19 Jul

Illuminations: Ones to watch
---
Sculptor Bryce Pettit went to school for biology and ecology but knew that as soon as he graduated, he needed to sculpt. His background in science and passion for art made for a perfect match.
"My art philosophy is: you put good things into your life, good things into all you do, and good things will come out," he says. "So I spend a lot of time outside, reading, doing things I love, and it comes out in my art. Sometimes the piece refers to a story or an experience I've had while on the river or hiking. I'll have 20 ideas and maybe only get to two of those. These are the ones I totally can't leave alone."
Pettit goes straight to the clay with his ideas. Trying woodcarving, he felt limited by the medium, "but when you're sculpting clay, whatever you can dream up you can do. You can move things around, add or subtract from the composition, right up to the very end," he says.
He'll sculpt two or three versions of something and then pare it down to a single piece. Once the piece is finished to his satisfaction in clay, Pettit takes it to the foundry where it's transformed into bronze.
When he first started sculpting in bronze, he was involved in every step of the process, everything from the molds to the patinas. "As I've become busier, I've gotten away from the production aspect," he says. "But the patinas are something I still like to play around with, and the little birds were the first time I realized I couldn't tell my story with the traditional brown bronze. In order to do it justice in bronze, I needed those colors."
Color works especially well in his smaller pieces of monarch butterflies, hummingbirds, red cardinals and bunnies — the trueness of color that Pettit teases from the metal is astonishing. "I wanted to show the colors to fully express the songbird," he says.
Pettit has known patina artist Nathan Bennett for more than 20 years. "We can sit down and talk about what I'm looking for as far as color, and he can develop whole new techniques to express what I need to do with the piece," he says. "He knows all the chemistry and understands the process."
For the birds, Pettit does a high polish then lays a transparent coat of color over the top, bringing out the best of the color as well as the bronze itself.
"If I do a butterfly with a traditional patina, it looks like a dead butterfly, and a butterfly is pretty," he says. "That's what I want, a pretty butterfly."
Another aspect of his work is his ability to incorporate narrative. For example, he was out birdwatching and came across a cotillion of terns on migration. The terns migrate from the South Pole to the North Pole every year.
"I was thinking about my kids and how important they are. … You know, 'to the ends of the earth,'" he says. "And so I felt that a sculpture of these terns would be a beautiful piece to do as a tribute to my kids. These terns really do go to the ends of the earth."
Pettit also often includes a single tern wing in the base of his sculptures, to remind himself of the importance of family.
His repertoire includes large-scale public commissions, such as the 12-foot pelican that will be installed as a centerpiece in a pedestrian park along the banks of the Arkansas River. The installation will highlight birds of the area and include other artists. He was also commissioned by an Oklahoma airport to create a 16-foot sculpture of two swirling scissor-tailed flycatchers, the state bird.
Pettit's work is represented by Mountain Trails Gallery in Jackson Hole, Wyoming, Park City, Utah, and Sedona, Arizona; Blue Rain Gallery in Santa Fe, New Mexico; and Sue Bickerdyke in Carefree, Arizona.