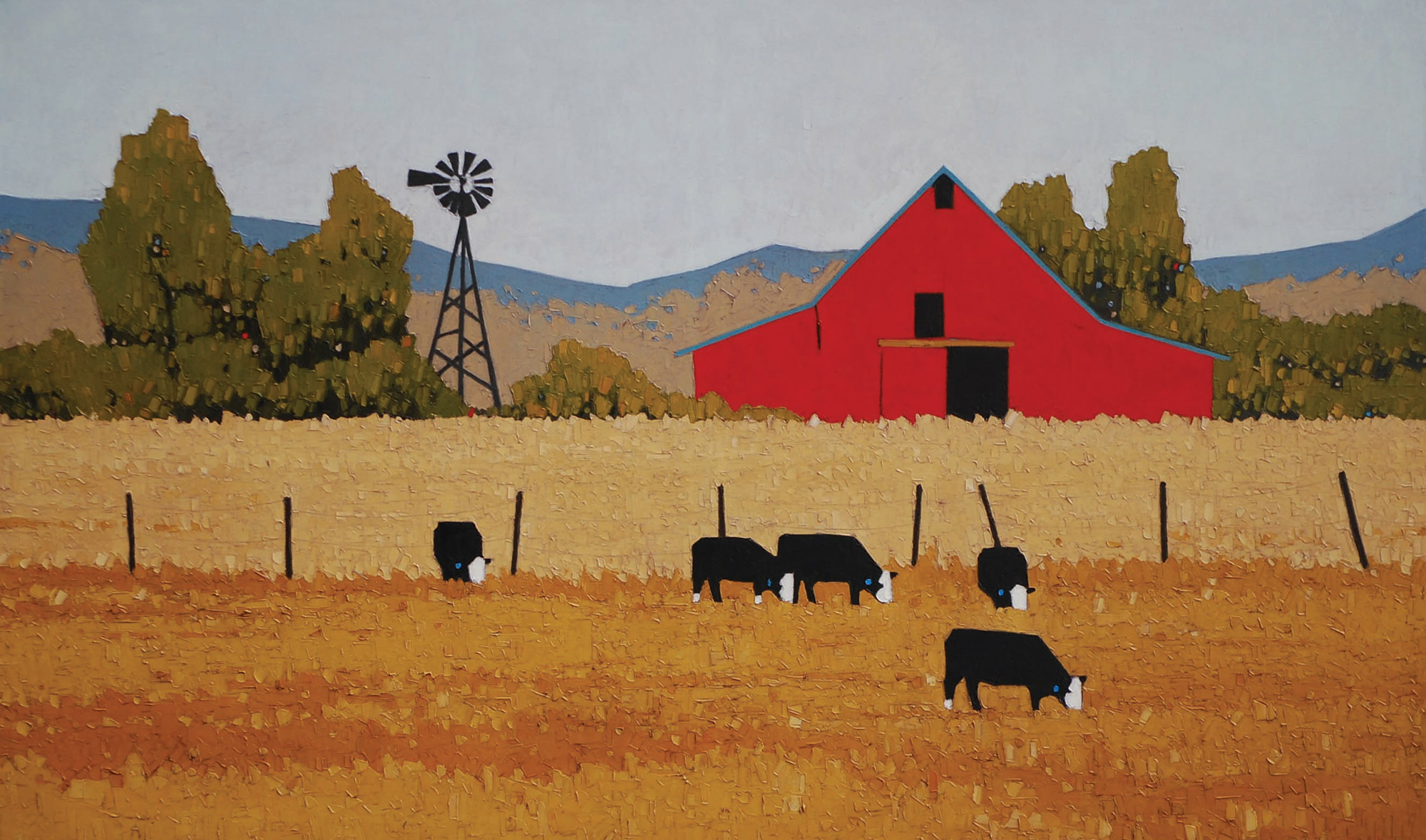 "Homestead" | Oil | 36 x 60 inches
18 May

Ones to Watch: Jeff Pugh
---
Oil painter Jeff Pugh plays with perception by using a palette knife instead of a paintbrush. He creates a unified image that coalesces and dissembles depending on the viewer's distance from the work. Step back, and the flat planes and clean edges assemble into the pastoral; come close, and color as well as texture takes precedence over the eye.
"I was always unhappy with my own mark-making," Pugh says. "I could just not get the right brushwork, and my work became more about the surface. I didn't realize when I started, but I'm so graphic-oriented that I started to feel like my paintings were old posters, [similar to] the promotional posters for the forests and parks."
He found the gradation he wanted came easier with his knife than with a brush. It was then he began to explore the notion of pixilation, the way a digital image might fall apart upon closer inspection. Everything became more about broken color.
"I feel I'm working a 21st-century version of the 19th-century Impressionists," Pugh says. "Van Gogh is so overused, but his directional mark-making has a heavy influence on what I do."
When approaching the work, it's hard to know that Pugh is not using a paintbrush until standing directly in front of it. It's part of the work's allure — standing on shifting sand while preconceptions slip away. It draws the viewer into the experience of the painting, and in the end keeps the viewer coming back.
"Initially, I wasn't that interested in the subject matter," Pugh says. "I was more interested in the textures. As I've painted and developed, the subject matter has become much more important and symbolic. What's happening in my life is expressed in my work. A number of my new pieces have barns and groups of cows; for me that was a symbol of hunkering down with my family and making sure we're all together."
Pugh will concentrate on different subjects as metaphors for what's happening in his life. For example, if there's a storm in his life, he'll do a series of cloud paintings. If he's struggling, he'll do a number of winter paintings.
"When I first decided to paint full time, my wife and I had gone to a funeral," Pugh says. "As we were coming back, driving through a blizzard, I took a lot of photos. It was so beautiful. At the time we had one child. It was 2008, the market crashed, and I did a painting of two cows in the middle of a blizzard. I still have it, to remind myself how difficult it was to get to where I am today and that there will always be storms like that."
Eight years and two kids later, Pugh says the challenges are still there. "They're just a little different because the importance of what I do has changed. It's evolved. I feel much more responsible and you can see it in my paintings. Before I felt carefree; now I take what I do very seriously, because it's our livelihood."
Pugh's work is privately and publicly collected, including the Utah State Capitol Building, the Springville Museum of Art in Utah and the University of Utah. He is represented by Mountain Trails in Jackson, Wyoming; the Meyer Gallery in Park City, Utah; David Ericson Fine Art in Salt Lake City, Utah; Authentique Gallery in St. George, Utah; and FourSquare Art in Mesa, Arizona.