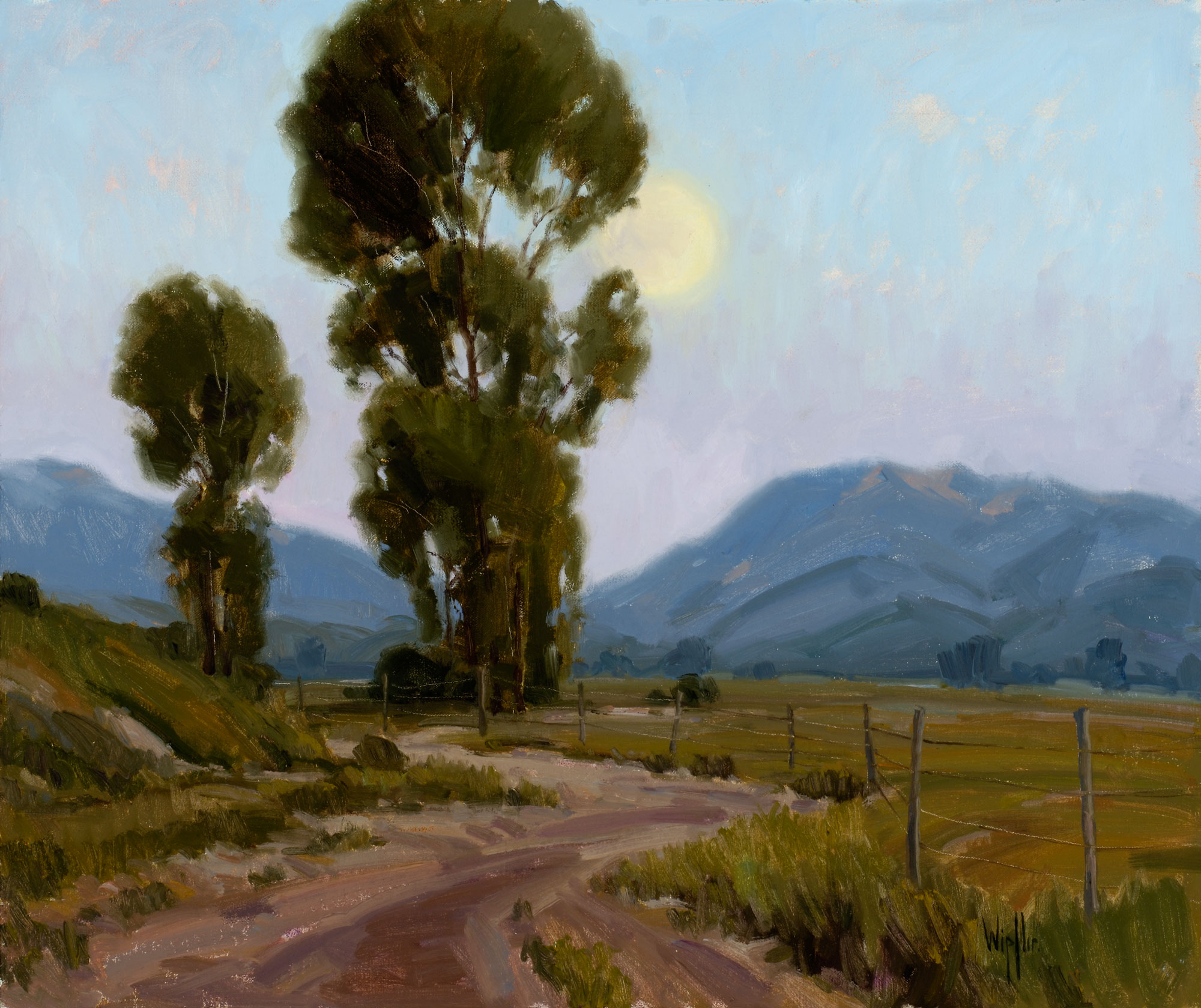 "June Moon" | Oil | 20 x 24 inches
30 May

Illuminations: Ones to Watch
---
Kathy Wipfler began as a plein-air artist, and that initial emotional pull of the paint to echo the land still resonates in her work. Living just outside of Jackson Hole, Wyoming, gives Wipfler ample opportunity to observe and reflect on the landscapes she portrays. Her brushwork reveals a heightened sense of awareness in regard to color and texture, as well as the interaction between nature and man. Most notable is her knowledge of how light strikes a snowy grove of aspen or the barely sunlit morning on a sheepherders' wagon. Her thorough absorption of the tiniest detail, while it may not appear in the finished painting, is clearly part of her investigation.
Last year, one of her paintings was selected as a permanent part of the Whitney Collection at the Buffalo Bill Historical Center. Her paintings are in the Kriendler Gallery, Buffalo Bill Historical Center, Cody, Wyoming; in the collection of Senator and Mrs. Alan Simpson; Governor and Mrs. Mike Sullivan; Governor and Mrs. Jim Geringer, as well as in 22 more Western states' Governors' collections and those of three Canadian premiers.
Wipfler's work has also been featured at the Maynard Dixon Show, Mt. Carmel, Utah; Buffalo Bill Art Show, Buffalo Bill Historical Center, Cody, Wyoming; Western Visions Show, National Museum of Wildlife Art, Jackson, Wyoming; Northwest Rendezvous Show, Helena, Montana; Plein Air Painters of America, Catalina Island, and Tahoe; and the Coors Western Art Show, Denver, Colorado. Her work is represented at the Simpson Gallagher Gallery, in Cody, and Trailside Galleries, Jackson Hole, Wyoming.