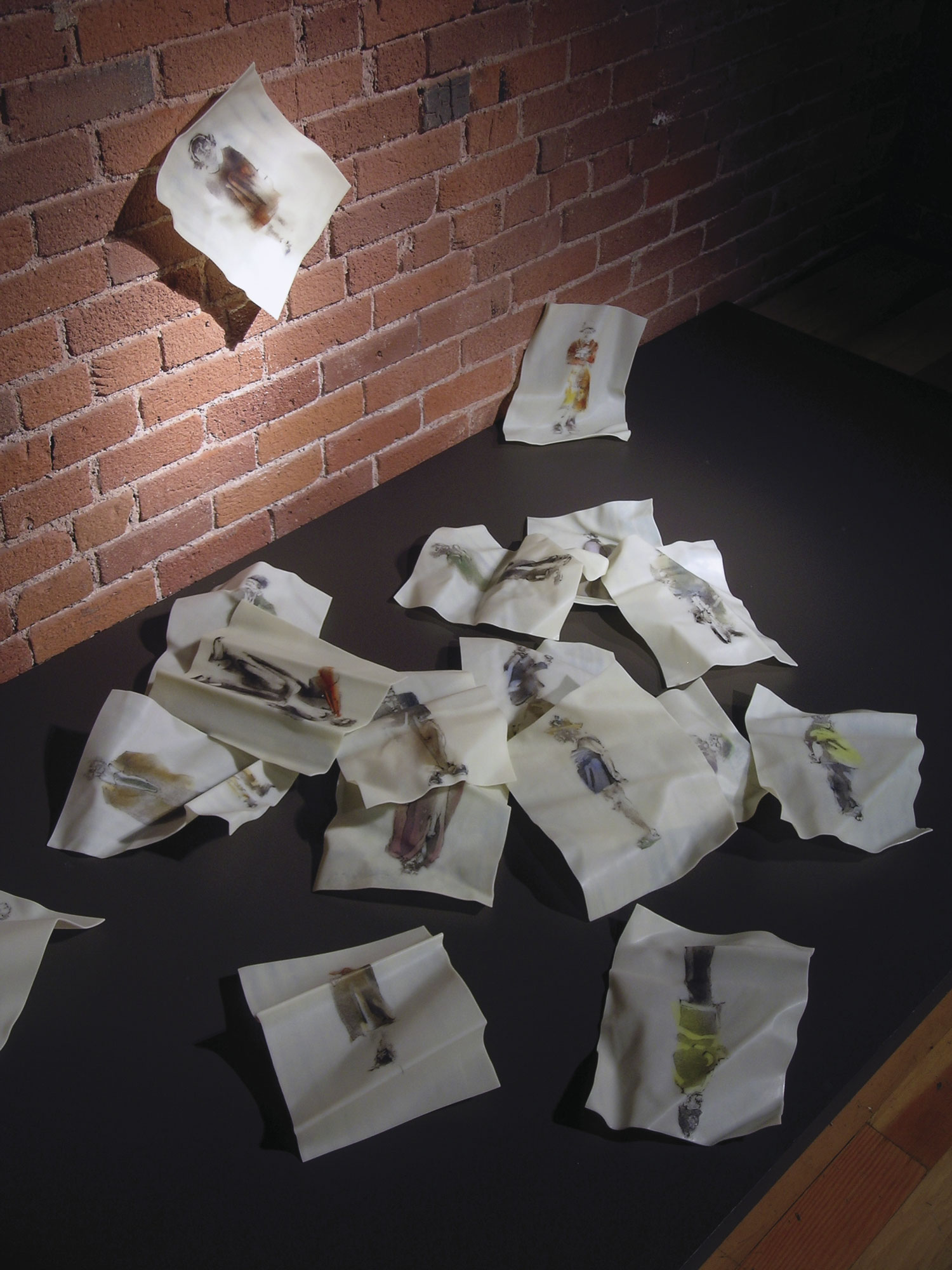 "Alone Together VII (detail)" | Kiln-formed glass | 11 x 8.875 x 3.25 inches | 2006
24 Jul

Illuminations: Ones to Watch
---
Sheeted papery panes of off-white glass, stacked and crumpled, as if found, smoothed and saved — each one depicting a figurative image, a sketch, an instant caught and nearly forgotten — glass artist Catharine Newell incorporates the fragile nature of her medium in her work. Newell's frit-drawn paintings melded onto glass bring to mind a sense of community, a collection of characters drawn to a single place, during a single moment in time. She then assembles the individual pieces to look like a windstorm has plastered the "papers" up against a wall and swept them into an impromptu pile.
The technique of kiln-formed powdered glass mixes the immediacy of watercolors and the idea of charcoal sketch. It is the absence of color, just at the point where the images emerge, that creates the tension so compelling in her work.
Catharine Newell has had solo exhibitions at the Davis and Cline Gallery in Ashland, Oregon; The Bullseye Gallery in Portland, Oregon; the Pacini Lubel Gallery in Seattle, Washington; the Foster/White Gallery in Kirkland and Seattle, Washington. She has also taught at Creative Glass in Zurich, Switzerland, and in London, England; at the Corning Studio in Corning, New York; at UrbanGlass in Brooklyn, New York. Newell has lectured at length around the world including Tsinghua University, Beijing, China; Xi'an Fine Arts Academy, Xi'an, China; Taipei National University of the Arts and Art University of Taiwan, Taipei, Taiwan; Edith Cowan University, Perth, Australia; Sydney College of the Arts, Sydney, Australia; and at the Bullseye Glass Company in Portland, Oregon.
Her work has appeared in many national and international group shows including Shattering Glass: New Perspective, Katonah Museum of Art, Katonah, New York; Contemporary Kiln-Glass: Another Language, University of Miami, College of Arts and Sciences Gallery, Coral Gables, Florida; SOFA/Chicago, 50th Anniversary Exhibition; Academy of Arts & Design, Tsinghua University, Beijing, China.