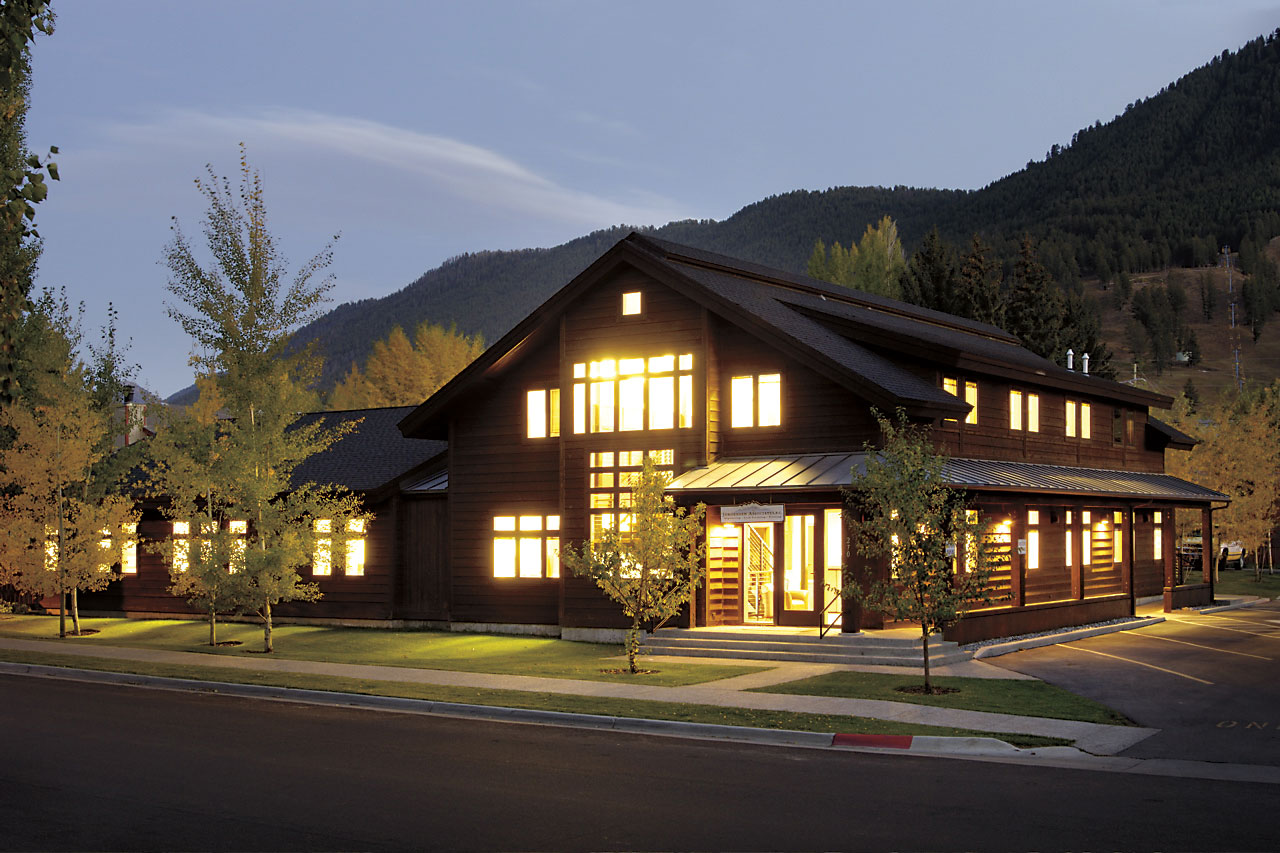 Jorgensen used common and comfortable materials and forms to help this office building blend into a downtown Jackson residential-scaled neighborhood.
24 Jul

Illuminations: Ones to Watch
---
Architects frequently talk about making the most of a building's setting. Of blending a building into its environment. Even of using a building to improve its surroundings. Arne Jorgensen and the Jackson Hole firm he's been with since the late 1980s, Hawtin-Jorgensen, does all this … but defines "setting," "surroundings" and "environment" broader than most. At Hawtin-Jorgensen all of these include community.
"A friend once shared an amazing viewpoint with me," says Jorgensen, who was born and raised in Jackson. "Property values are as affected by the community the property is in as by the area's physical attributes. It's an idea we totally agree with and keep in mind in all our projects. We think of people first and buildings second."
You'll never find a Hawtin-Jorgensen home hiding behind a foreboding locked gate. You will often find large front porches. Their sizable custom homes are as green as possible. Commercial buildings are pedestrian friendly and present an inviting public face.
As a founding member of the Jackson Hole Community Housing Trust, a non-profit dedicated to advocating and building affordable homes, Jorgensen has been able to influence Jackson's community more than one building at a time. He has helped in excess of 100 individuals and families, who would otherwise not have been able to do so, buy a home in Jackson Hole. "While affordable homeownership is an economic issue, I feel it is even more of a community issue," he says. "A community needs diversity and with a median home price of $1.25 million like we have in Jackson now, there can't be economic diversity." Recently retired as an active board member, Jorgensen is now free to once again plan and design affordable housing projects himself (doing such while an active member of the board would have been a conflict of interest). And he has wasted no time. Currently, Hawtin-Jorgensen is at work on three affordable housing projects in Jackson. Jorgensen can't yet give details, but our bet is that they'll have really nice front porches.
The open main level, with the balcony above, in this private residence provides common spaces that, together, increase the sense of space in what is a relatively modest-sized home.

Interior architectural features can help bring two parts of a space together, as the painted metal framed stairs and rails do in this Jackson office building.