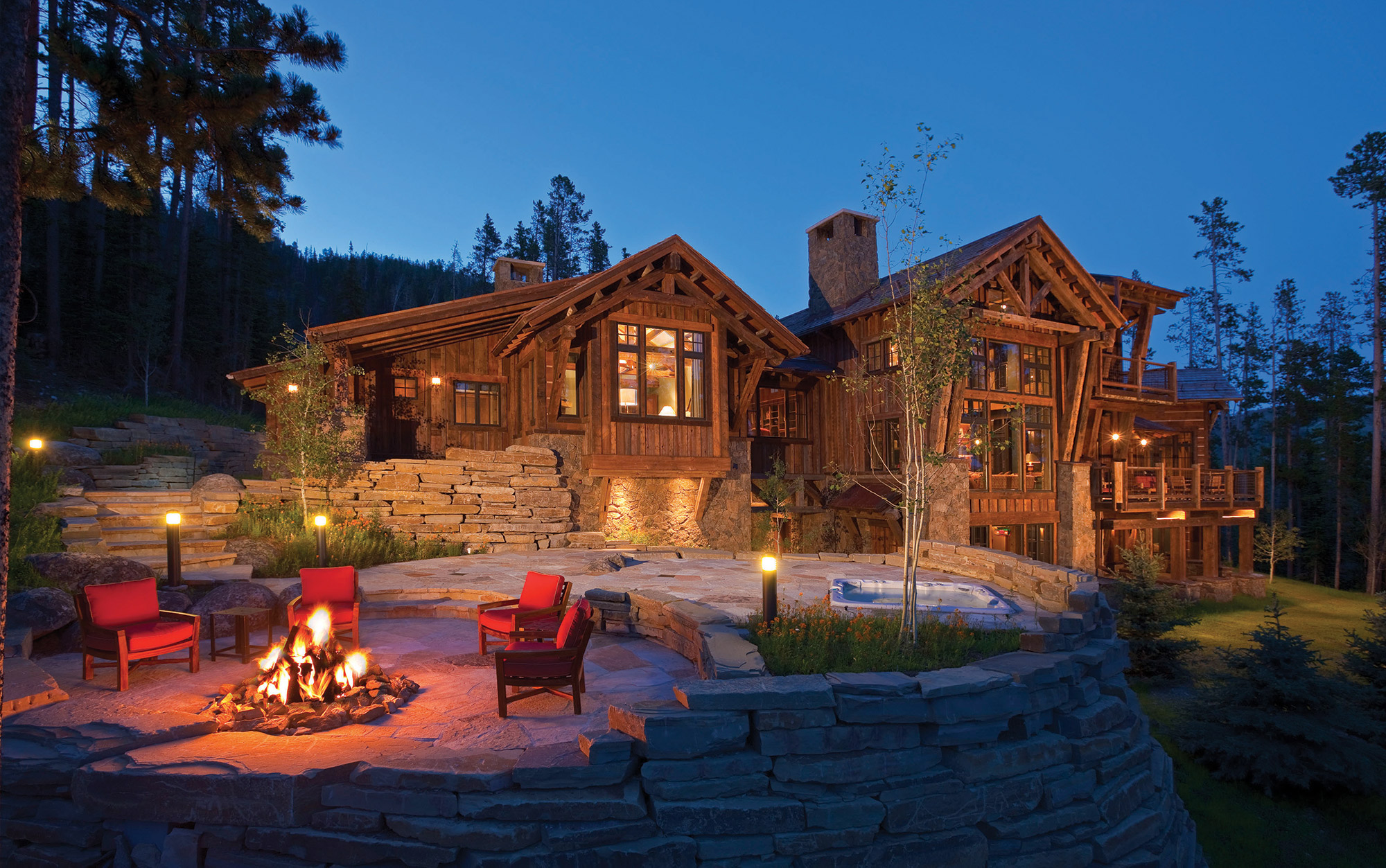 This home in Montana's Yellowstone Club features a stone wall, patio and fire pit. The native plants surrounding the home tie the building to the landscape. Photos: Cabel Noteboom
18 May

Ones to Watch: Stacy Robinson
---
One defining difference between a landscape architect and a structural architect is that a landscape architect needs to be trusted, says Stacey Robinson of Land Design, Inc. in Billings, Montana. The principal in the firm points out that a landscape plan is basically circles on paper, whereas a house plan is a bit clearer to the client.
"The day you walk in the door, a finished building is what it is," Robinson says. "With landscapes it takes years to get to that point, and that's a very difficult and educational process you have to go through with a client. The landscape takes time to mature into the vision we had and to adapt to the natural surroundings."
For example, Robinson says he had a client who wanted a specfic type of aspen tree at the building site. But those aspens were bent and gnarled after dozens of harsh winters. "You can't find those kinds of trees anywhere," he says. "We were going to lose a lot of the aspens we planted to the elements and wildlife — but the ones that survive will end up looking like the older aspens [the client wanted]."
And things like that take time.
"We're trying to create something that takes hundreds of years to grow, in a single season," Robinson says. "The challenge in the high mountain climates — besides having a short growing season — is that we have to forecast how the landscape will look and allow some level of completeness that looks good when we walk off the job."
Philosophically, Robinson sees his work as trying to put sites back together after construction, which can be invasive to the land. "We often see projects where there's been cutting into slopes which disturbs the native vegetation. So the question is, how can we accommodate homes in the landscape after that? How can we make it sustainable? How can we make it grow?"
Mountain landscapes need more site rehabilitation. For Robinson, it's a balance. "We're trying to tie a site back naturally to what it was, but we're also trying to enhance the outdoor living," he says, using the example of a water feature that isn't necessarily natural to the landscape, but will enhance the setting and draw people outside.
Robinson approaches landscape design in two ways: reclaim the site and create landscaping that is architectural. "When you make a statement with an outdoor kitchen space, patio or a water feature, let it be what it is," he says. "I dislike faux anything. If you want stone, use stone. If you want concrete, use concrete. The selection of the materials is important and we need to let them be what they are."
To assure the best quality of materials, Land Design, Inc. stopped outsourcing, and Robinson expanded the company to include nurseries and stone quarries. "We're not purists," he says. "We're not out gathering seeds and trying to recreate the environment. We're bringing in naturalized plant material — plants that will do well in the environment but may not have been there before."
One of the company's first jobs was on a ranch in Ennis, Montana. They planted a significant aspen grove and at night an elk herd trampled it to the ground. "The biggest thing we learned from that was when we talk to a client we don't oversell the project," Robinson says. "There are things that are out of our control. It's always a challenge and that's what makes it fun."