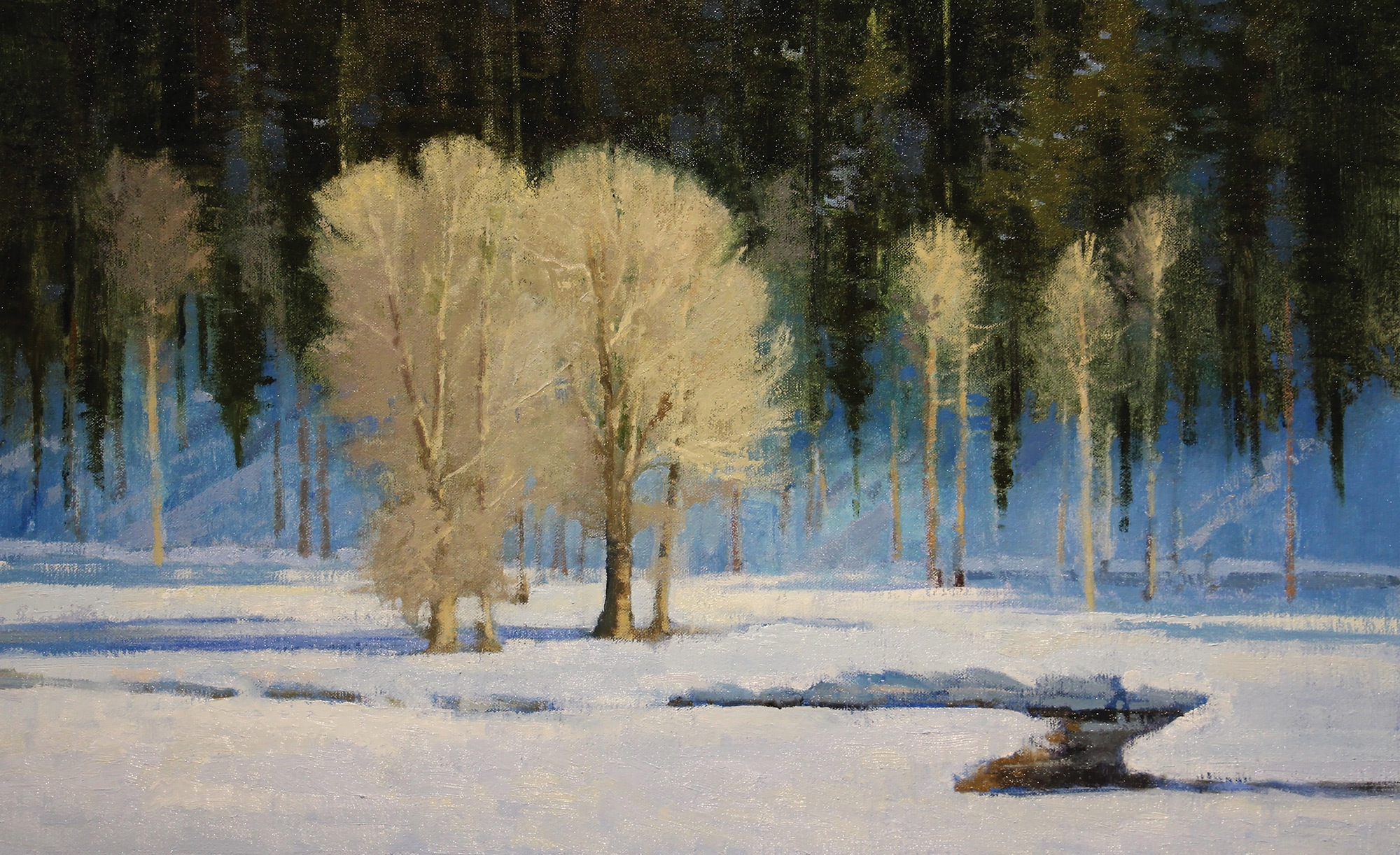 "Glistening" | Oil on Linen | 15 x 24 inches
15 Sep

Illuminations: Ones to watch
---
Landscape painters carry with them the history of place as well as their own connection to the land. Although artist Shanna Kunz studied figure painting, it is the landscape that calls to her again and again. It is her legacy to explore a specific tree, valley and oxbow stream and find her own voice, her own story.
"I started in watercolors before I ever picked up oils," Kunz says. This explains why her painting process begins with applying thin layers of washes which are lifted out to organize the composition. After that, she delves into value patterns, simplifying her statement. "Then I finish up with lots of glazes to temper and soften my edges and values, as well as give it atmosphere."
Using both her plein air field studies and her own photography, Kunz allows each piece to express itself through her palette knife and brushwork. Although she works from images, she prefers to use thumbnail photographs so she is not tempted by what she sees; instead, she aims to paint what she feels — to allow a genuineness of a location to shine through, as though heard through the landscape.
"I want each piece to have its own voice — an authentic voice is the most important thing an artist can do," she says. "The less I work from the photo references and the plein air study, the more I feel like the painting has the chance to evolve as its own piece."
Once she gets the basic composition down, she allows the painting to tell her what it needs, which allows her work to veer toward a more contemporary and evocative style, without being weighed down in details. Exploring an object or a place through a series allows Kunz to reimagine a scene in different values — dark or light colors, or even with a tonal palette. She also looks for ways to increase the texture of a piece, using her palette knife to draw into the paint.
"I love taking my palette knife and making a line," she says. "I love to draw and it abstracts it down to the most essential elements. I'm looking for new ways to express spatial relationships and distance with layers of paint, brushwork, gradations and diffusions of light. As I push color and values, I'm trying to reach an emotional connection with the land around me."
For Kunz, her research into paint and landscape is leading her into abstraction. But she's not quite there yet. As her work leaves more detail for the viewer to fill in, Kunz's paintings seem to open up to the quiet of being in the forest or in the mountains. Instead of depicting the morning light and moving water, she relates the absence of noise, concentrating on the natural solitude.
"Eventually, I'll be a non-objective painter," she says. "Eventually, they'll be more like color fields. It's harder than you think, but that's where I see myself going — using less detail instead of more. It's a process and it has to happen organically. If it doesn't happen organically, it's not authentic. And right now, I still love those trees."
Kunz will be showing her work at the Zion National Park Plein Air Invitational, November 6 through 12. Her work is represented by the Kneeland Gallery in Sun Valley, Idaho; Mountain Trails Gallery in Jackson Hole, Wyoming; A. Banks Gallery in Bozeman, Montana; Dick Idol Gallery in Whitefish, Montana; Mockingbird Gallery in Bend, Oregon; The Mission Gallery in St. George, Utah; The Legacy Gallery in Scottsdale, Arizona; and Bella Muse Gallery in Ogden, Utah.