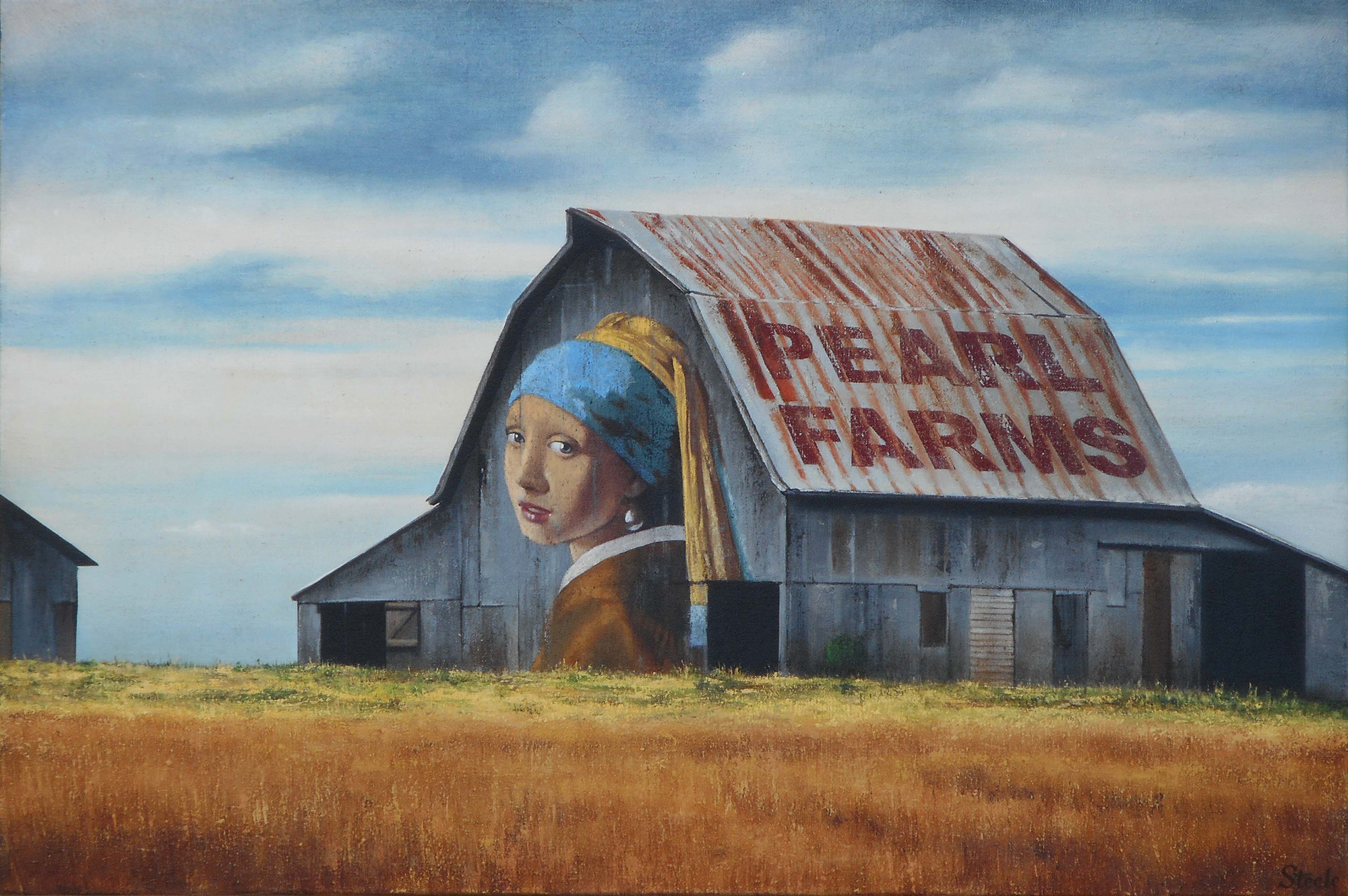 "Pearl Farms" | Oil on Canvas | 24 x 36 inches
15 Sep

Illuminations: Ones to watch
---
Ben Steele's paintings combine cultural commentary with art history for a surrealistic perspective on life in the 21st century. By combining classic techniques and modernistic concepts, Steele speaks to the art world as well the world we inhabit. Playing with space, his work is rich with dimensionality while still acknowledging the flatness of the surface. After graduating from art school, Steele came to Helper, Utah, as an apprentice to painter Dave Dornan. Dornan encouraged Steele to paint whatever caught his interest; and Steele started painting chrome objects and reflective surfaces. But everything changed the day he painted his first crayon. And then, he thought to paint a page from a coloring book. "But I wanted [an interesting page] and I always liked art history, so I did the Mona Lisa," he says. "And it kind of took off."
The next thing he painted was Seurat's Coloring and Dot Book. After that, he realized his options were endless. And ironic. There was Munch's Scream Motel and Post Modern Crispies with Picasso's figures from his famous painting Les Demoiselles d'Avignon behaving like Snap, Crackle and Pop around a bowl of cereal.
Not long after his arrival in Helper, Steele got into a group show of emerging artists. He took some chrome paintings and some crayon paintings. Not all of the crayon paint-ings sold — only the ones with the art history bent. "I was excited by that," he says. "From that point on, the crayon thing really took off and then it began to snowball. I enjoy using the flattened out backgrounds of the inspiration artist and playing with the dimensions."
Steele paints in oil on canvas and usually begins on small index cards where he sketches out his ideas. After that, the work is completed in his mind, using whatever source materials he finds in books or online.
"I love Google images, I spend a lot of time on there," he says. "I draw it in with a pencil then switch to oil paint." Steele also uses a technique called "scumble," where he paints a thin layer over the image to soften its edges. "The canvas allows me to have the right texture to drag and scumble and use the surface to pull off small things."
Playing with the idea of blending concept and theory, in order to see the world in a new way, keeps Steele interested in the work he's doing. "I feel like I need to have at least three paintings that are pushing the edge at all times, but I want to bring the audience along, so I don't want to jump into something completely new," he says. "As an artist I'm evolving, but at the same time I need to pay the bills. I actually really like that.I love the deadlines and the pressure to produce. It's a balance and that adds to the challenge of my art, which makes it more fun."
His work is represented by the Arden Gallery in Boston, Massachusetts; Gallery 19 in Chicago, Illinois; Modern West Fine Art Gallery in Salt Lake City, Utah; Giacobbe Fritz Fine Art in Santa Fe, New Mexico; Trove Gallery in Park City, Utah; and Coda Gallery in Palm Desert, California, where he will have a show from November 25 through December 29.