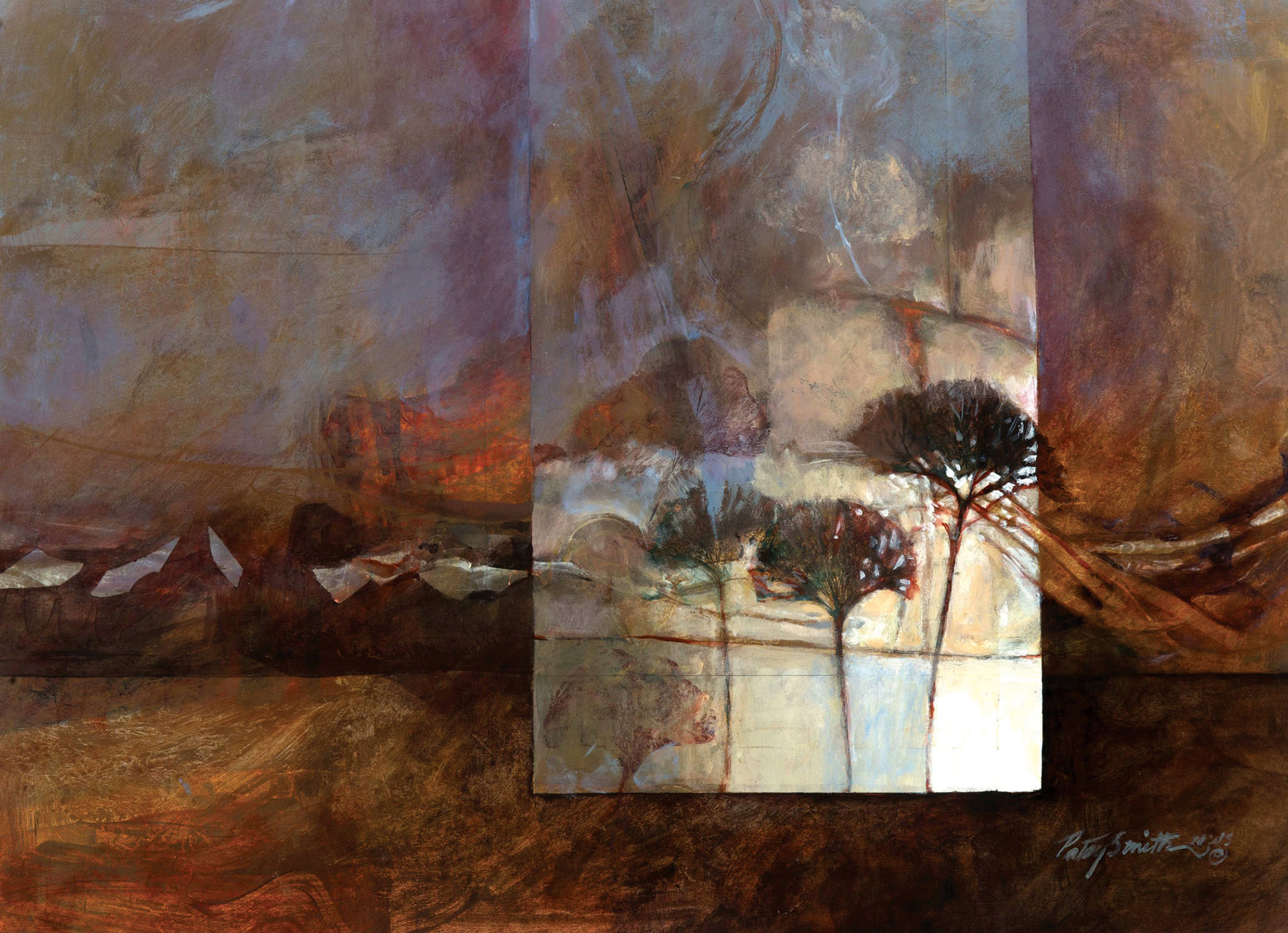 "Breeze on the Plains" | Watermedia | 30 x 38 inches
15 Sep

Illuminations: Ones to watch
---
Patsy Smith's abstract watercolors define space and create texture while paying homage to what she calls "the message." This aspect of her work comes from her heart. Technically, she's constantly aware of what's going on in her composition, whether it's the areas of calm or the hard edges playing off the soft. In the end, it is her dedication to her art as a whole that allows her to be open to the astonishing awareness of ideas.
"I love texture, but against that you need the quiet flat spaces, too," she says. "My paintings express the wonderment of living, of looking at the sky." Smith lives on a lake in Nebraska, so that often shows up in her work, as do the fields expressing the rhythm of the wind.
For years, she painted realistically, but she felt she needed to stretch her style. She began to bend and push the edges of her subjects, becoming more and more abstract, "splashing paint and letting the colors merge," and she found her calling.
"In my mind the paintings have to be strong, to stand up," she says. "I paint with heavier colors. When I look at my surface, I see levels. If you see a dark area it goes down and when you
paint a light area on top it elevates it. I look at the work through the depth of the paint on the surface."
Starting a piece, she picks transparent colors, watching the surface to see how they interact, feeling her way around in the painting. Then she pushes or deepens areas as she elevates the lighter colors. "I'm watching the composition to find a part I want to concentrate on — it's usually the area of the best contrast, and the rest is like a symphony that has to support my most beautiful area."
Smith is a member of the National Watercolor Society of Oklahoma, Kentucky Watercolor Society, Kansas Watercolor Society and the Association of Nebraska Art Clubs. She's garnered numerous awards for her work including Best of Show in the Rocky Mountain Watermedia Exhibition; Investment Award and the Martin Weber Award at the National Watercolor Oklahoma; and Best in Watercolor in New York's Visual Artists United. Her murals can be seen at the University of Nebraska in North Platte, Nebraska; the regional airport Trego-Dugan Aviation in North Platte; and at the Mayor's Invitational in Kearney, Nebraska. Her paintings are in the permanent collection of the Museum of Nebraska Art. She is represented by The Burkholder Project in Lincoln, Nebraska.