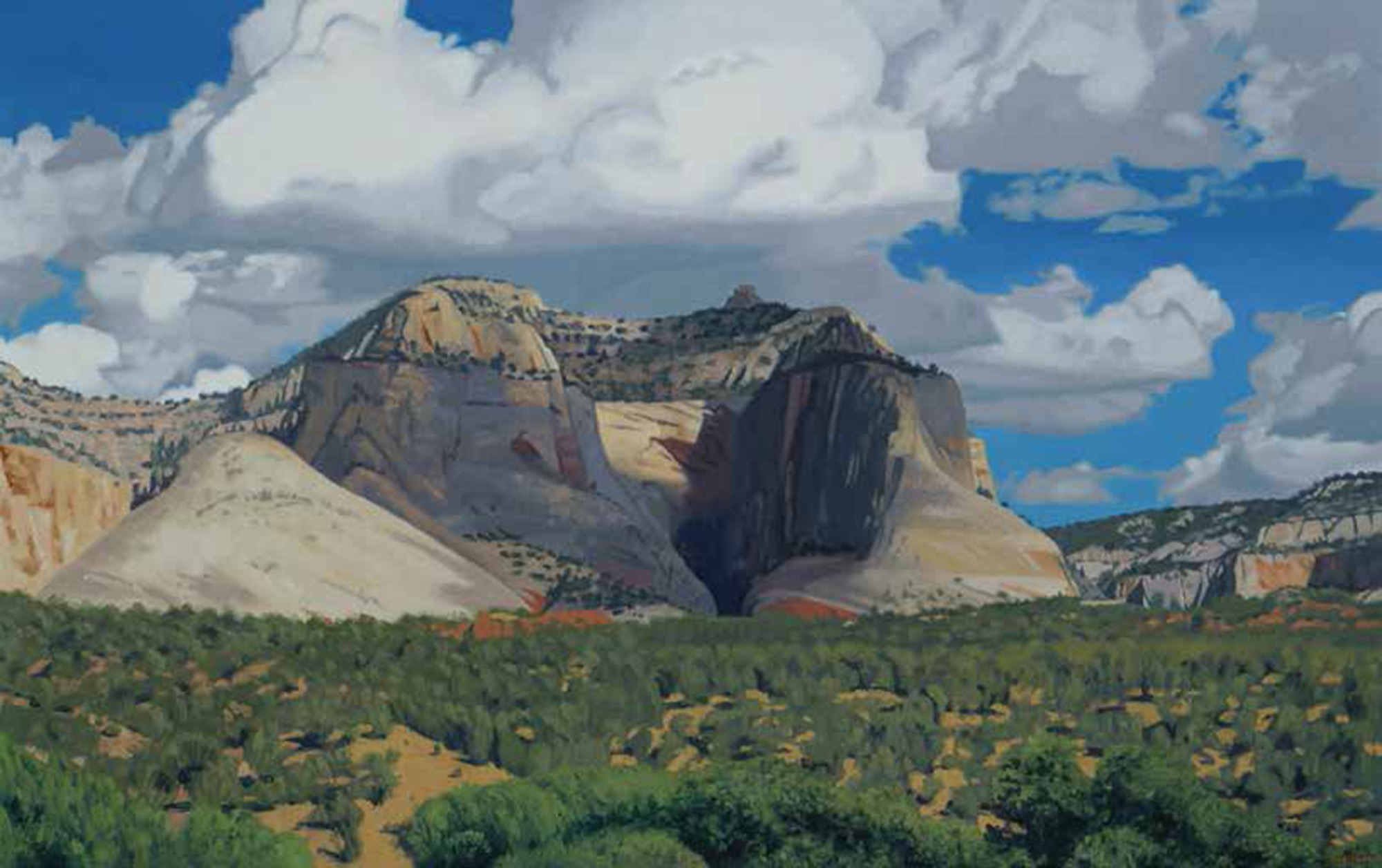 "Maynard's View" | Oil on Canvas | 30 x 48 inches
13 Sep

Illuminations: Ones to watch
---
Bruce Everett's landscapes are motivated by the unexpected things he sees in the world, where everything becomes a possible painting.
"For me, the physical act of finding, composing and painting the landscape has become more than a formal and sensual activity," he says. "To marvel at our presence in the world is the true subject."
Painting in California since 1968, he works both outdoors and in his studio. Outside, he can capture a moment, whereas in his studio he can transform that moment into something not quite so fleeting.
"When I have to make a choice between plein air or the studio, I think of my studio as my main body of work," he says. "I'd like the feeling of my plein air paintings to be a combination of a first glance and a memory, and my studio paintings to be a double take followed by a prolonged gaze."
Everett paints large so viewers feel as if they can enter his work. This is a signature of his paintings, which measure at least 6 feet in length.
His approach is studied, more considered, and he doesn't turn his field studies into larger paintings. Instead, the beauty of plein air painting — the quickness and pure intuition used in the field — is a point of departure for Everett. "Plein air is almost like a parallel universe for me," he says. "I don't have to spend a month on a painting. I can spend two hours. And when I come back to the studio and I look at that work, I try to continue the attitude. As a landscape painter, I'm motivated by my surroundings more than art-world strategies."
Raised near Chicago, Illinois, Everett spent a lot of time outside the city, where he says it was almost like a rainforest. When he started college in Nebraska, he thought he might become an illustrator, but after a couple of years, he realized it wasn't his passion.
Over the course of his career, he has painted in a number of styles. Everett had periods as an abstract painter during graduate school at the University of Iowa and while earning his master's degree in fine art at the University of California Santa Barbara. But by graduation, he was an up-and-coming photorealist, and he left abstraction behind. "When I worked as an abstract artist, I loved the brushwork ­— there were a lot of landscapes in those abstractions," he says. "But I'm a realist at heart."
He had been painting photorealist depictions of small objects in a large format, and each painting took three years to complete. It was time consuming; he knew he needed to change direction.
This happened when he went on a trip to Sequoia National Park and painted an 8-by-12-foot close-up of water in a creek. The moment brought him back to nature. He started to paint looser, developing a style with the backgrounds smoothly brushed out, almost as loose as a plein air piece. "This new direction really set me on the path of landscape," he says. "It allowed me to break away from the photorealism."
Everett concentrates on the transitions from one area to another, the way the eye naturally observes the world. "The cropping of my subject is very important to me," he says. "I want to arrive at the point where the painting stops being just a scene and becomes the impression of seeing through the artist's eyes." He's interested in the mass of things, instead of the surfaces, choosing to see compositions in a more generalized way — patches, patterns, details but not objects.
"My paintings come out of a persistent, spontaneous sense of wonder and an expressive fascination with the elegance underlying the mundane," he says.
His work is represented by the http://www.georgebillis.com/http://www.georgebillis.com/ of Culver City, California, and the Chris Winfield Gallery of Carmel-by-the-Sea, California.