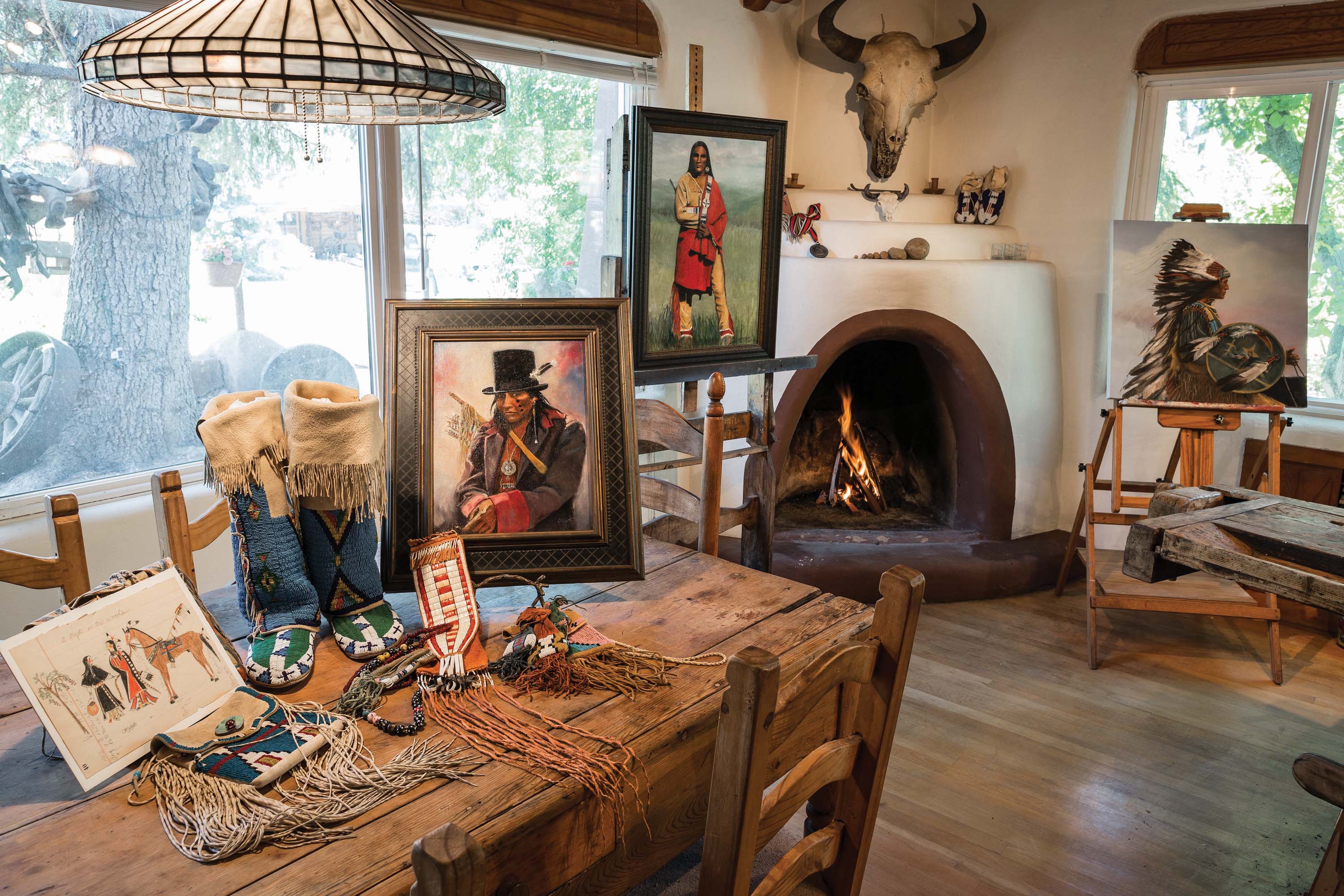 It is the perfect setting for Smith's oil paintings and Native American artifacts, including beadwork and quillwork made using traditional methods taught to her on the Lakota Sioux reservation where she grew up.
04 Aug

In the Studio: Cathy Smith
---
At the Nambe Trading Post, time has taken a siesta. The trading post, tucked behind the adobe church in the village of Nambe, lies along the High Road between Santa Fe and Chimayo, near an ancient, still-inhabited pueblo that dates to the 1300s. At the center of the complex, owned by the grandson of the original Trading Post's founder, sits the original store, still selling locally sourced Navajo wedding baskets, straw art, textiles, jewelry and artisan-made pottery. The low adobe buildings — just a few miles from the Santa Fe National Forest, within view of the Sangre de Cristo Mountains, surrounded by fruit orchards and sheltered by towering spruce trees — also house the workspace of artist Cathy Smith. A painter and Emmy Award-winning costume designer, Smith is one of the world's foremost authorities on Native American arts and craftsmanship. Immersed in history as she is, it is no wonder Smith was drawn to this site, and that she draws inspiration from it.
"I was living way out in the Galisteo Basin where it was windy and harsh," Smith explains. "I moved to Nambe [last fall] and now I live in a 75-year-old hacienda. This place is so old-school New Mexico, your jaw drops. It has hardwood floors, low wood ceilings with latillas and big carved vigas, and kiva fireplaces that are handpainted and signed by the painter. The kitchen has hand-carved shelves, cabinets and doors and old Mexican tiles with painted pictures — they're kitschy and cute. There's a built-in gun case with deer feet used to separate the standing rifles. The great big bathroom has old-time kerosene lamps that have been electrified. Outside there are old wagons, wagon wheels and dozens of grindstones from an old mill. The whole place is straight from the '40s."
Along with generous outdoor living spaces, a covered portal with outdoor kiva and a large, private walled garden for her own use, the hacienda features a huge room, perfect for use as Smith's studio. She calls it Medicine Mountain. Entering through a great carved wooden door, one sees a corner fireplace surmounted by a buffalo skull, a display case filled with beadwork, quillwork and artifacts, a saddle stand displaying an 1870s Crow woman's saddle, with its high pommel and cantle, long fringe and fully beaded flaps and martingale, and six life-size mannequins decked out in full Western regalia. These include a fully equipped Cheyenne Dog Soldier and a figure wearing Buffalo Bill's coat, which was made by Smith and worn by Peter Coyote in the movie Buffalo Girls, based on the book by Larry McMurtry. Three easels hold various paintings in progress; this way, Smith can work on her fine art as inspiration strikes.
For her costume-making, Smith's main work space is a large mesquite wood table, which she positions next to the room's generously proportioned south-facing window. The table, an antique Spanish work bench, came off the set of The Missing, a movie starring Tommy Lee Jones, for which Smith made the Apache costumes. When she's working there, she says, "You look out and all you see are green leaves. In spring, they're covered with every type of blossom. It's an old orchard, so the trees are really huge. It's like being in a big garden all the time. And when the weather is nice, I just work out there."
She also has three wooden work tables on wheels; these she rolls in and out of the studio as needed. Recently, for instance, she completed an order of medicine bags for a sweat lodge scene in a new television series, "Longmire;" but there have been times when she's been asked to outfit 100 Native American youth at once. "When that happens I set up different stations for beading, cutting, sewing, fringing and so on," she explains.
Smith's costuming work is deadline driven and very intense, while her painting is more quiet and contemplative. Both disciplines keep her in touch with her roots. Raised on a cattle ranch bordering two Sioux reservations in South Dakota, Smith as a child was enamored of the old ways and actively sought out the teachings of tribal elders. Through commitment, sacrifice and a willingness to honor the ancient ways, she was adopted into that world, learning not only the crafts but the sacred rituals, since the two are inextricably linked. "Everything in the Lakota world view begins with the spiritual," she explains. "And all art has its origins in the spiritual."
Smith moved to Santa Fe 24 years ago, when her daughter was of school age. Shortly after making the move, she received the commission for the Native American costumes in the movie Dances with Wolves; she has since worked on 35 films, including the highly anticipated The Lone Ranger, with Johnny Depp as Tonto. Santa Fe is her working base, but the Black Hills of South Dakota remain home. She says, "I'm still a sun dancer, I still fast every year to give back in thanks for the gift I've been given to do this work. I still spend every summer back home." In addition to her artwork, Smith is a writer, consultant, lecturer and teacher, and has long been involved in an initiative to teach the ancient arts to the youth of the Sioux nation.
Switching back and forth between the two disciplines keeps the work fresh and interesting, she says. All the more so, because although Smith is a lifelong artist, she has only recently taken up painting.
"I've been doing ledger drawings for years," she explains, "but now I'm doing oils. It's been a huge learning curve for me, but I've picked it up pretty fast. Rosarita Santiago is my inspiration; she's a painter in Santa Fe. She gave me one lesson a year ago." Since then they've teamed up on photo sessions; they'll decide on a model, then costume him from Smith's archives. Recently Smith's work has been the subject of shows at the Manitou Gallery during Santa Fe's Indian Market and at the Veryl Goodnight Gallery in Colorado, where she seems to have struck a chord, selling 10 of 14 paintings. Her subject matter has focused on portraits of Native Americans, though lately she has been creating scenes with costumed men on horseback, inspired by both her movie work and her reservation upbringing. "I'm taking all the photos I shot over the years on various movies and taking inspiration from them," she says. Usually she incorporates her own handiwork into her paintings, in the subject's dress or accoutrements. "I'm taking pieces I've made and translating them into paintings. It's really exciting for me," she adds, "because I've done beadwork and quillwork for so many years; I could outfit the entire Sioux Nation twice."
When the phone rings, as it inevitably does, with a call for costumes or props, she reluctantly sets her paintbrush aside in favor of more pressing demands. "I've been in the business long enough that I'm pretty well known," she says. "When anyone wants an Indian scene, they call me — if they want it authentic." And when the deadline has been met, it's back to the easel, and Cathy Smith's newfound passion. "For me, painting never gets old, there's continual problem solving. It's really captured my interest."