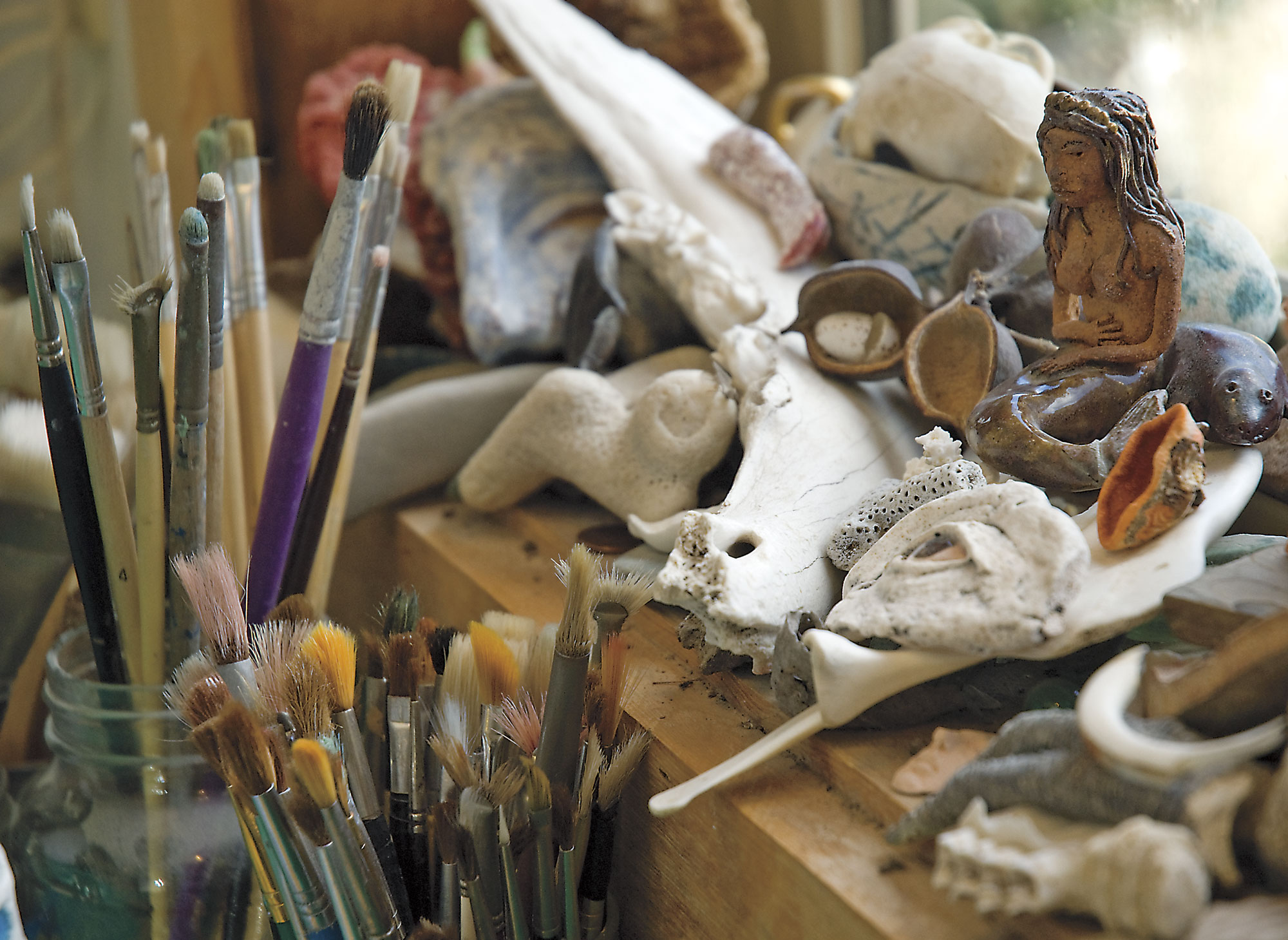 Found objects both organic and inorganic overflow the windowsill.
01 Sep

In the Studio: Adrian Arleo
---
Adrian Arleo's studio walls are a thin membrane between her workspace and the 12 acres in Lolo, Montana, where she lives with her husband and two children. It is an inclusive environment where creatures come and go whether she likes it or not. Starlings nest in the eaves, slathering the wood siding with guano "murals"; mice visit while she works; her horses look in through the window; and once a hummingbird flew in and rested on the branches of her work-in-progress. "I took it as a good omen," she says.
Arleo has always been at home in the natural world, and the window sills in her studio are bejeweled with things she's found on her land and beyond — beehives, honeycombs, nests, stones, twigs, shells, coral — bits of nature that inspire her textures, her sculpture narratives. As Arleo puts it, her studio has become "kind of a living structure."
Her workspace then, is as much about her horse barn, her chicken coop and her land situated at the base of the Selway Bitterroot Wilderness, Lolo Creek running through, as it is about the structure itself. "I find the nesting and nurturing instincts of wild creatures to be a powerful, creative role model. It also reassures me that creation knows exactly what it's doing, even when human beings seem not to."
This makes sense when you look at her work — because the natural world lives in it, as it does in her "studio." Her sculptures are in a state of metamorphosis — honeycomb-textured feet emerging from beehive wombs, women's viney rib cages housing roosting birds, fingers turning to twigs, human heads growing branches, birds with human hands and faces. "I think that a lot of what is behind my work — the context for it, is this urge to remind myself and others that we are all one intertwined being. And very much interdependent beings," says Arleo.
When she and her husband, writer David James Duncan, moved to Lolo from Oregon in 1993, the property contained a log home and an adjacent outbuilding (now her studio), used by its past owners as a woodshop, storage space and gun machine shop. At that time, planning a major future remodel, she made some changes to the studio, putting in another big window, heat, water, counters and a standard oval electric kiln. But her love for horses eventually eclipsed that remodeling plan and she built a barn instead.
In no way is her workplace a hymn to itself, but rather an unpretentious nest of creation, almost barebones — a place to start clean and raw, and which gets out of the way of her process. The work that emerges is rich in narrative, suggesting the psychological, emotional and spiritual, but while each piece feels deeply personal — as if we're at her window, not just looking into her studio, but into her interior world — they still invite us to our own interpretation. "I like the work to speak for itself, and for people to have their own experience with it."
Her process begins with a rough sketch, after which she extrudes one-inch diameter clay coils, rolling them out to compress the stretched clay. She then builds her figures, coil by coil, rather than working in slabs, which she finds more like woodworking and more restrictive. "For me, the coils create a looser form, with fewer preconceptions," says Arleo.
The result is bewitching. Her sculptures seem alive and intimately so, like we've stumbled upon them in the woods in some sort of spell of transformation, "perhaps as we ourselves are transformed in our fantasies, intuitions and dreams." Her figures are recognizable, but not so representational that we feel the need to label or define them. The looseness of her style allows for an immediate empathy that both looms and sings somewhere between the dark depths of pathos and the light layers of stillness.
Over the years, her figures' eyes have gone from closed, to downwardly tilted, to wide open and head on. When asked about this she says, "Eyes are a tricky thing. In graduate school, I didn't want the focus to be on the eyes but rather to show the figure experiencing something internally — not necessarily trying to connect with the external world." But it was in the 1990s that the eyes got more defined, however still closed or downcast, "and then in the last few years, the lids started to lift, the eyes gazing out."
She attributes this to her own personal maturity as a woman and mother, but also to the powers of nature that have connected her to her life in Montana, and which are all around her as she works.
"I never want to be on a soap box, but when I'm in my studio privately working, what's coming up is this feeling of wanting a more overt connection — in a more direct way." Adrian Arleo's sculptures are living trajectories that take form in the interior world of her studio, and reach out to her land, past artist, past horses; all of them in a transformational and edgy riff of interdependence.
---
Laura A. Munson lives with her family in Whitefish, Montana, where she writes novels, short stories, personal essays, and magazine articles. To date her work has been published in Western Art & Architecture, Big Sky Journal, The Sun, Northern Lights Review, Mars Hill Review, Camas, Montana Magazine, and others.