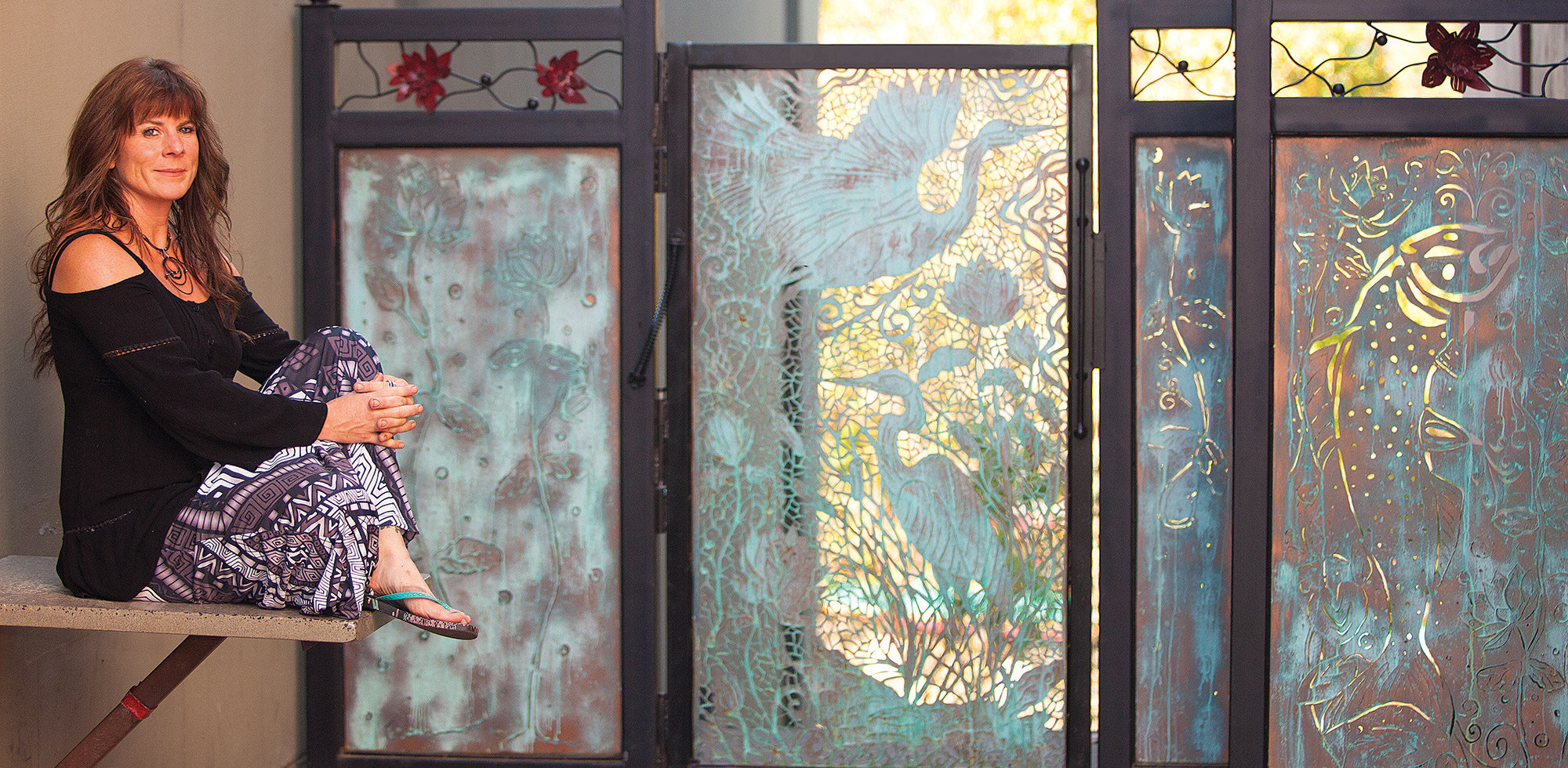 A building on Main Street in Hood River, Oregon, is beautified with a partition gate designed by Phipps with a Japanese theme.
17 May

In the Studio: Behind the Welding Mask
---
J. Howard Miller's iconic We Can Do It! portrait of a woman flexing her bicep to encourage hard work during World War II hangs above a vintage toolbox in Kelly Phipps' studio. Normally, any sort of metal found in this converted automotive garage would be brandished with artistic expression, but this particular relic is untouched. "Each toolbox I collect has significance in the sense that each one is special to me, whether it's the shape, the size, the patina or the rust on it," says the self-taught metalworker. "I can spend hours rummaging through scrap yards."
Phipps is a modern-day Rosie the Riveter, without the red polka dot bandanna. Similar to the work-promoting icon from the 1943 poster — which came to symbolize female strength for some — Phipps brings a feminine touch to a cold, static material that's mostly handled by men.
Her Hood River, Oregon, workshop, where Chinatown meets steampunk in the room's enigmatic décor, is congruent with the dichotomy of her art — an edginess enveloping femininity that's perhaps best represented in her welded lingerie. Trendy glass garage doors open to passersby in Phipps' two-part studio that's half showroom and half workspace.
By all accounts, Phipps' studio could be a man cave if it weren't for the bright Chinese lanterns, mended hearts and hand-cut candelabras. A pair of steel-toe boots lay on the floor and a welding mask hangs alongside a fuchsia respirator. Coveralls drape the stairs leading to a loft with an exterior that's reminiscent of an industrial-chic cityscape, as if Gotham City birthed Bourbon Street.
"My creative process is constantly being interrupted by men," Phipps says. "They want to be social with a female who's welding. They see me in my studio and don't always understand that I'm working. Plus, they want to tell me about their latest fishing trip," she says with a smile, revealing that she doesn't mind being the unconventional personality in her community. In fact, she attributes her evolution as an artist to the residents of Hood River, who've watched Phipps' stories unfold on scraps of metal they've donated.
"People think I want everything. 'Give it to the metal lady,' they say. That's how the shovels came about," she says, referring to the shovels she intricately designs using a plasma cutter. "I stared at them for months until I finally had a vision. Honestly though, I'm really touched by how my community inspires and supports me."
In late 2014, an artist from Portland gave her a 1940s Ford pickup truck hood and Phipps began researching popular culture from that era, hand-sketching pinup girls and Route 66 signs to cut into the patinated metal. While dabbling in automotive art, she was introduced to the craze of rat rods, exaggerated hot rods from the 1920s to 1940s. The drivable vehicles are constructed mostly from recycled materials, which amalgamated with Phipps' uncluttered and earth-healthy repurpose philosophy. By the summer of 2015, a local design team had commissioned Phipps to cut complex images into the roof and fenders of a car that was entered into the Rat Rod Build-Off in St. Louis, Missouri. They had 30 days to build the car, and the piece won the national title.
"Someday I hope to enter the rat rod competition on my own as the first female competitor," Phipps says with verve.
Phipps' adolescence likely inflamed her tenacity, when rebelliousness forced her independence at age 16. She finished high school while endeavoring as a wax chaser in a Colorado bronze-casting foundry. A few years later, she stumbled upon high-tech corporate America on the Northern California coast and earned a stout salary, while hosting art shows of her work on the side.
She handled her first plasma cutter at a friend's shop, slicing a one-dimensional daisy out of metal. "The next week I went to a welding supply store and bought my own plasma cutter. I kept calling the company to ask how to use it and they consistently referred me to the product manual. I'm pretty sure I also welded wearing sunglasses," Phipps says, laughing.
After working in a corporate office for 17 years, Phipps left to become a full-time artist. One of her first paid accounts triggered production-line metalworking, exhausting her inspiration while she ironically cut 750 inspirational signs in a month's time for a boutique catalogue. One sign remains in her studio. It reads: "I may not be able to control the wind, but I can adjust my sails," a phrase indicative of Phipps' artistic progression, and an appropriate mantra for a studio located in Hood River, known internationally for its windsurfing.
While the metal gifts from locals often direct her projects, she explains that the ruggedness of her surroundings and, most importantly, her mother, Judy Phipps — an accomplished painter and sculptor — are her true inspirations. "My mom has always encouraged me to follow my passions," Phipps says. "She's one of the most talented and creative people I know."
When asked what's next, Phipps defers to the undisciplined nature of her art and the joy of always evolving. "I hope to continue accepting new challenges, creative ways in which to utilize my art in commissioned work, like interior and exterior design, or to continue to pursue the repurposing of someone's beloved relic."