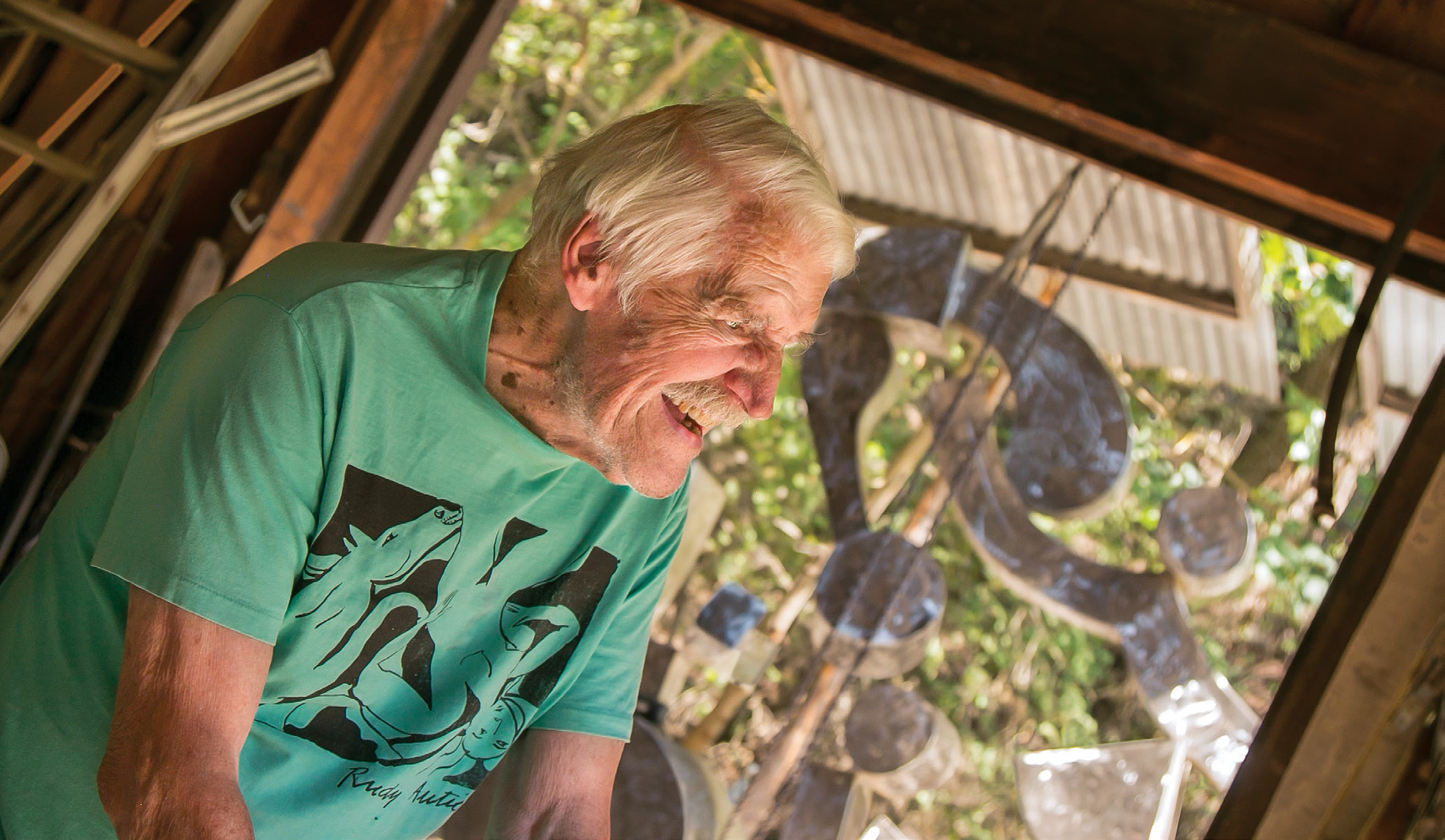 Wearing a Rudy Autio T-shirt, Harold Balazs pauses from work in his Mead, Washington, studio.
11 Nov

In the Studio: Blazing Trails
---
Ask to tour his studio and Harold Balazs just laughs. "A studio, in my book," he says, "has to have a hole in the roof and a naked lady on a chair or something."
Balazs isn't being fresh. At age 87, with 60-plus years, hundreds of artworks and a legacy of innovation to his credit, Balazs is, above all, a working artist.
"I've never had a 'job,' not in my whole life," says Balazs, who has supported himself as an artist since his early 20s. Much of his work has been produced at the eastern Washington acreage he calls Mead Art Works.
To get there, you turn into a nondescript cul de sac in Mead, a mostly rural farming area north of Spokane, Washington. The road winds, turns to gravel, then dirt as the foliage thickens on either side. Just when you think to consult a GPS, two enormous pillars appear, each embellished with concrete shapes, colorful tiles and bits of metal and glass. One bears a large letter "B." Cross a wooden bridge over the creek and you're there.
"The purpose of art," Balazs is often-quoted, "is to create wonder."
Balazs' wondrous artwork is everywhere, in every form, inside and out: metal, cast concrete, paintings, drawings, calligraphy, found object assemblages, enamel.
So, too, is work by other artists, some famous such as the ceramic sculpture by former Washington State University (WSU) alum and Archie Bray Foundation creator, Rudy Autio. Others are anonymous examples of Balazs' fascination with outsider art and indigenous cultures.
Past the house, with its bright blue doors, and the garden is a two-story chocolate-brown barn where Balazs has his non-studio — his shop. He still spends a few hours there nearly every day, although his son, grandson or wife of 65 years, Rosemary, sometimes help him.
"I'm that third hand that you need every once in awhile," says Rosemary.
The shop encompasses a lifetime of images, materials and artwork in various stages of construction. There are tools — grinders, welders, a band saw — and contraptions for accommodating large-scale works, such as Listen, a massive steel sculpture commissioned for Spokane Public Radio, two years in the making.
His commissions — both public and private — populate schools, libraries, government offices, private residences and various liturgical buildings from Alaska to Washington, Idaho and Montana. He has served three terms as Washington State Arts Commissioner and helped mastermind the state's Percent for Art legislation, fostering public art's proliferation.
Many pieces include techniques Balazs learned from his metalworking father as a boy growing up in Ohio, while others feature a concrete casting process Balazs pioneered using carved Styrofoam.
Although he has worked in many genres, Balazs' signature style is rooted in Modernism. In 1951, for example, architects Royal McClure and Tom Adkison hired him to provide metalwork for the Joel E. Ferris house. An exemplar of Mid-century Modern design featured in Sunset magazine, the Ferris house won an American Institute of Architects (AIA) award. Balazs won AIA's Gold Medal for Craftsmanship in 1966.
The Smithsonian American Art Museum has two Balazs artworks. In 2001, Lloyd Herman, founding director of the Smithsonian's Renwick Gallery, selected Balazs for Northwest Designer Craftsmen's Living Treasures video series. In 2012, Herman interviewed Balazs for the Smithsonian's oral history archives.
Balazs also earned his chops amongst peers, including the Enamelist Society, which in 2001 bestowed the Creative Arts award for career-long "evidence of pushing the creative edges of the medium in design, technique and presentation."
Of all the media Balazs has pursued, enamel may be the most enduring. Taking classes as a youngster at Cleveland's Museum of Art sparked his fascination for the artform created by fusing powdered glass to metal. In college at WSU, Balazs fashioned and sold jewelry that today fetches 40 to 50 times its original price. In 2012, fellow enamellists flocked to Coeur d'Alene to join Balazs in a landmark enamel exhibition at The Art Spirit Gallery.
Balazs has exhibited annually at The Art Spirit Gallery since 1998. His January 2016 show includes historic and new work, especially enamels. Instead of the precisely cut stencils Balazs used to favor in years past, today he often freehands images right onto the metal.
Like the rest of his artmaking space, the enameling room is overflowing. Panels prop against tables covered with samples from workshops he's taught. A counter overflows with bottles of enamel powder in every hue imaginable. A specialized firing kiln sits on the floor.
To some, it must look like organized chaos, but to Balazs, it's where good stuff happens. He tells of a conversation he had while visiting another artist's studio, which he regarded as messy. The friend responded with something Balazs has taken to heart, saying: "Show me a shop where it's clean and I'll show you where work's not getting done."