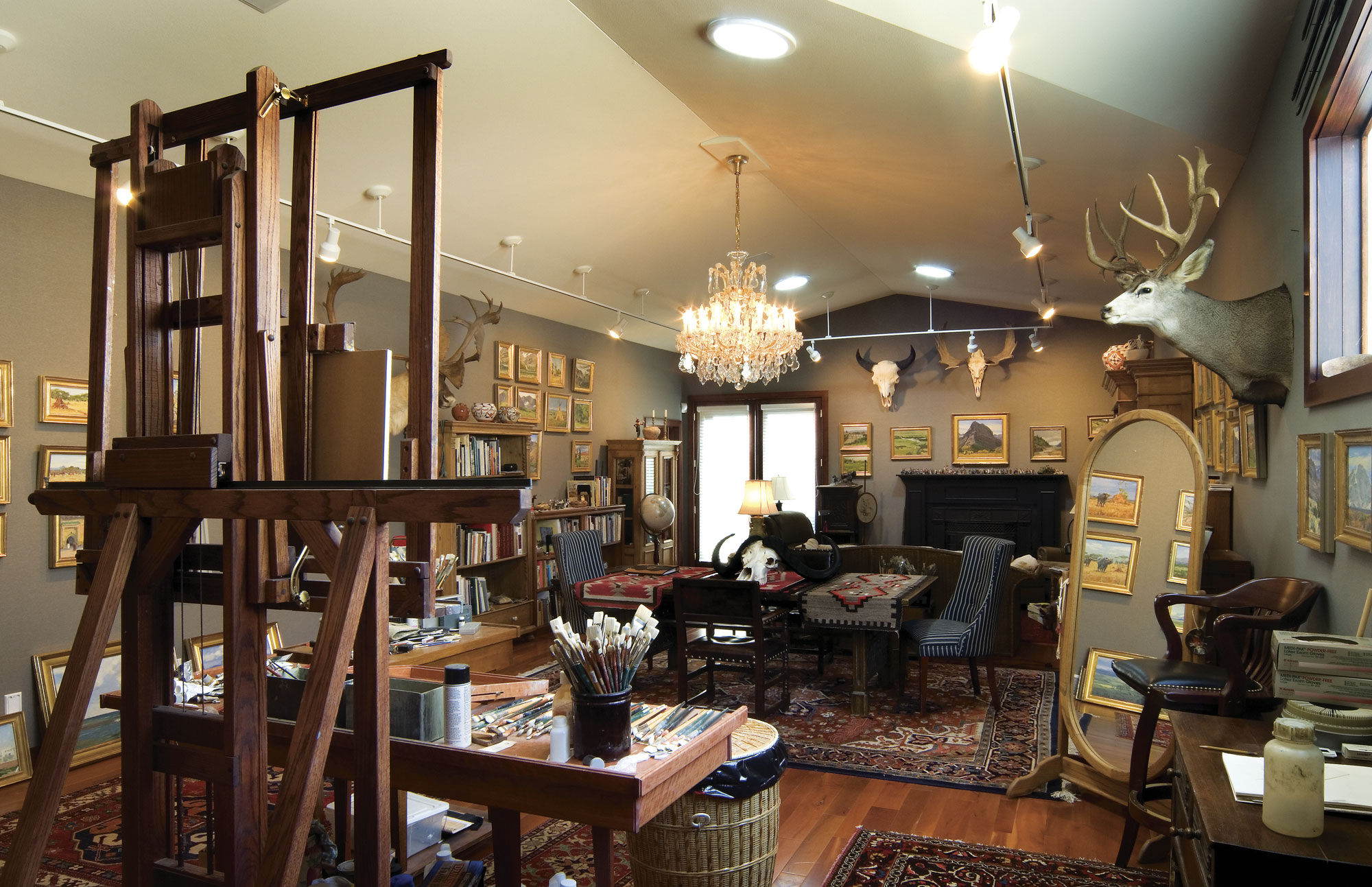 With paintbrush in hand, Bob Barlow will always capture nature's landscapes on canvas.
01 Aug

In the Studio: Bob Barlow
---
Bob Barlow lives in a quiet neighborhood in Billings, Montana. Off a busy thoroughfare are fenced patio homes fronted with identical white garage doors. Sidewalks edged with manicured lawns are dotted with trees and river rocks. But behind the bland façade is a colorful world reaching afar.
The interior of Bob and Molly Barlow's home recalls a New York apartment. The style is an eclectic mix of European and refined western. The decorative wrappings of their abode embrace travel and art.
In the entryway, small bronze sculptures of Montana wildlife created by their son, Mike, stand next to those cast by Charles M. Russell. On the walls are etchings by James Abbott McNeil Whistler and landscapes by Carl Rungius and longtime friend Clyde Aspevig. Carpets from the Ottoman and the Chinese soften the dark wood floors. Every wall showcases art. Even in the kitchen, artwork hangs where cabinets normally would. Throughout, Biedermeier furniture reminds the Barlows of their 14 years of travels to Prague. The subtle simplicity of the meticulously crafted pieces conveys a relaxed mood.
Arched double doors lead from the main house to Barlow's studio; an area created with a second condominium unit with its own entrance. In the alcove is a baroque armoire. The wood inlaid image of a dancing couple in medieval peasant dress expresses the home's sense of pleasure and discipline.
In person, Barlow portrays versatility, being able to fit in anywhere. This day he wears a pressed white short-sleeved collared shirt with a pair of faded jeans. His tan attests to his time outdoors. His mustached face and cropped thinning hair portray an informal air while his eyes seek detail and knowledge. His studio encapsulates his talents and interests, combining his ranching roots in Gillette, Wyoming, his stint in the army and his business education at the University of Wyoming in Laramie.
Barlow classifies himself a "realist." With oil paints, he depicts nature, more specifically landscapes, with no embellishments. Mostly he paints outside, on site in the open air, or in the style the French term plein-air. These days Barlow uses a digital camera to record his scenes and laments the eventual upgrade of his slide projector, which sits next to his easel and a computer.
Natural light spills through a long, frosted window into a workspace the size of a long, two-car garage. A table crowned by an African cape buffalo skull flanked by Native American textiles divides the room in two. Half the room is devoted to painting while the other side has a sitting area by a fireplace. Hovering above is the crystal chandelier from Bob's boyhood home. Hunting trophies, Alaskan caribou and African kudu, adorn the top walls.
Barlow's preparatory studies are displayed throughout the room, framed in gold and kept to assist in producing his final works. Currently exhibited are works from the Crow Fair, recent travels to Morocco and past sojourns to Africa, Prague and Canada.
Books abound in the room. In a glass cabinet are signed, limited editions of books by American illustrators such as Douglas Allen. On adjacent shelves are how-to books, and across the room are books by Barlow's favorite artists. "I am very proud of my library. I am constantly studying," he says. North American artists such as Tom Thomson and John Singer Sargent breathe inspiration for Barlow. Other publications are reminders of his research trips abroad: travel to Russia to study landscape painter Isaac Levitan and excursions to Madrid for realist and impressionist Joaquin Sorolla y Bastida.
On shelves above sit pots created by Southwest potters: Acoma artist Lucy Lewis and Santa Clara Pueblo matriarch Margaret Tafoya. Barlow's collection of Indian artifacts began with a pair of moccasins his father gave him at age 14. Then for 40 years he has attended the Crow Fair. "When my children were small, I had them dance. I made the costumes." These days he arrives at the fair early in the week to "paint the people, paint the scene."
Barlow knew he wanted to be an artist at an early age. Though his father doubted a living could be made from this profession, he provided his son with pencil and paper. As a teenager, Barlow kept company with a local artist who taught him how to mix paints. While on a family vacation at Lake McDonald, Barlow met a graduate of the Art Institute of Chicago, who incited his eventual enrollment there.
After completing a year at the Institute, Barlow returned to Wyoming and completed a degree in business. He then entered the Army and while stationed in Washington, D.C., took advantage of his proximity to museums.
Today Barlow profits from his love affair. "I do my own thing," Barlow states, engaging in very little commission work. Barlow is represented in New York by J.N. Bartfield Galleries; in Wyoming by Simpson-Gallagher Gallery and Bradford Brinton Museum; and in Montana by Two Medicine Gallery.
Ponderosa Art Gallery owner, Wally Giewe, who has represented Barlow's paintings in Hamilton, Montana, appreciates Barlow's accurate interpretation of landscapes. "He paints on location. He really sees. He does not make up things."
Painting is a vital part of Barlow's life. "I have to paint. I am addicted. I cannot go more than two or three days without painting. All I hope is I die with a paintbrush in my hand."