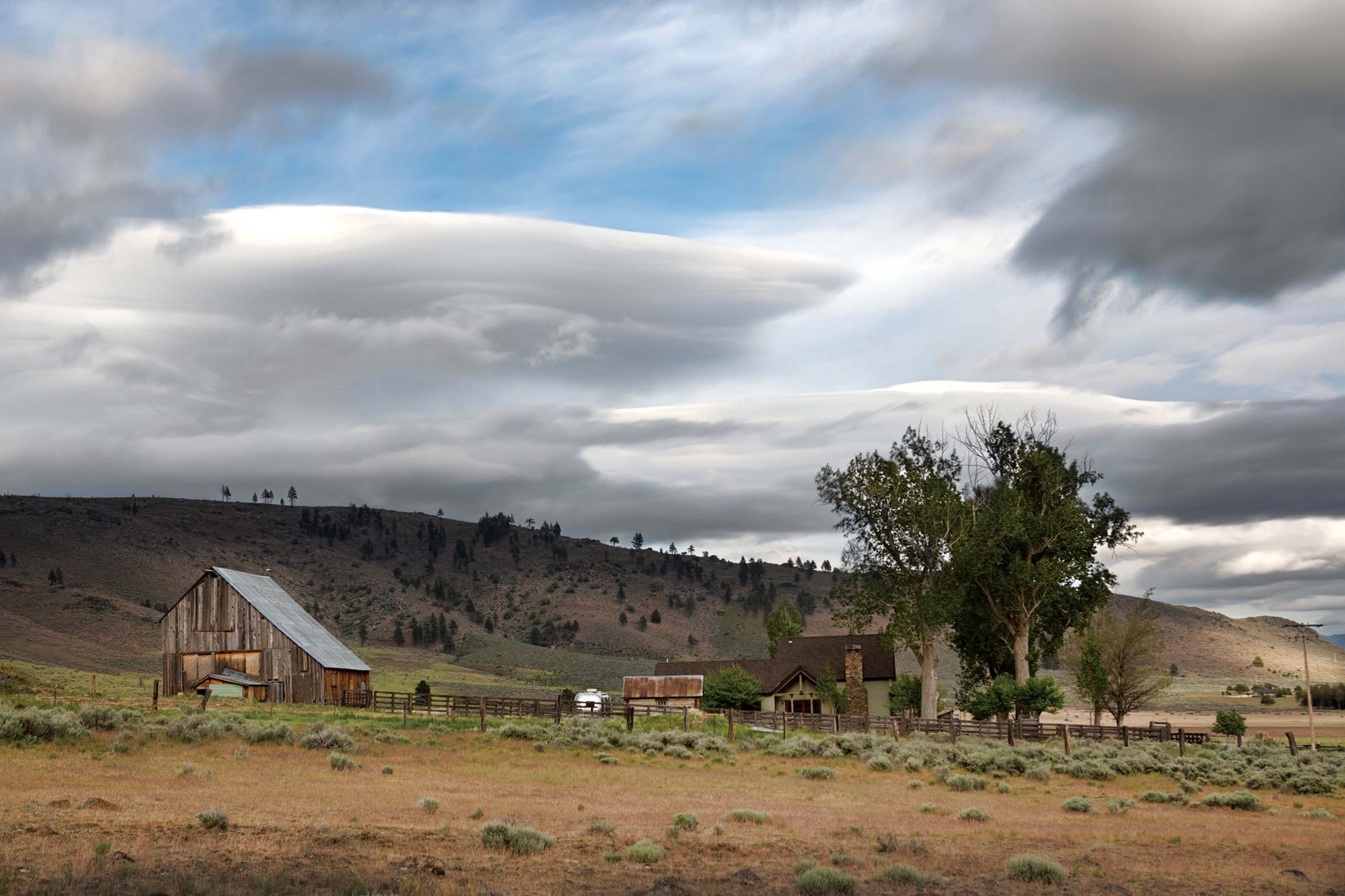 Award-winning woodworker Brad Greenwood draws constant inspiration from the century-old homestead and 120 acres he shares with his wife and four sons. His home and studio are located in a picturesque ranching valley near the California-Nevada border.
04 Aug

In the Studio: Brad Greenwood
---
It is not uncommon for an artist to take inspiration from the scenery outside his studio. It's an unusual story, however, when an artist takes inspiration from the debris outside his studio. In the case of furniture maker Brad Greenwood, both are true.
Greenwood's home and studio comprise an old home-stead situated in a historic ranching valley north of Lake Tahoe. Ten years ago, Brad and his wife, Lorraine, were looking for a home with some space for their four sons and the freedom to have Brad's workshop on site. "Our goal was to find something older, with historic charm," Greenwood recalls. "We wanted to buy at a price we could afford and fix it up ourselves."
The opportunity was ripe in an 1890s farmhouse that even the real estate agent called a tear-down. Though the house was in disrepair, the remote 120-acre property came with outbuildings and unmatched scenery. It had its own spring and was bordered by BLM land and the Plumas National Forest.
What would become the studio was a concrete-floored equipment building with a loft, in decent repair. Greenwood's first order of business was to set up the workshop. He immediately began the arduous task of sorting through the floor-to-ceiling collection of "everything imaginable," recalls Lorraine. "There were little aisles zig-zagging everywhere, and since we couldn't see above all the paraphernalia, it felt like we were in a maze."
Once the space was cleared, Brad installed his machinery, "almost all older machines," he says. "I think they're built much better." He moved his collection of wood into the building and the old barn, and hung his chisels and other hand tools on the walls. The building, one main room with wings on each side, naturally lent its various areas to specific tasks. "There are different zones," Greenwood explains, "one for woodworking, one for carving and detail work, another area for heating and cutting metal, another for sanding and finishing. I made sure to situate my bench close to the old woodburning stove."
The next step was to make the place his own. He re-sided the building with board and batten, and added a small covered porch by the door. He and a friend dragged a hollowed-out tree down from the hillside and Brad gave it a new home at the edge of the porch. An antique metal flat tire tub doubles as a bin for storing special twigs. Old pails are filled with small burls and roots, while wooden barrels serve as extra storage. On his studio walls he hung artful arrangements of vintage tools, burned-up guns he'd found in the fields, and other unusual conversation pieces. When the Greenwoods' oldest son, Jesse, built a bench out of mismatched materials and gave it to his dad for his birthday, Brad knew the perfect spot for it — right outside the studio door.
The studio continues to evolve, but once it was set up Greenwood could focus on the work for which he was rapidly gaining awards and a following. And he could start transforming their new property. The house had good bones, but was in a serious state of neglect; even the walls were filled with mud from a snowflow of bygone years. It had to be cleared of junk, stripped down to its studs, re-sided and reroofed. The shingled post-and-beam barn was classic, yet filled with the detritus of the previous owner's career in antiques; it was also in danger of splitting apart from the weight of its roof. Brad cleared out some of the debris and installed cables to hold the roof together. Finally, he moved a log cabin he'd constructed in earlier years onto the property to serve as the family's temporary home.
The Greenwoods spent two years working to make the house livable and bring the property to meet their vision of it. Brad hired craftsmen to work with him as well as various subcontractors, but he did much of the work himself and expressed his creative spirit in its finished details. At every turn, the property itself informed Greenwood's work, from recovered wainscoting in the house to the use of random castoffs from the backyard and barn. He hand-built the fireplace from flat, lichen-covered volcanic rocks gathered with his family on a nearby mountain, then finished it with a mantel cut from a large fence timber found on the ranch. The custom cabinetry around the fireplace has unique details; the crown molding that doubles as an accent light covering was made from hand-peeled buckthorn bark, which the Greenwoods harvested from the mountain behind the property. Brad saved rusted corrugated roofing and used it in the porch areas. He took old propane lamps from the previous owners' collection and wired them for electricity himself.
Once the buildings were finished, the inspiration continued. Having his studio and home mere yards apart, of course, guaranteed seamless transitioning from Greenwood's artwork, destined for sale in art galleries and at design shows, to his artistry in the studio, house and barn. His work is still influenced tangibly and intangibly by the spirit of the property. Although he's known for his well-proportioned and beautifully crafted organic-edge wood furniture — each piece adorned with his signature copper leaf — he has always turned heads and won awards with his elaborate whimsical mechanical pieces. He still continues to create both, one day working on a set of chairs, another day cleaning and resetting the springs and coils of an intricate moving mechanism. In these projects he continues to draw inspiration, as well as parts, from his immediate surroundings. "Because the previous owner had passed away," he explains, "he left most of his personal belongings. He was an antiques dealer and collector. His collection has been very valuable to me. It still is very inspiring to me," he adds, "even though most people would view it as junk."
Antique games serve as a catalyst for some of Greenwood's most whimsical, original and fun pieces. About once a year he'll produce an item with mechanical parts, such as a shooting gallery or a nut
dispenser, using the innards of an antique machine and handcrafting its housing and stand. "I've always been interested in mechanical things and coinoperated machines," he says. "I like the simplicity of the earlier games from the '20s that don't require electricity but rely on springs, levers and knobs for power. They're bulletproof, indestructible and simple. I'm making nut machines now. I take the old ones from the '30s and '40s and build an artistic stand that's substantial. I use the old mechanical parts and create a new top with a vintage look. It's the piece for someone who has everything."
Brad Greenwood learned woodworking as a child and made his first commercial pieces in 1986. These he sold from the back of his car to stores in San Francisco's Design Center. Three and a half decades and many awards later, he completed his 930th unique handmade piece. Although he has been tempted at times to hire helpers to expedite production and increase his visibility, he has chosen to stay small in order to create each piece himself. He feels that the depth of his creativity and the natural balance between artist and artistry would be disrupted by the introduction of another woodworker, and on this he is not willing to compr mise. Brad Greenwood's work is carried by several high-end galleries, and may be destined to travel long distances, but each piece is conceived, created and imbued, solely by him, with the spirit of his Sierra Valley studio.