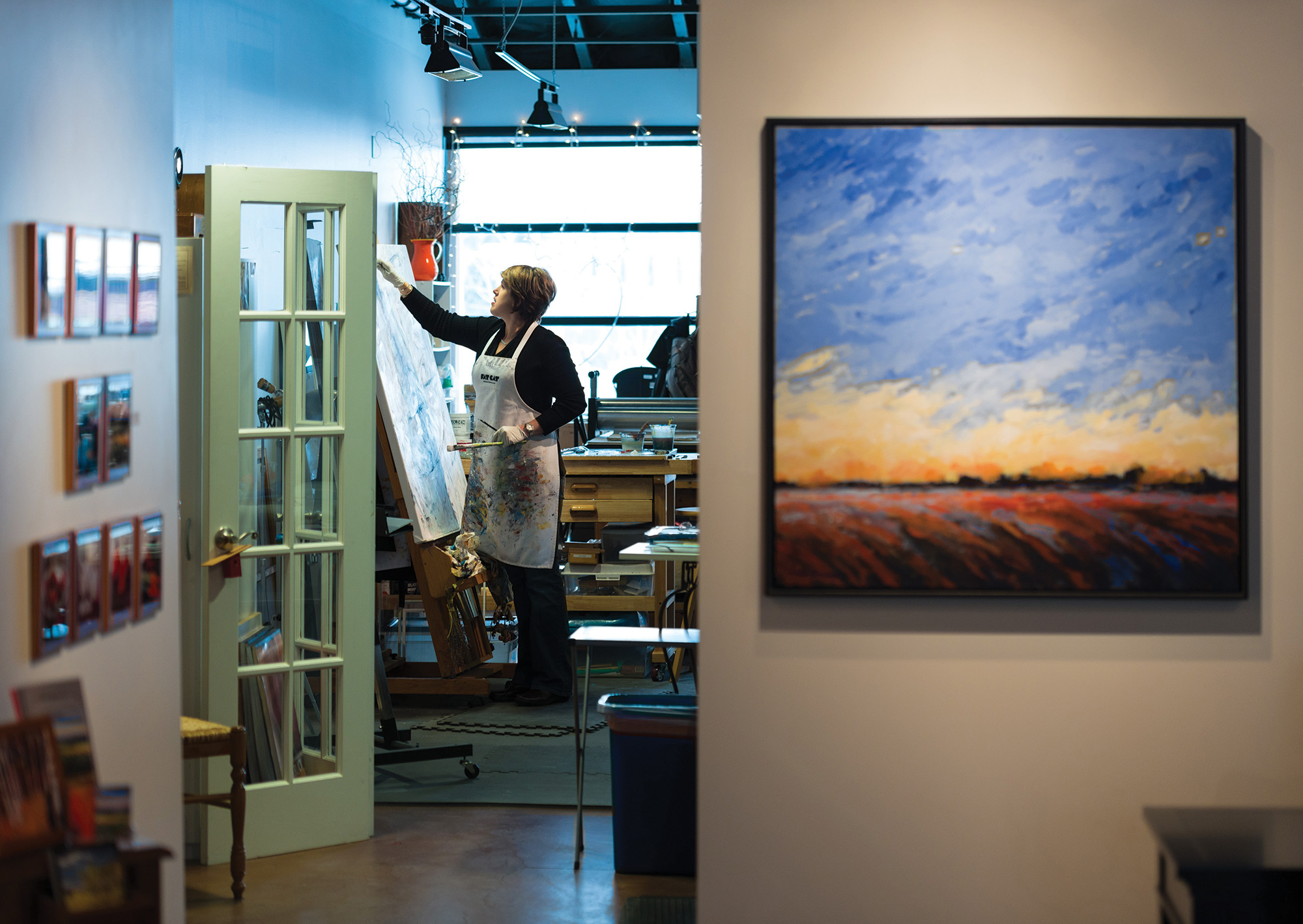 13 Mar

In the Studio: Creative Cooperation
---
The Lubbesmeyer studio is tucked away from the bustling Old Mill District in Bend, Oregon, off a narrow second-floor walkway. It's difficult to find, and today it's in upheaval. The Lubbesmeyer twins, Lisa and Lori, are making room in the crowded space for a printmaking press to create block prints — a new phase of their collaboration. They apologize; it's not an optimal day for an interview. But their warmth and eagerness to show the studio make visitors feel welcome.
The long, narrow studio is crammed with fiber art in progress. There's a wall of fabric swatches, a basic Singer sewing machine and a section of the studio that's devoted to painting. At the center of the room is a large wooden table layered with padding and covered in muslin. Typical sewing supplies are laid out: scissors, pins and two irons. Each sister works from her own side of the table with her own supplies.
The gallery in the front third of the space displays both the fiber art they refer to as "paintings" and paintings on canvas. The serene and colorful landscapes created in fabric by the Lubbesmeyers and cherished by collectors around the globe belie a relationship that has weathered many storms in the 48 years since their birth as identical twins. It's a story about their need to forge separate identities amid the intrinsic pull to be near one another.
"Our native language is art, and we've used it to mend many rifts," Lori says.
Two oil paintings that hang side by side, opposite their work table and dissimilar from all the rest of their work, illustrate a seminal moment in their lives and careers. It happened after they'd been collaborating for more than a decade.
Lori, trained as a painter, was diagnosed with a degenerative disease that affected her muscle control. It compromised her ability to meet deadlines and, for a time, her collaboration in fiber art with her sister.
"It took us a couple of years to understand the diagnosis," Lisa says. "I was distraught and upset thinking about creating without her and had to decide whether to go on by myself. In the end, I couldn't abandon her and especially not in that moment. We decided to try another medium."
Lori suggested they experiment with painting and asked Lisa to participate in an old studio exercise — paint for one hour, don't think and work fast. She set out the necessary supplies and two easels with blank canvases, back to back. For a bit, they were both frozen in place, worried that if it didn't work, there was no plan B. Eventually, they started working their canvases, neither seeing the other's work. "I was feeling Lori's energy and was very nervous," Lisa recalls.
"When we turned our paintings around, it was quite jarring," Lisa says. Given the limitless number of subjects each could have painted, and Lisa's unfamiliarity with the medium, in the end they both painted a room with a cabinet, an easel, a wooden chair and windows. The. Exact. Same. Picture.
Lori's lines were more abstract and Lisa's more realistic — a reflection of their different aesthetics. But the sisters say it's a vision of twinship and their connection; it's why they collaborate today.
The Early Years
Raised in Tacoma, Washington, the twins studied art at the University of Oregon in Eugene, where Lori focused on painting and Lisa on printmaking. They moved to Minnesota's Twin Cities in the early 1990s; Lisa worked as a printmaker in Minneapolis, while Lori was an oil painter in St. Paul.
Initially, they worked alone to build successful careers in their respective fields, but this led to a competition that resulted in dividing them. Nevertheless, the gravitational pull of their sisterhood brought them together on their 30th birthday. They met for coffee, barely speaking. But the meeting led to an epiphany: They needed to deal with their broken relationship. The competitiveness was good for their art but terrible for their twinship.
"We decided to focus on creating art together instead of competing, and we hoped that would allow us to mend the rift," Lisa says.
"So our first idea was for each of us to give up our own discipline and work in one unfamiliar to us," Lori recalls. They discussed the pros and cons of fiber, metal and glass, agreeing that fiber made the most sense.
They taught themselves to sew and experimented with tearing and cutting cloth. Lisa found many similarities with printmaking in the layering and opacity of fabric. Lori was drawn to the texture, color and form of fabric.
Lisa says that after the first year of sharing Lori's studio in St. Paul, there were moments when one of them was ready to run out the door fuming because of unresolved issues. "We struggled just to show up in the morning," she says.
Their initial method to work simultaneously on the same fabric composition failed. But it was that failure that led to their hallmark method that's fostered their success for the past 18 years. They agreed to approach every new piece without a subject in mind, to never look over the other's shoulder, or critique or redo the other's work. "Once we realized how well that worked, everything flowed," Lori says.
They moved to Bend in 2002 and rented the studio in the Old Mill District in 2008.
Visitors to their gallery are often amazed at their technique. With several compositions in progress at the same time, one starts with a layer of fabric, stitches it and then pins it to a viewing board. When the other is ready, she layers more cuts of fabric, stitches them and returns the piece to the viewing board. No words pass between them, but they add a dozen to maybe 30 layers until "the piece tells us it's done," they say.
Of the roughly 15 fiber paintings they create a year, each finds its home with a collector. Their unique fiber art has been acquired and commissioned by private collectors since 2000 throughout North America, Europe, Australia and Africa.
When the art committee of Legacy Emanuel's Randall Children's Hospital in Portland, Oregon, sought artwork with healing qualities, it commissioned a fiber painting by the Lubbesmeyers. Originally intended for a financial counseling area to put people at ease and relieve stress, it ended up in a more public place. "It's so beautiful," says Barbara Young, a member of the committee.
While their combined art careers span close to four decades, the Lubbesmeyers have become multidisciplinary artists. With the twins adding painting to their oeuvre five years ago, and now a printing press, they're both eager to see what will come in the future. The twins feel they still have lifetimes worth of art to create, viewing it as a continuation of their story, of separate identities tethered together by choice.