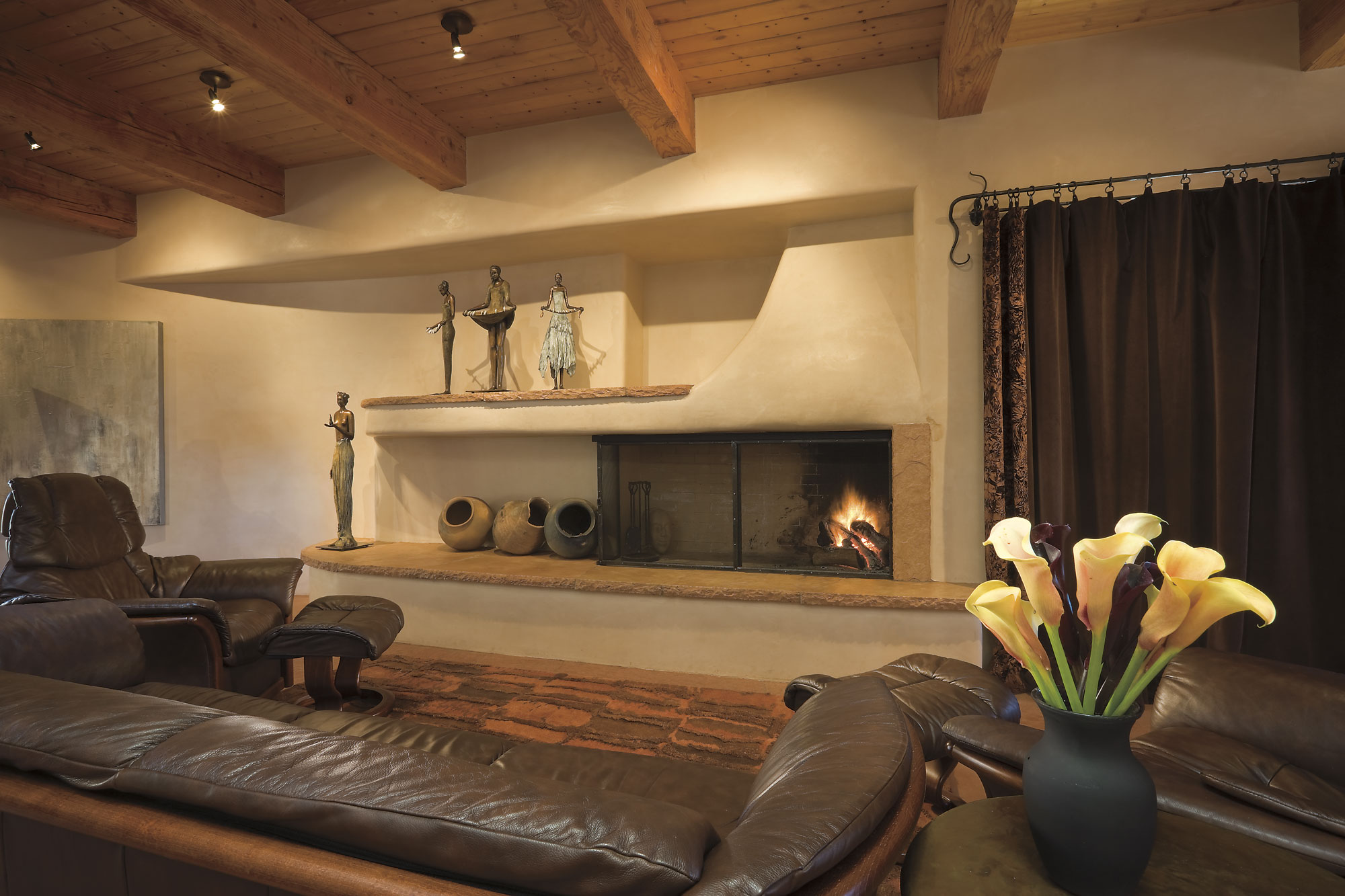 One of the highlights of the main living area in the home is the shepherd's fireplace.
29 Dec

In the Studio: David Pearson and Patricia Carlisle
---
More than 20 miles separate Patricia Carlisle's gallery and the home she shares with sculptor David Pearson, yet it's hard to tell where gallery ends and home and studio begin.
Patricia Carlisle Fine Art is a quaint gallery of about 1,600 square feet, plus four garden and patio areas on Santa Fe's upscale Canyon Road.
The home, tucked away on 20 acres with views of five mountain ranges, is a 5,000-square-foot center of attention a few miles off New Mexico Highway 14, home to four dogs, three horses and Pearson's studio.
Home and studio are where art and architecture meet, intertwined with and inseparably linked to Carlisle's gallery.
"The house was definitely built to showcase what my art can look like in a nice house," Pearson says, "and [clients] can see my environment, so they can get an idea of my sculpture and where I'm coming from. Environment is so important to everyone. They always say, 'It's so peaceful out here,' and, 'You must be very lucky to stay out here all the time and work,' and I say 'Yes, I am very lucky, and I love it out here.' "
House and studio weren't always such the showcase.
Fifteen years ago, Carlisle and Pearson lived in a 1,500-square-foot adobe (what Carlisle calls "the box"), while Pearson did everything — sculpting, metal work, wax work, mold work — in a 600-square-foot studio. "It was tight and tedious," Pearson recalls, "but it was very functional."
In 2000, the couple began planning a 3,500-square-foot, two-story addition, and hired London-born Santa Fean Stefan Merdler to design a dream home and studio.
"The artistic presence was very, very strong," Merdler says of working with Carlisle and Pearson. "It's really a great type of project for someone like myself to get when you're working with someone with artistic sensibilities."
The 4-foot-wide front door, which swings on a pivot, comes from Santa Fe-based La Puerta Originals, Inc., which salvages old doors and antique wood and transforms them for luxury homes. The open, living area features a built-in bar and shepherd's fireplace. Other details include flagstone floors, Douglas-fir ceiling beams and spectacular views everywhere. The architectural highlight, however, is a circular opening in the first-floor ceiling, split by a glass-block bridge that stretches from the staircase's top to the master bedroom.
Finished in 2007, the home is part of Carlisle's gallery. Clients interested in buying one of Pearson's bronzes can tour the home and studio, meet Pearson and return to Canyon Road.
Yet as spectacular as his home may be, Pearson has no problems leaving it for his new studio (the old studio is now designated as the wax room).
"I'd rather spend my time down here in the daytime," he says. "It's my workspace, and it's really easy for me to come down here and stay down here most of the day."
Pearson's day begins with a drive to the Lone Butte General Store, just across Highway 14, for a cup of coffee.
"It feels like I start my day, getting in my car and driving somewhere like everyone else," Pearson says. "If I just walked from my house down here and started, I'd feel a little … I don't know … restricted."
Then it's off to the 1,100-square-foot studio — with 10-inch-thick walls, like the house, which mimic adobe and provide great insulation — that includes a sculpting area and finishing room.
With drone music playing on a synthesizer, he works Thursdays through Mondays, creating elongated human (usually feminine) forms. No models, either. "Models are too restrictive," he says. "My work is not anatomically correct, plus the more people that are in your life or in your studio, that comes off. It's a lot easier not to deal with people."
His art reflects an interest in ancient civilizations. "When I was a kid," he says, "I pretty much just dwelled in Egyptian art. What was really interesting to me was that what was left of the civilization was their architecture and their sculpture. So I think that's why I pretty much became a sculptor."
A native New Mexican, Pearson was working at age 16 at the Shidoni Foundry in Tesuque, which led to positions at the Art Foundry and Allan Houser, Inc. By 1997, Pearson's own art was getting noticed. Now 50, he has seen his work displayed in prestigious settings, from the Governor's Mansion in Santa Fe to the White House. For the past three years, Carlisle says, Pearson has been Santa Fe's top-selling sculptor.
The studio and surroundings help Pearson create, but this is a job he can do anywhere.
"I'm totally focused," he says. "I know exactly what I need to do. What this environment offers is not a lot of distractions. I can get into the space that I need to be in, and make what I need to make."