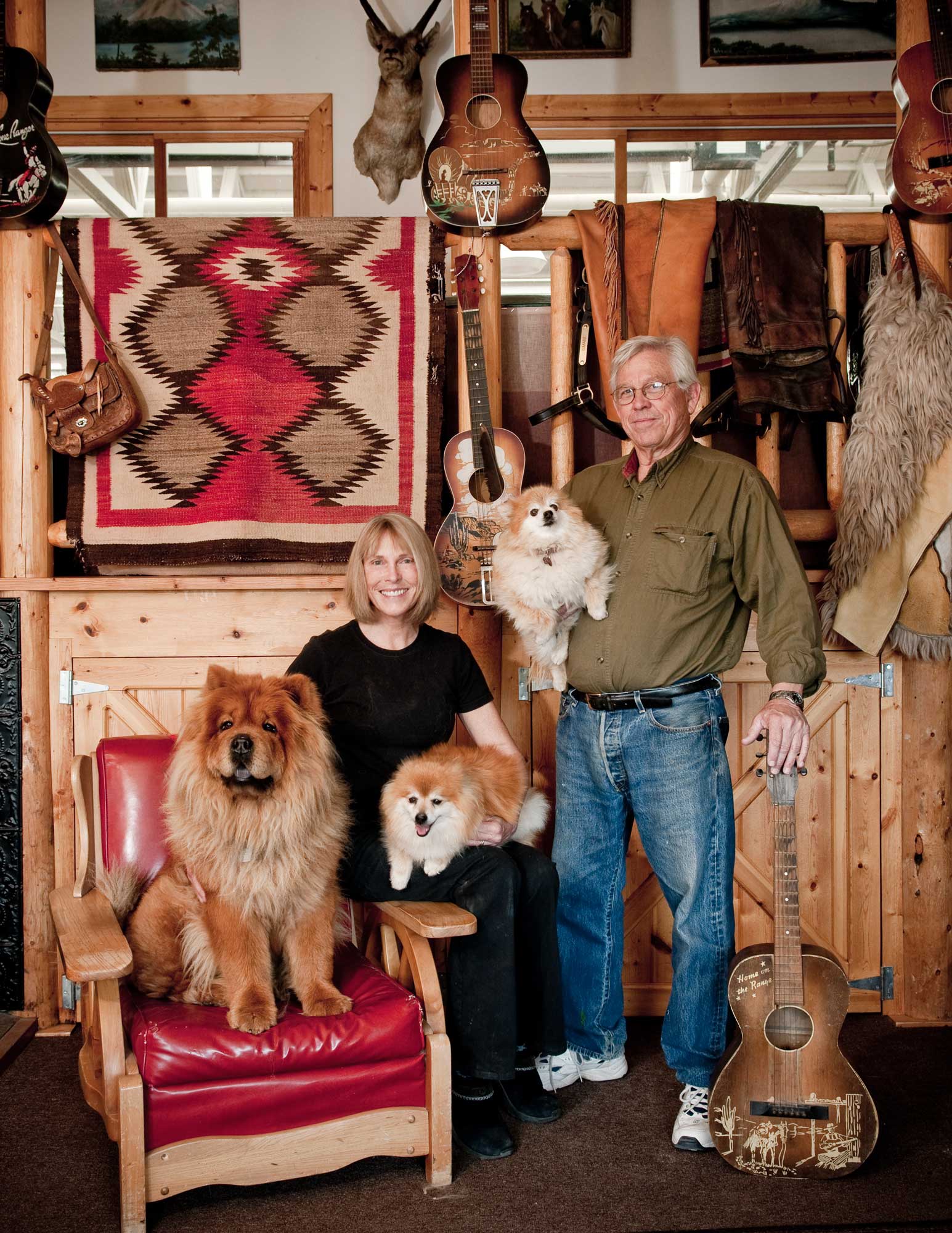 Deborah Butterfield and John Buck, who love dogs and cats as much as they do horses, with their chow Ole and Pomeranian look-alikes Otie and Lucy. John displays a favorite guitar from his extensive collection, many of them autographed by early Western recording artists.
24 Jul

In the Studio: Deborah Butterfield and John Buck
---
Heading toward Cottonwood Canyon just outside of downtown Bozeman, Montana, the two-lane blacktop traverses undulating hills dotted with cows, horses and the occasional llama. Passing by one typical-looking horse farm, there is no indication that it actually comprises the working compound of contemporary artists John Buck and Deborah Butterfield. Large barns and various outbuildings sit near the perfectly tilled riding ring. Horses graze in a series of paddocks, forming a foreground to an extended landscape of barley and alfalfa fields.
Turning into the gravel driveway, free-range chickens and turkeys scatter among the converted dairy buildings and chicken coops. But enter any structure and the agrarian illusion shatters. The former cowshed is now the office, where a busy secretary calmly processes paperwork while fielding phone calls from gallery representatives, museum curators, foundry fabricators and overnight delivery companies. The barns turn out to be hangar-sized art studios filled with works-in-progress, completed sculptures, packing material, art supplies and studio assistants who capably go about their jobs to the background sounds of rockabilly music. The hum of activity is remarkable considering the rural area, something one would expect in a Manhattan loft gallery rather than the outskirts of Bozeman.
Buck and Butterfield met at the University of California at Davis, which in the 1970s was one of the most vital contemporary art centers in the country. The couple married in 1974, and they have two sons, Hunter and Wilder, both of whom are art students.
"We moved to Montana in 1976, when John got a job teaching at Montana State University," said Butterfield. "Over the years, we've managed to put together about 460 acres."
Butterfield, now an internationally renowned artist, is famous for her horse sculptures that can be found in museum collections throughout the United States and abroad. Private collectors also vie for the animals, which Butterfield painstakingly shapes piece-by-piece from driftwood piled on her studio floor, gathered from wherever she goes.
In what Butterfield calls a "brutal process," she looks for basic shapes to form the body of the horse. Those pieces are cast in bronze, and then welded together to create the armature. After the body is formed, she then puts on the neck and head. The entire sculptures are then cast in bronze and given a final patina, with such realistic results that viewers can hardly believe they are not looking at "just" driftwood. While most are in standing positions, some horses are reclining, which Butterfield compares to "reclining nudes."
In addition to crafting horses from various types of wood, Butterfield also fashions them from scrap metal and found steel. "When we bought our first house in Bozeman in 1979, we made 29 trips to the dump before I realized I could use the material in sculptures," remembers Butterfield.
The sometimes rusty, sometimes painted pieces are welded together — their odd, twisted shapes taking on new life as they form the body parts of a horse. Butterfield does all the welding with her trusted assistant Walt Zidack, and a day in the studio can be as physically challenging as a day spent at the gym. Her ability to transform detritus into horses so lifelike and full of personality explains why each sculpture is given a name instead of a title.
Born in San Diego, Debby Butterfield has loved all animals, but particularly horses, since childhood. "I was born on the day of the Kentucky Derby when 'Ponder' won, and he was sired by 'Pensive," who was also a Kentucky Derby winner, so I always thought that was important," said Butterfield.
Her success in the art world, which is the result of many years of hard work, has enabled her to realize her girlhood dream of keeping her own horses. She is especially drawn to classical dressage, in which horse and rider execute a set series of movements, working together in an attempt to appear effortless through invisible cues. Considered the "ballet" of all riding disciplines, dressage is often a lifelong pursuit for those who become addicted to its challenges, and Butterfield is definitely hooked.
Because Montana's weather is conducive to outdoor riding only a few months out of the year, Butterfield has built a large indoor arena adjacent to her horse barn. Lined with mirrors as is common for dressage training, this indoor ring allows her to ride far more often than she could otherwise. The horses that share Butterfield's stable range from working ranch horses to fine Danish warmbloods. It is these huge warmbloods which stand tall with arched necks that clearly inspire Butterfield's sculptures. Although she has two black belts in karate, horseback riding is Butterfield's favorite form of exercise. "I think riding is a martial art," said Butterfield.
John Buck is also a sculptor, but is equally well known for his oversized woodblock prints. A retrospective exhibition entitled John Buck: Iconography, From the Collections of Jordan D. Schnitzer and his Family Foundation is currently touring the United States, the first large-scale museum survey of Buck's work since 1993. The stint at the Yellowstone Art Museum in 2010 will be augmented with new kinetic sculptures direct from Buck's studio. The show generated a publication with insightful essays by critics Eleanor Heartney and John Yau, and it includes a catalogue raisonné of Buck's monumental woodcuts dating from 1980-2007.
An Iowa native who collects with the glee of a magpie, Buck's studio is filled with odds and ends, ranging from precious to campy, that catch his eye. Encompassing belt buckles, taxidermy animal specimens, guitars bearing the autographs of early singing cowboys, vintage Mexican serapes, solid Western furniture, tramp art frames, folk art and much more, Buck's whimsical collection belies the thoughtful commentary found in his art.
When converting the original farm buildings to their working compound, Buck and Butterfield designed most of it themselves. They brought in architect Doug Rand to assist with Buck's studio, which features a wall of sliding glass doors that flood the space with natural light. An entire wall of colorful plastic squeeze bottles, neatly arranged in progressive paint colors, forms a still life of its own.
Buck's sculptures, in varying states of completion, include a series of standing nude figures, both male and female, which are disconcertingly headless. The static, frontal forms stand as still as an Egyptian statue or a Greek kouros, but it's the symbols that Buck attaches to their shoulders that convey his message. Hearts, horses, pagodas, fans — any number of forms, exquisitely carved and placed in sometimes precarious balance, serve as Buck's witty and thoughtful commentaries on the world around us.
Elegant 19th-century machinery — saws that were all used at the Anaconda Mining Company in Butte — grace Buck's studio. Lovingly restored by Buck and his longtime studio assistant Guy Klaas, the equipment ranges from the oldest, an 1874 Fay saw, to the newest, a 1920 Oliver model. Buck uses the antique saws on a regular basis to carve the jelutong wood he favors for his sculptures and woodblock prints.
"At Anaconda they manufactured everything on site that they needed," observes Klaas. "They had their own foundry and wood working shops. It was a self-contained place."
The same could almost be said of the extensive Montana compound created by John Buck and Deborah Butterfield, who know all about what it's like to be artists in the studio.