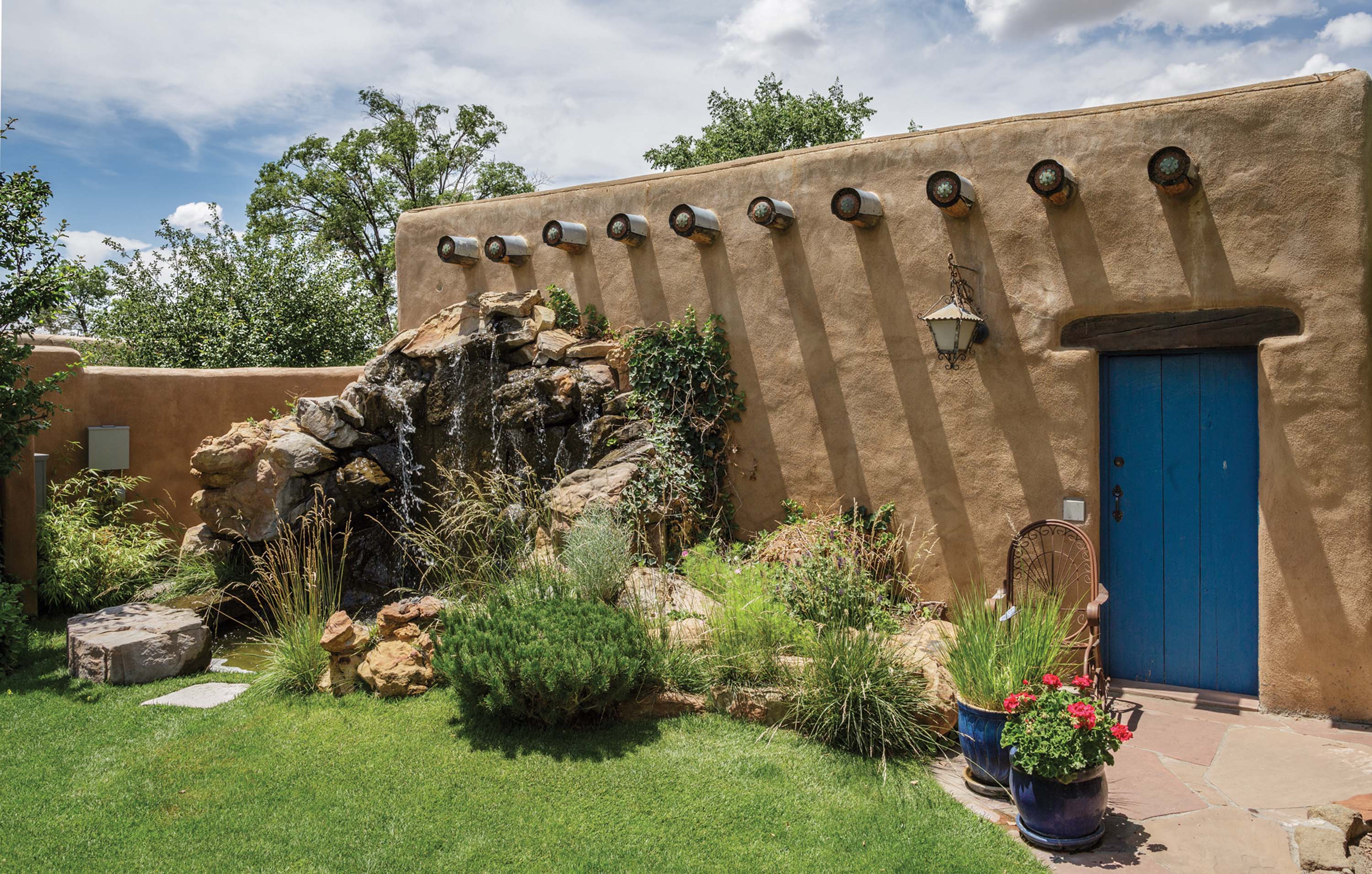 Artist Ed Morgan's home and studio in a 300-year-old former Spanish garrison opens into a lovely garden, tranquil with the sounds of a fountain in Taos, New Mexico.
19 Oct

In the Studio: Ed Morgan
---
On a narrow, leafy residential street in a historic section of Taos, New Mexico, a low-slung, blocklong adobe building looks very much like what it once was: Spanish army officers' barracks that were part of a frontier fort more than 300 years ago, long before Taos was a town. A plaque by the door announces the building's place on city, state and federal historic registers. With its austere-looking façade, the thick-walled home once belonged to Oscar Berninghaus, a founding member of the Taos Society of Artists, who gave it to his sister in 1916 after building his studio nearby.
But go around back, and another world appears. Behind a tall adobe wall is an oasis of lush, trimmed grass and flowers and a manmade waterfall tumbling over rocks into a small pool. With his studio door and window open, artist Ed Morgan is busy working to the soothing water sounds. Morgan has lived in the historic house with his wife, Virginia, since 1980. Twenty years ago the couple added the three-room, two-story studio, which comfortably accommodates the multistep process of his widely collected art. It's an uncommon art form, a labor-intensive combination of metal engraving and embossing, finished with watercolor, fine Chinese silk and gold leaf. The 70-year-old artist learned the process as a young man working for Hallmark Cards in Kansas City, Missouri. He continued to perfect it as a master engraver for American Greeting Cards before turning his talent to his own art.
It begins with research and drawing in the studio's upstairs library, reached by a solid oak spiral staircase.
As Morgan draws, he keeps in mind that the final image will be left-to- right reversed. Moving downstairs to a massive, custom-built engraving desk, he uses a stylus to trace the image onto nylon foil sheets and then carves the scene into a thin magnesium zinc plate. Because the work will be embossed, all areas to be raised must be cut out. The ability to visualize "backwards and in reverse," as Morgan puts it, is an essential part of his art.
In the other downstairs room sits an enormous 1950 German-made Kluge printing press, delivering 60 tons of pressure at 300 degrees Fahrenheit. Each image goes through the press 15 to 30 times, producing a raised master image, pressing and embossing the image into 100 percent rag paper, and then pressing numerous times again after areas of watercolor, silk or gold leaf have been meticulously applied. The heat and pressure give the paint an enamel-like gloss and leave the silk with a delicate sheen. The final result is an exquisitely detailed small edition or one-of-a-kind piece. Along with American Indian scenes, the artist creates natural imagery such as flowers or hummingbirds.
Inspiration and visual reference for much of Morgan's art can be found on the studio walls. Above the watercolor desk, for example, are sheathed knives and hatchets, arrows, beaded moccasins and his great-great grandfather's Kentucky long rifle, with its tiger-stripe maple stock. "I remember my grandfather killing pigs with it," muses Morgan, who lived on his grandparents' Missouri farm after his father died when Ed was 10 years old.
In the next room hang beaded tipi bags, a quiver and beaded buckskin shirts. Large parfleche bags made of elk or buffalo rawhide fill the walls on either side of a massive buffalo head. Yet these authentic artifacts are more than a reminder of Morgan's lifelong fascination with Native cultures. Ed and Virginia have hand-sewn and beaded their own buckskin clothes and carried them in 19th-century parfleche bags from their collection. They've erected and lived in tipis and cooked buffalo meat over a fire — all part of annual 10-day rendezvous gatherings where participants carry out daily life in strictly pre-1840s ways.
For artistic inspiration, Morgan can look anywhere in his studio and home, filled with paintings by such luminaries as Howard Terpning (a close friend), Paul Pletka, Antoine Tzapoff and Robert Griffing. A wall of small paintings beside the spiral staircase features works by Richard Schmid, Bill Acheff, Ken Riley, Michael Coleman, Morgan Weistling, Clark Hulings and others. Pointing to a painting of Paul Revere on his horse, Morgan says, "My dad (Herman Lee Morgan) did this one when he was 16."
One corner of Morgan's studio is a walk-in bank vault containing a tall flat-file cabinet filled with his work. Carefully thumbing through the drawers, he pulls out a piece called The Dog Dancers and sets it on a display stand. It's a nighttime scene of seven warriors preparing for a dance. Requiring four engraved plates whose embossed images were spliced together to create a single scene, it took a full year to complete. "This is one of my favorite pieces," he says, remembering the mixture of creative energy and hard work that went into it. "There have been so many cool ones that were so fun to do."