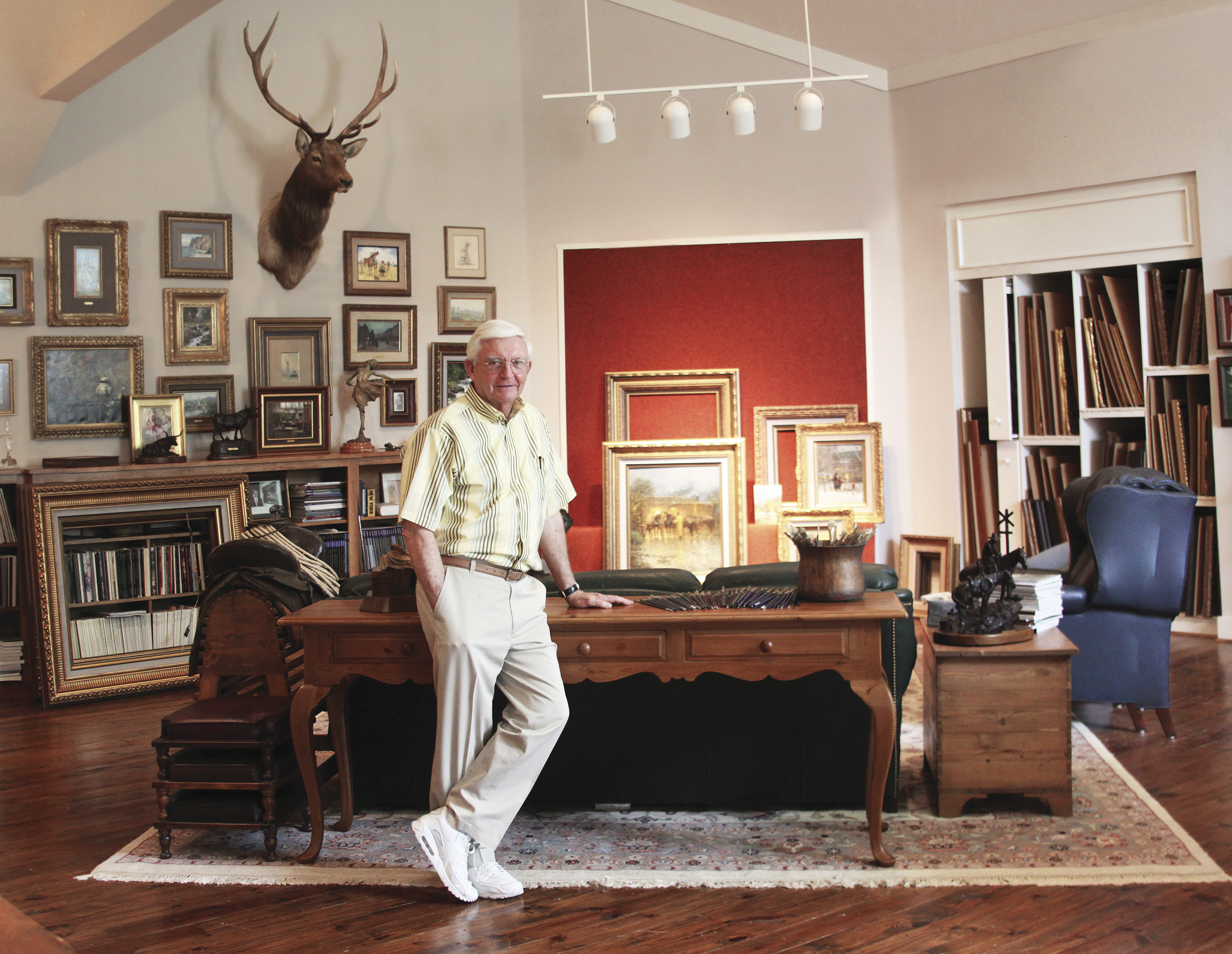 The spacious studio designed by G. Harvey is filled with paintings, bronzes and cowboy memorabilia from his friends on the Spade Ranch—reminders of the weathered cowboys who wore them.
29 Dec

In the Studio: G. Harvey

Out on the West Texas Spade Ranch, Gerald Harvey Jones — better known as G. Harvey — and his wife, Patty, fell asleep to the creak of the windmill on the screened-in porch of cowboy Bill McClellan's ranch house. They awoke before the stars winked out to the clucking of wild turkeys roosting in nearby mesquite trees. By 4:30 a.m. Doris McClellan had served up a huge breakfast of potatoes, beans, eggs, biscuits, bacon and coffee. The cowboys ate heartily and quietly before they spread out over the 200,000 acre ranch to work cattle. Riding along, studying the cowboy way, G. Harvey handled a horse and changed the film in his camera without dropping a rein. One of Texas' favorite sons and one of the most prominent, recognized names among living artists in America, G. Harvey is fully engaged in the wonder of living.

Researching is not a matter of a drive-by shooting with a camera. Back in the early '60s as a young artist determined to paint the story of the country he loved, he read an article on the Spade Ranch in the Cattleman's Magazine. The historic ranch was known for quality livestock, good cowboys, round-ups on the open range, and traditions including feeding hungry ranch hands from chuckwagons. Harvey called ranch manager Shorty Northcutt about coming out to watch them work. Shorty assigned cowboy Bill McClellan the task of letting this young artist from Austin follow him around. "Aww, shit!" was all McClellan said, as he had visions of some long-haired hippy artist getting in his way. When Harvey showed up with a crew cut, McClellan was so relieved that theirs was an instant friendship.

After a long day's work, McClellan would saddle up two fresh horses and take Harvey out to the "rough country." One day Harvey had McClellan ride back and forth across the creek to get the light, the water, the horse and the rider just right. He heard McClellan mumble to his horse, Old Guts, "Someday, Guts, I'll explain."

Early on, Harvey slept in the bunkhouse with the ranch hands during branding or fall shipping. After McClellan married Doris, Harvey and Patty stayed in the ranch house. When Harvey ran with the cowboys, the lessons learned were a lot more than how to dally a rope and read a horse. Some of the happiest, most contented people he's known owned nothing but a pickup truck, a string of horses, cowboy boots and a suitcase of clothes. Harvey says, "It's hard-working, honest people with a sense of honor, like Bill, who have made our country great."

McClellan is 84 years old now and still fact-checks the details in Harvey's paintings. His first comment often becomes the title. He saw the painting of cowboys herding cattle across a river and said, "Damn, that's boot top deep." The painting became Boot Top Deep.

It's been a great partnership between cowboy and artist — Harvey says they're like brothers; the artist knows he's had the privilege of riding with the last of a breed that defined the old cowboy ethic. "If we had more cowboys in this country we would have fewer problems," he says.

"Those cowboys gave blood, sweat, tears and the strength of their youth to ride for the brand," says Doris McClellan. And they are the cowboys in a G. Harvey painting.

Although Harvey wasn't raised on a ranch, he came from cowboy stock. His grandfather Jesse Jones was a trail boss on the cattle drives from Texas to Kansas. His father, JD Jones, who grew up on a ranch, saw his first automobile while riding horseback into Austin down Congress Avenue. Cowhands on the Avenue records that scene. It's the heart, soul, sacrifice and wholesome lifestyle of that era — the turn of the 20th century — that G. Harvey documents in art.

His cityscapes are as carefully researched as his cowboy scenes. Gerald and Patty travel to those great cities of America and Europe to find the spirit of place in the light, the architecture and even the air. He pores over old photos in the National Archives for details and says it's about learning to see — an image, a shadow, the mood and atmosphere.

All of that life and living is brought back to the studio where his work becomes an alliance of nature and intellect; instinct and logic. When he returns, refreshed and inspired, the three or four paintings he had going are seen with fresh perspective and he's ready to start new material.

There's so much more to a G. Harvey painting than technical mastery. They seem to be illuminated from within. "Light directs the eye through a painting," says Harvey. His sensitivity and perception permeate his work and evoke an emotional response. When Jim Smith, an art collector from Houston, walked into a recent one-man show in Fredericksburg, Texas, and saw all those G. Harvey paintings, he said, "I got weak in the knees."

Displayed about the studio are work-worn cowboy hats and gear — cast-offs from the cowboys on the Spade Ranch and reminders of the weathered cowboys who wore them. "A horse's ears and a man's hat will set the tone of the painting," says Harvey. Although his paintings are impressionistic, they tell the reality of place and humanity.

Harvey is a Texan and takes pride in the state's history and heritage. He understands the importance of integrating architecture into the historic complexity of a region. At the edge of "Old Town" Fredericksburg, Texas, with a creek running through the back yard, the sandstone home, studio and office buildings that he designed are not conspicuously new. They fit comfortably into the historic landscape. When the couple moved to Fredericksburg from Austin 30 years ago, it was as if they stepped back in time into the intimacy of a small town.

Near his easel, smiling over his shoulder from a portrait on the wall, is his wife, Patty. She's a petite beauty and a chef with an inner radiance and a huge capacity for love. They met in college and from the beginning, she's told him each painting is the most beautiful he's ever painted.

Harvey has made a conscious effort not to be consumed by the weight of the creative force which has driven many historic artists to extremes. Weekends are reserved for family. He's in the studio five days a week until 4 o'clock every afternoon when he strides across the lawn to his home for afternoon tea — a tradition brought home from a trip to England. Their married children join them when they can, but the grandchildren don't miss it. Even when they're off to college they know if they call at 4, their grandparents will be in the breakfast room and would love to visit. They may have tea and scones or lattes and ice cream, but the constant is laughter and lively conversation. Granddaughter Lindsey Taylor says, "Grandpa makes each of us feel like we're his favorite."

Harvey is humble and avoids the white light of publicity and fame, which is remarkable considering that he has had exhibitions at the National Archives, The Treasury Building and Smithsonian Institution in Washington D.C., and has received numerous awards for artistic merit and contribution to the arts. "The creative spirit is tentative. Having good people around you is very important," says Harvey. His gratitude runs deep. He's grateful to his friends, to his collectors, who include United States presidents, governors, foreign leaders, corporate giants, museums, the United States government, major corporations around the world, and ordinary folks. He has had one-man shows in Arizona, California, Wyoming and most recently in Fredericksburg, Texas, sponsored by the Whistle Pik Gallery. They have all sold to the wall, with the September show in Texas breaking $2 million.

There is something so profound about witnessing a life lived with care. To see a man with a strong mind and heart and soul — one who takes care of his creative gift, his family, his friends and his faith. "It's a full life. I've met and dealt with the best people in the world. I'm blessed," says G. Harvey.

Sleeping on that screened-in porch on the Spade ranch one night, a rip-roaring West Texas thunderstorm exploded. Patty cowered under the Naugahyde cover to stay dry and hide from the violent storm. Gerald sat bolt upright studying the storm-tossed trees, the rain and the lightning as it sliced the sky and illuminated the night. The wide encompassing quality of his inquiring mind was focused. Life is a lesson to G. Harvey. What a life. What a lesson.
---
Carleen Milburn is a Montana-based writer who mines America's gems of people and places.
Amy Archer has photographed artists and art destinations from Montana to Mongolia. She lives in Billings, Montana, with her husband and three young children.