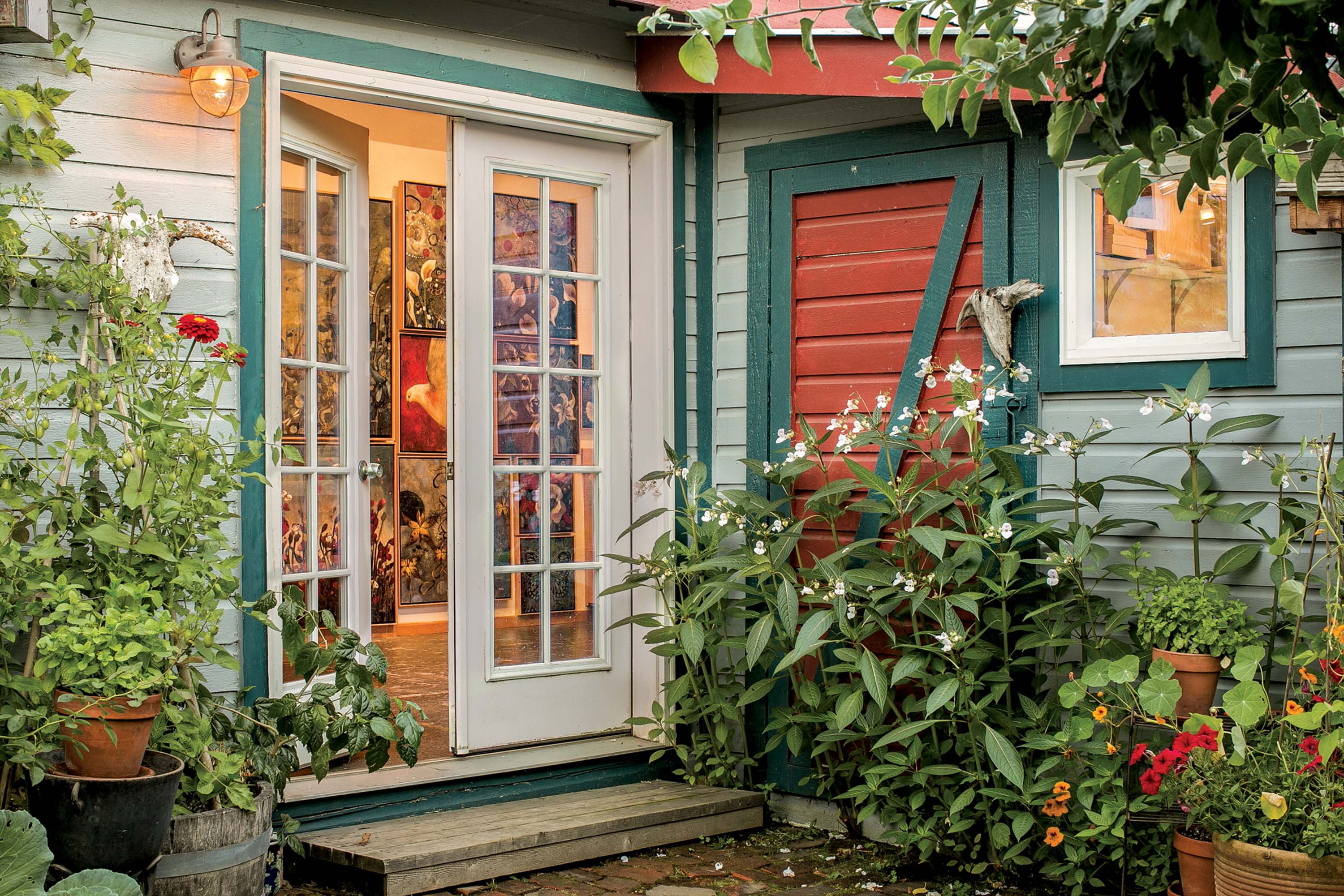 The 300-square-foot studio is filled with light from the French doors that open out to Earle's garden.
30 May

In the Studio: Intuitive by Nature

Although she was born in France and has visited a host of countries, artist Catherine Earle doesn't need to travel very far for inspiration. For Earle (whose first name is pronounced kat- TREEN) everything she needs to create her ethereal acrylic paintings is close to home.

Earle lives in a quaint, two – story home on a quiet, tree – lined street in Sandpoint, Idaho. With teal trim and auburn accents, the 1,400 – square – foot home she shares with her two daughters and beloved pets certainly looks like an artist's residence. Second – floor alcoves tuck into a metal roof that sings her daughters to sleep in the rain. A roomy front porch holds a wide wooden bench, while the back porch is slung with a hammock so the artist can take in the sights, sounds and smells of her voluptuous garden.

Lavender, roses, delphiniums and clematis hug the fence while pots of nasturtiums, sunflowers and marigolds frame the double French door entryway to the 300 – square – foot studio she converted from a detached garage. Raised beds overflow with broccoli, kale, beans, savory herbs and other edibles, ensuring a steady supply of bees, ladybugs and butterflies, as well as hummingbirds, chickadees and swallows.

"It's speaking to me," she says of her lifelong fascination with nature.

Even as a young girl of 4 or 5 in Nimes, France, Earle remembers being fascinated by the plants and animals that filled her parents' farm, especially the flowers. Reading and working with her microscope were familiar childhood pursuits and both tie into her earliest paintings that evoke abstract cell structures.

More recent work — this summer marks the third year she has shown at The Art Spirit Gallery in Coeur d'Alene — has evolved to include the same flora and fauna she encounters in day – to – day life. There's also a growing assortment of larger creatures such as rabbits, a majestic stag and koi. Some swoop while others flutter across mostly square canvases. Still others peek from behind oversize petals, leaves and undulating branches conjured from her garden or from past travels to such places as India, Thailand and Fiji.

Many images she uses in her paintings come from her modest library: Maria Sibylla Merian's Insects of Surinam, Pierre – Joseph Redoute's The Roses, Ernst Haeckel's Art Forms from the Ocean and John James Audubon's The Art of Audubon. Earle also uses the computer to find resources and has begun taking more of her own photographs.

Sometimes, though, the artist just follows her intuition.

"I don't try to analyze what I do," she says of her process. "I welcome what comes up."

Earle has followed her passion since age 17 when she studied at the École des Beaux – Arts, followed by jobs in floral arrangement and theater makeup. Upon meeting a handsome American makeup model, Earle — née Lemaitre relocated to America, even though she barely spoke English. After a brief stint in southern California, Earle moved to north Idaho where her (now former) husband had family.

Although she continued to make art sporadically, including with her growing daughters, it wasn't until a watercolor class with Zoltan Szabo that she found her métier. Earle began painting in earnest, filling her home with artwork and establishing a presence in the regional artist community.

She says she enjoys her studio time, including the repetitive calm of making frames, stretching canvas or gessoing and sanding. Tools hang on pegboard and her workspace is stacked neatly. Light floods the room and Chico, the dachshund – chihuahua mix, or Petit Loup, the feline, frequently lounge nearby.

Adaptations in her studio allow Earle to work increasingly large, on canvases up to 8 feet. An easel towers above the 5 – foot, 2 – inch artist, yet quickly flips backward to provide a horizontal surface. Pegs along a vertical wall rail make it possible for her to move through several paintings simultaneously — she often finishes pieces quickly over several days — or work directly on the floor, maneuvering the cart of the Golden brand acrylics she prefers to build up the surface with layers upon layers of paint.

When she's painting, it's often to music — Latin American rhythms, but also emotive soundtracks from such movies as "The Painted Veil" — which may account for the energetic mark – making in her work.

Her painting process, she says, is similar to the way she gardens: She plants what she loves, doesn't use chemicals or worry about what might not make it. Instead, she embraces the cycle of life, knowing that her garden will "find balance within itself."

"I often put plants out [earlier] than my neighbors," she says, acknowledging north Idaho's capriciously chilly spring climate. She shrugs, adding that she believes in her own inner sense of timing for both her garden and her art.

"I trust that something is going to come."

Carrie Scozzaro teaches art full time and regularly writes about visual art, food, culture and education for several newspapers and magazines. A graduate of Rutgers Mason Gross School of Art, she has a Master of Arts in fine art from University of Montana and exhibits her artwork across the country. Marie – Dominique Verdier (www. MDVphoto.com) mostly uses available light for architectural photography, making travels unencumbered and work unobtrusive. Working intuitively, she tries to be faithful to the eye's experience in the spaces she photographs.