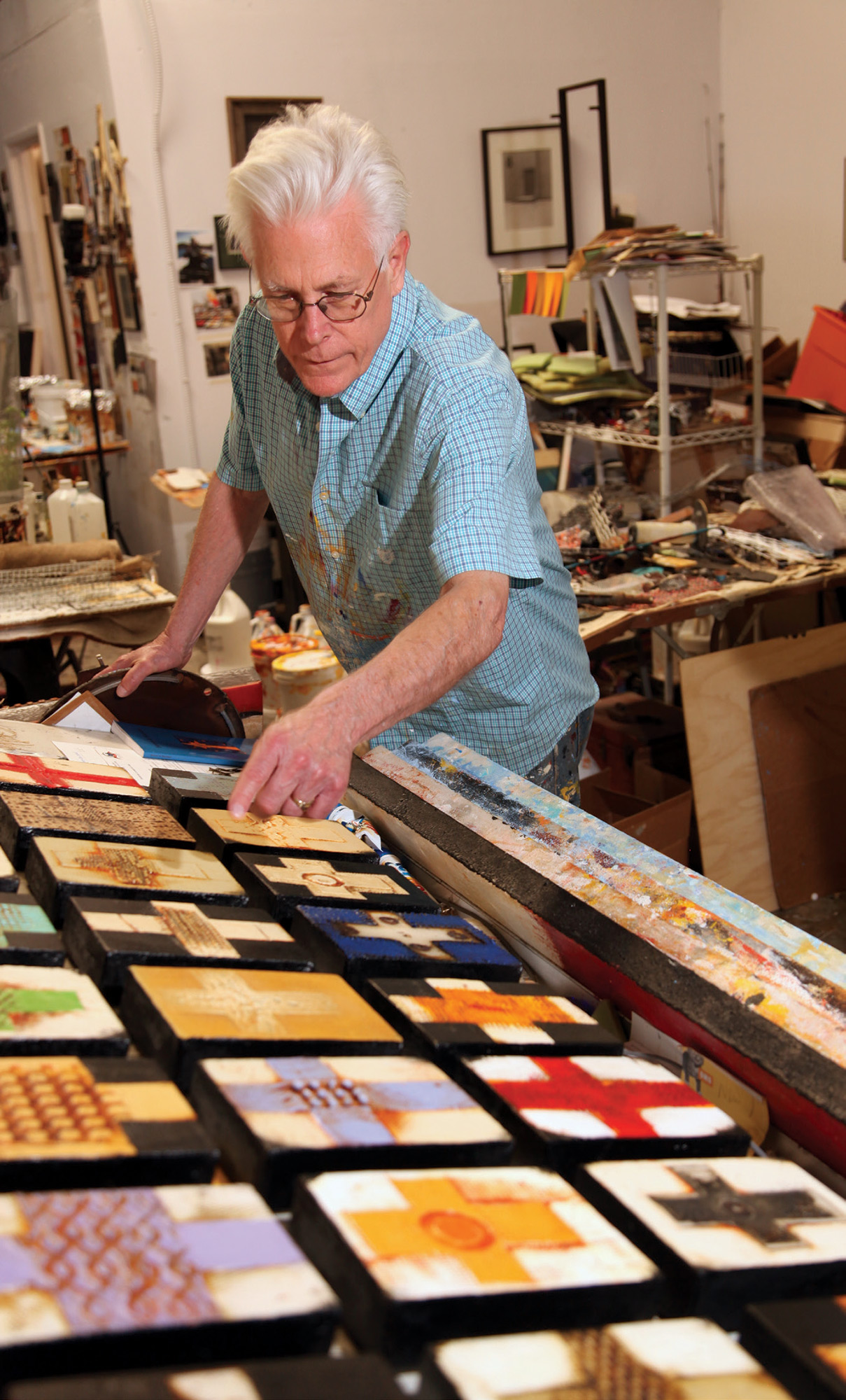 Father Bill Moore readies a series of small crosses, each with a different texture, pattern and color palette.
10 Mar

In the Studio: Modernist Missionary
---
If finding one's calling is the greatest gift in life, Father Bill Moore is twice blessed. As a priest and as a successful artist, he moves seamlessly from pulpit to studio and back again. "My art makes me a better priest," he says, "and my faith makes me a better artist."
Moore's style is uniquely his own, incorporating color fields that echo of Rothko and Newman, overlaid with often intense physical textures created by expanded metals, meshes and other pattern-making tools. The scarring, scraping and imprinting on his canvases are metaphors for what life does to us, as well as a reflection of his own way of "seeing" art.
"Touch is my most developed sense," he explains. "I knew that very early on. My mom and dad used to say, 'Bill, do you have to touch everything?' And the answer was, 'Yes. How else can I really know it?' So I encourage people to touch my paintings. They're acrylic and acrylic responds to the oils of the human skin. It likes to be touched."
Four years ago, Moore moved his studio to a business park about 35 miles east of Los Angeles. The 1,300-foot warehouse includes two showrooms, a small office and a large work area that's now covered in an array of colorful paint splatters. "I immediately just related to the set up here in this studio," he says. "Every space could be used for just the right purpose. And the huge draw here was the quiet."
Prior to moving, Moore worked in Pomona, California, in an up-and-coming arts district, but he outgrew the studio after painting there for eight years. "It was one of the best moves I ever made coming here," Moore says of the warehouse, which is always open to visitors. "The move engendered me to take the work in a new direction, almost like using the same language but with a different accent. It's kind of an overused word, but there's something very organic about the whole process of my work evolving and that coinciding with the physical move."
He says his work is now more gestural and a little more energized, but what has stayed the same is the desire to create peace amid chaos, to keep a balance between energy and rest. "I always want to have a peaceful resolution," Moore says. "Even if the painting is full of energy, life and movement, I always want to evoke peace, tranquility and calm. I always want to organize this energy."
Many of Moore's paintings incorporate sacred — though not specifically Christian — symbols. "I often use cruciform shapes," he says. "But like Antoni Tàpies, I believe that the power of the cross goes far beyond its use in a Christian context. We're drawn to what I call essential shapes, patterns and textures. They're found in all kinds of civilizations and traditions. In fact, the geometric ratios that I use almost subconsciously are the same as those used in ancient Indian, Egyptian and Greek architecture, as well as medieval European cathedrals."
"Father Bill imbues his art with a deep spirituality based on who he is," says Mary Felton, who represents Moore's work at Galerie Züger in Santa Fe, New Mexico. "His process is to walk up to a blank canvas and see what [the] Spirit wants him to paint on that canvas. I think people who are on that deep spiritual level can touch that.
"But his work also speaks to collectors who are only about the visual aesthetic. Geometric elements as well as texture play a big role in Father Moore's paintings. He uses patterns that go back to antiquity — really from cave days on — that speak to our psyches. He alludes to Plato's forms and draws from his fund of images: the good, the true and the beautiful — as well as the Golden Mean and the Fibonacci Numbers. And we're all somehow instinctively drawn to those."
Moore's pieces also often include found objects from the mountains, deserts or city streets. "Found objects have always fascinated me," he says. "When they and art materials merge, it creates a kind of alchemy. It's also a personal metaphor, in that transformation — something becoming more or other than it was — is at the heart of my ministry and art-making."
The natural world provides Father Bill both renewal and inspiration. His paintings reflect memories of morning light on the waters of Castaic Lake, the horizon line of the Sierra Nevada and the red iron oxide hues of the Mojave Desert.
"We have had the honor of showing Father Bill for many years, including a solo exhibition at the gallery," says Sam Heaton, director of CODA Gallery in Palm Desert, California. "Many of his paintings have been inspired by the rust tones, terrain and texture of the deserts of Southern California. Viewers appreciate the unique quality of those works, which possess a serenity and presence that many people feel naturally drawn to, just as they feel naturally drawn to the artist himself."
Moore is also inspired by the vernacular landscapes of Los Angeles, the patterns of fields and orchards in California's Central Valley, and the angles and planes of "primitive" art.
"Ever since I was a small boy, I have been attracted to the ancient, indigenous and primitive," he says. "The first time I saw a display of indigenous African art at LACMA, it was so beautiful that I literally got lost. I got separated from whoever I was with. I was just this kid, being totally alone and totally at home with this art. It just grabbed my little 10-year-old heart."
The desire to create his own art started in high school. "I was really challenged when it came to mathematics," Moore says. "I had the lowest scores ever recorded on the high-school entrance exam. But when I got to geometry — oh my gosh — I was in heaven! All these shapes and numbers and letters and lines. I just filled my notebooks with drawings using them. That summer I took an art class and started painting. It put a fire in me and I knew this was something I needed to do, no matter what."
When he went to seminary, however, Moore was told that he would have to major in philosophy or theology. "I had my heart set on being an art major," he says. "And I realized I had to do that, even though I might get kicked out. I kept waiting for the letter saying, 'Goodbye!' But it never came, and the next year the Provincial said students were encouraged to major in the field of their choice."
In 1968, Father Bill entered the order of Father Damien of Molokai, joining the Congregation of the Sacred Hearts of Jesus and Mary. He was ordained after college seminary and graduate school. "It's a missionary order," he explains. "We're in parishes, hospitals, high schools and prisons in the U.S., Asia, Africa and Latin America, often working with the poorest of the poor." All members of the Catholic order work to support its efforts, and for the past 15 years, the sale of Father Bill's work has endowed the order's social justice work. "Being able to pursue my passion while benefitting my order has been a great blessing in my life," he says.
Spurred on by features in newspapers and magazines around the world, Moore's work is increasingly represented in international collections and in galleries across North America. This spring, Avran Art + Design, in Laguna Beach, California, will host an exhibit of his work opening on April 23.
Keeping up with that demand often dictates 12-hour days in the studio, but Father Bill still makes time to serve mass at a local parish, as well as in detention camps for youthful offenders, a convalescent center and a retirement center. In fact, he finds no separation between those activities.
"People often tell me they've never heard any priest say the things I do in sermons," he says. "I put so much effort into a talk — trying to find a connection that's fresh, that's valid, exciting to me and maybe helpful to them. And it's the same thing in art. So whether I'm painting or drafting a sermon, it's the same process."
Moore also includes descriptions with each painting, a "little window" that viewers can peer through to understand his process, adding a layer of depth.
"Father Bill speaks softly and with a humble heart," says Nick Barral, director of the Gib Singleton Museum of Fine Art in Santa Fe, New Mexico. "His paintings invoke feelings for life as a whole, and viewers are drawn to that."
"I think in many ways, people are hungry for poetry and music and art," Moore says, reflecting on his chosen professions. "I think we have a deficiency in our spiritual diet. Through my art, I'm asking myself and those that would explore it to slow down. To look, touch and consider the essential colors, shapes and textures that can feed our souls. I hope my paintings serve as an invitation to enter into the mystery of being fully human, and to face our fears and the challenges of life with dignity and grace."