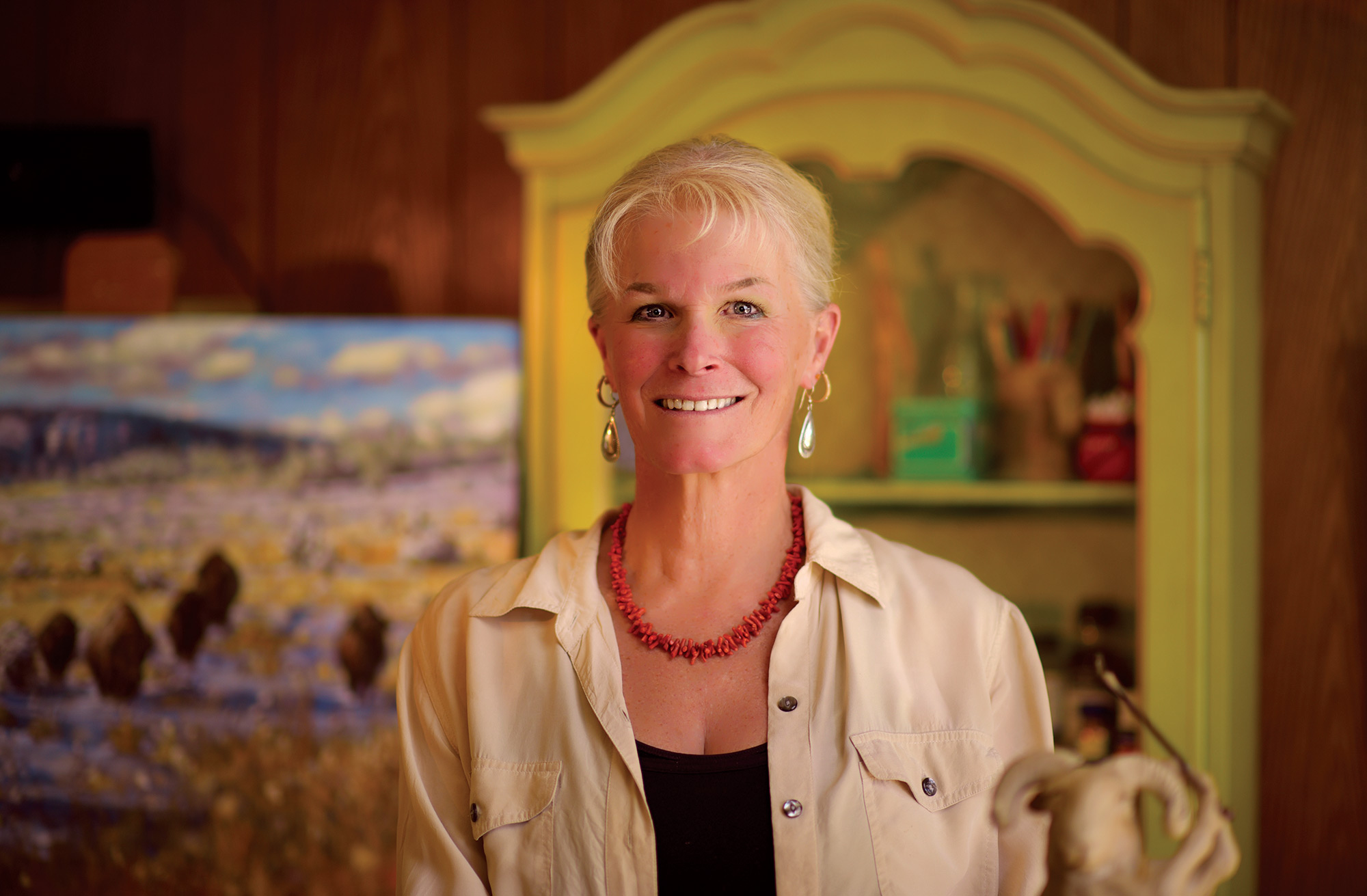 In her home studio, Susan Norris welcomes a new workday. Behind her, an heirloom desk holds art supplies and one of her landscape paintings rests at the easel.
04 Aug

In the Studio: Motivated by Mother Nature
---
Some people spend a lifetime searching for that one place that captures their heart, speaks to their soul and enables their creativity to flourish. For self-taught artist Susan Norris — born and raised in northeast Ohio — New Mexico became that ultimate destination.
Known as "The Land of Enchantment," the Southwestern state provided this independent woman with a home, workspaces and a range of life experiences that reach beyond anything she had ever envisioned. Norris, who won an art competition with a horse drawing at age 9, glows like a desert campfire whenever she talks about her lifelong obsession with art and animals.
"Animals don't judge, they don't hate, they have no jealousy, they don't concern themselves with the future or the past, they just live in the moment," Norris says. "I believe we, as humans, are drawn to that and are a bit envious, too. I feel so much admiration for the simplicity of their lives. As an artist, I enjoy the beauty and diversity of God's nonhuman creations. I'm blessed each time I can capture it."
If one were to wander into Susan Norris Artworks in downtown Cimarron, New Mexico, they might think the 1,800-square-foot space contains a group show representing many Western artists. But they'd be wrong. Norris is just that prolific and can take credit for every piece on display — landscape paintings, whimsical sculptures, ceramic vessels, wildlife portraits. In either two or three dimensions, her innate sense of proportion succeeds.
Colors from the surrounding terrain cover the walls of her studio and gallery and are woven into Persian rugs scattered across the floor. Natural wood tones and textures in frames, shelves, bookcases, studded pedestals, chairs and tables complement the warm earthtones. Foliage thrives in this environment — cacti, spider plants, geraniums, philodendrons and a large, sun-leaning fig tree bring life to the space. Norris has created a sense of nature living indoors, and knowing the artist's passions, it comes as no surprise at all.
"Nature is what inspires most artists; the natural world is what we see each day. I like animals, the interaction between animals and humans — man and dog; girl and horse; the comical things animals do. I just put my own twist on it," she says. "I'm not a city person, I'm not inspired by urban things, I like theater and all that, but when I take my walk with the dogs, nature inspires me."
Four blocks away, a second studio in her home is used almost as much as the larger studio-gallery space. Many of Norris' smaller pieces have begun or were finished here. An early riser, this is where the self-described "coffee snob" enjoys her French-press brew and contemplates how her workday will unfold. Her mornings are usually filled with exercise and administrative tasks, as she prefers to focus on creative work from early afternoon into evening.
A stylish, drop-front secretary desk holds some of her art supplies. "It was my mother's favorite piece of furniture, where she always sat to write her letters. She was always so supportive of my work. Even though French provincial really isn't my style, I love it," she says.
The artist seeks to honor the majesty and humor of animals, and this is evident in her work and lifestyle. Norris surrounds herself with animals — a lovebird, two large dogs, one horse that is stabled with a friend's so as not to grow lonely, and three barn cats. The canines join her on daily hikes and are frequent companions while she's working.
Many who know Norris think of her as a Renaissance woman, but it's taken some time for her to become comfortable with that characterization.
"I'd never thought of myself that way, but other people have called me that, not just in regard to my work, but everything I do all put together. When I finally looked it up, I wondered, 'Is that really me? Okay, I do this… I do that.' So I guess I'll accept it."
Norris has logged more than 6,000 miles as a competitive endurance rider; is a skilled markswoman with rifles, shotguns and arrows; draws with pencil, ink or graphite; has raised beef, pheasants, chickens and can "grow anything if it's green." She paints in oil, gouache or acrylics; cooks gourmet meals; hauls everything from a two-horse bumper trailer to a 30-foot gooseneck; sculpts in ceramic, bronze or mixed media; can operate any power tool she touches; and has original artworks in private collections throughout the United States, Europe and Africa.
The self-taught artist was recently selected as the 2016 National Artist in sculpture for the Boy Scouts of America (BSA). She was the first sculptor and woman chosen to step into this distinguished role.
The honor came after an eye-opening visit to Philmont Scout Ranch near her home in Cimarron. She was inspired to approach BSA's leadership with a proposal to create sculptures of Ernest Thompson Seton, author, illustrator and a founding pioneer of BSA; Lobo, a wolf whose death set Seton on his path as a steadfast conservationist; and a 1915 Boy Scout in uniform. Her lifelike maquettes won them over.
The completed works, one-and-one-quarter life-size, will be installed on the plaza of the Philmont Museum and Seton Memorial Library situated on the 137,000-acre ranch. Seton's original art, books and natural history artifacts are on public display there. Groundbreaking for this much-heralded undertaking is scheduled for August 2016.
After finishing the Seton sculpture, Norris was also commissioned to sculpt the Boy Scouts' Silver Buffalo Award, the highest commendation presented to an exceptional American for distinguished service to youth. John Green, BSA's High Adventure Group Director, calls her rendition of the bronze bison award "a magnificent piece." Like the scouts she so admires, this gifted artist will "be prepared" for any challenge that art or life sends her way.
This summer, from August 12 through 14, Norris will exhibit her work during the 33rd annual Sculpture in the Park show and sale in Loveland, Colorado. It's the largest juried sculpture exhibition in the country, showcasing more than 2,000 works created by 160 artists from around the world. Norris will make her third appearance this season.
"Not only do I feel honored to be among some of the top sculptors and most serious collectors in the country," Norris says, "but the staff and volunteers make Sculpture in the Park the best show I have ever had the pleasure to be a part of, and I do mean pleasure."
Held at the Benson Sculpture Garden, some 15,000 visitors attend the outdoor exhibit every year. Proceeds from the event are used to purchase new works for the garden's impressive permanent collection, which includes nearly 150 works by world-renowned artists. Scattered across its 10 acres are works by Kent Ullberg, Steve Kestrel, Jane DeDecker, Tim Cherry, J. Chester Armstrong, Martha Pettigrew, Jim Eppler and many others.
On Norris' website, she highlights this quote from Pablo Picasso: "Art washes away from the soul the dust of everyday life." Our world is made better by this artist's ability to stay on top of that neverending chore.