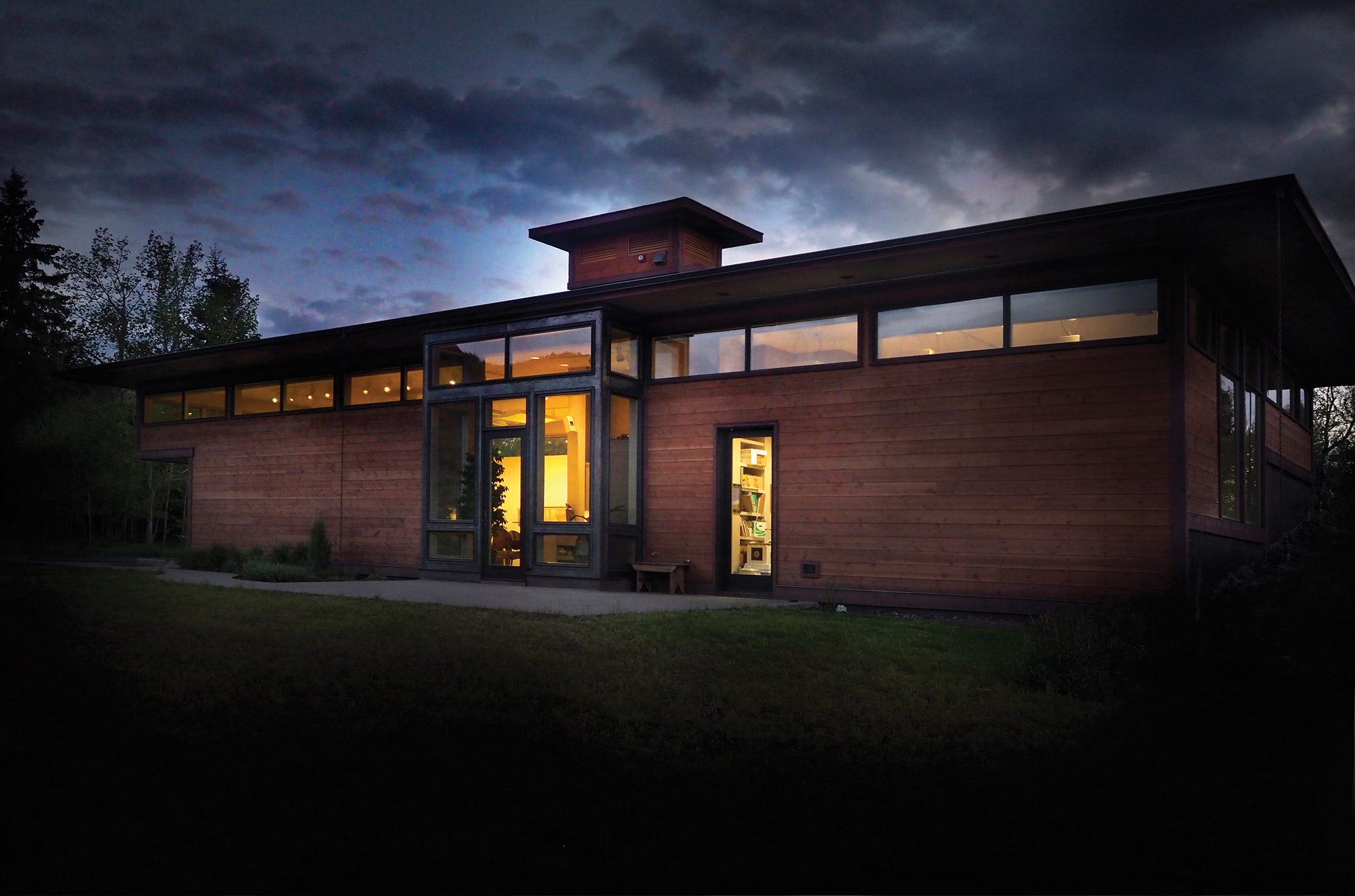 South of Bozeman, Montana, the new studio of artists Clyde Aspevig and Carol Guzman was designed to sit inconspicuously in the landscape.
14 Sep

In the Studio: Moving Imaginations
---
The new studio of artists Clyde Aspevig and Carol Guzman, south of Bozeman, Montana — just off the road and not far from a national forest trailhead — sits on a meridian, public to private, past to present, city to wilderness. Looking for the turnoff to the property, your eye wants to skip past the roofline in favor of the mountains behind. And once inside the studio, noting the carefully neutral walls, the matte, white oak floor, the diffuse natural lighting, what strikes you first about the building is what it is not.
Designed by Aspevig and his wife, Guzman, the studio is simultaneously a work area and a display space. It is meant most of all to be a vehicle, a delivery vector for art. At any given time, there might be as many as 30 original oils hanging on the walls, Aspevig's and Guzman's. Masterpieces all, and each one needing its fair share of attention. In that context, the studio is the rarest kind of architectural creation: a structure that's meant to disappear.
Aspevig and Guzman moved to Bozeman three years ago, transitioning from 355 acres on Montana's Shields River. It was an idyllic spot, in many ways (trout stream, cottonwoods, productive isolation), but one not without its burdens (50 miles to the Bozeman airport). "My motto was never live in one place more than 10 years," Aspevig says. "I've always liked the inspiration that change gives me. And we'd been on the Shields for more than 17 years. We were overdue."
They've had any number of studios over the years, and so previous experience taught them exactly what they wanted out of their new environment. "It's all about wall space," Guzman says. "Our last place, over on the Shields, it had great windows, great views. But people would look at the views instead of the paintings. Here our visitors come in and they are drawn to the artwork."
They wanted their new area to be sparser, cleaner, inviting. "We have that common core of chairs," Guzman says, "and some of them swivel so you can turn around and look at the paintings from one spot. We don't have a lot of artifacts, though we do have some sculpture that we've collected by artists we admire, artists like George Carlson and Tim Cherry. But sculpture lends itself to a gallery space. They don't compete with the paintings; they enhance them."
The bones of the building were inspired by Aspevig's admiration for Frank Lloyd Wright. "The long eaves, the high ceilings, the low-profile hip roof," Aspevig says. "We put windows all the way around the top. Those are all elements reminiscent of Wright's prairie design." They also added a small cupola, meant to honor the agricultural traditions of the area. "We were able to vent everything out through the cupola instead of putting vent stacks on the roof," he adds.
In addition to providing a display space to bring friends and clients, the new space has also affected Aspevig's approach to painting. He has typically worked on at least three or four major paintings at any given time, rotating from one to the other, placing them on the easel, taking them off again. That's been his workflow. But this new space has allowed him another step. "You get reflected light bouncing into the building," Aspevig says, "and it's constantly shifting, giving the paintings different looks at different times of the day. I can paint throughout the building because of that nice, diffuse light. I don't have to take a painting off the wall. I can do touch-ups where it is."
Aspevig and Guzman live in a separate, refurbished farmhouse on the property, and they are in the midst of renovating a century-old barn. Eventually, this will be Guzman's workspace. They're using the skeleton of the building, being careful to maintain the original footprint and appearance. "We're trying to keep it rustic," Guzman says. "We're recycling material. It's going to be a down-and-dirty workspace. Cement floors. Eventually, I'd like to find a press and do some printmaking again."
Construction on their studio project was handled by Bozeman-based Yellowstone Traditions, and they worked closely with the artists from the beginning. Project Manager Sam Holt says, "There's something I remember Clyde mentioning. He said that the reason he creates art is to capture people's imaginations. I think this building serves some of the same purpose. It sparks your interest as soon as you pull up to it. It gets your imagination going."
For his part, Aspevig was impressed with what it took to get the studio completed. "This was a winter project, and they'd be out here at seven in the morning, middle of winter, framing and building. In the pitch dark. You have to be tough to do that. Electricians, carpenters, hats off to those people. They're the ones that did all the work, that made the thing happen."
While never specifically stated, there's a somber undercurrent to Aspevig's conversations about the studio. He just turned 66 and seems to be thinking more about his legacy, what he'll leave behind. That includes his paintings, of course, but also this new compound. Aspevig and Guzman hope it will survive them, that it will be used for the benefit of a larger community. "We'd like to leave it as a place for the humanities," Aspevig says. "When we're done with it, it should be a space where there can be writers in residence or perhaps used by an environmental think tank. For me, the bottom line when you're building something… well, it's like painting. Any given work is a continuation of one never-ending thought. The piece should continue to evolve."