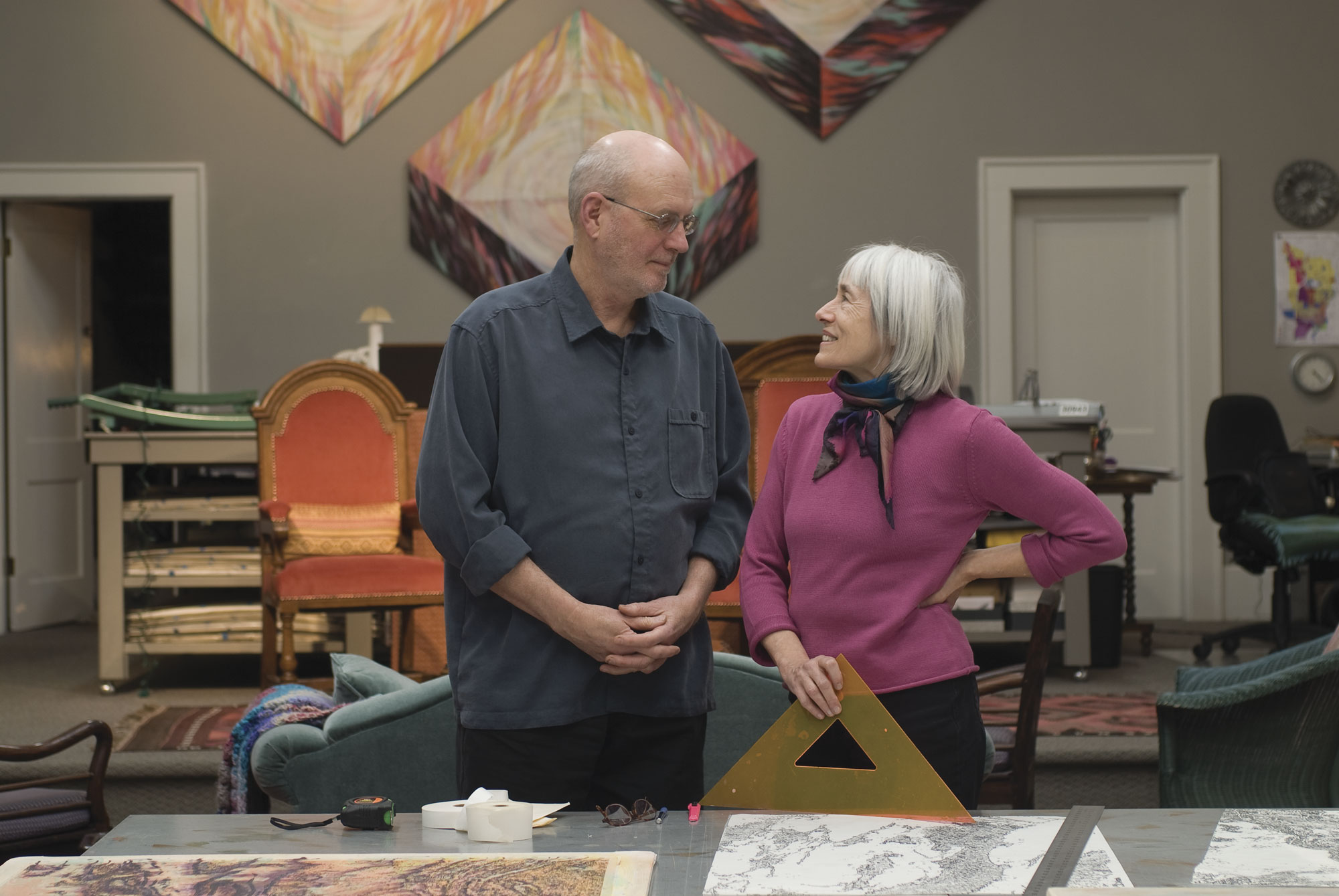 Warner Blake and Karen Guzak's first date was Seattle's Bumbershoot art and music festival nearly two decades ago.
30 May

In the Studio: Warner Blake and Karen Guzak
---
"Our studios are this way," Karen Guzak says, opening the mirrored door of a 10-foot-tall Victorian armoire. Like Alice through the looking glass, we enter an otherworldly realm where nothing is quite as it seems.
Karen Guzak and her partner, Warner Blake, live, work and entertain in a 115-year-old Catholic Church in Snohomish, Washington. In 1993 the pair bought decrepit St. Michael's intending to create a weekend retreat emotionally and physically removed from their home in Seattle.
Twelve miles away, historic, antique-filled Snohomish felt perfect. Thus began an eight-year restoration project that prompted Guzak to dub St. Michael's "the church of perpetual chores." With a puppeteer's mind, Blake called it "art camp." They finally decided to call their new home and studios "Angel Arms Works."
From the couple's residence in the rectory, you open the Alice in Wonderland mirror, pass through a small closet and enter the original vestry, now Blake's studio. "I was an altar boy and wanted to be a priest when I was a kid," Blake says with a smile. "And here I am now."
The high-ceilinged room with brick and rough-wood walls is a tangle of computer equipment and tools. A whitebas relief of hammers, screwdrivers and paint brushes runs the length of a 10-foot wall. "It's a replica of my father's shop," Blake says.
He talks in snippets about his life and work, unable to condense 65 years into a 30-second infomercial. And no wonder. Since graduating from Carnegie-Mellon University with a Master of Fine Arts in drama, scenic and costume design more than three decades ago, Blake has been a teacher, set designer, puppeteer, performer, sculptor, documentary filmmaker, historian, writer and tai chi instructor.
Two of his performance pieces, The Million Dollar Band and Voice of the Hollow Man epitomize Blake's creativity and strong political bent. Band, a music and puppet show housed in a glass box the size of a penny arcade fortune teller booth, showcases the fact that the United States government allocates more funds to military bands than to the National Endowment for the Arts (NEA). For Voice, Blake constructed a proscenium, stuffed turtle, a dozen four-inch-tall, ghostly white polymer clay busts of generals, then added hundreds of tiny soldiers. The turtle connotes the birth of humankind, and the military men represent Napoleon's 1812 invasion of Russia. "It asks the question," Blake says, " 'How did we get to where we are today, and why do we have so many weapons?' "
As Blake and Guzak grew their community roots, he joined the Snohomish Historical Society and recently completed a city history book. Not long ago, he met Eleanor Leight, a Snohomish octogenarian and former Rockette who leads a local tap-dance troupe. The no-nonsense choreographer and her multi-generational dancers captivated Blake and prompted him to create a video documentary To Dance with Eleanor. He even learned to tap dance.
"I guess I'm always looking for the next thing to learn," he says. "That's the adventure; you follow where it leads you."
Leave Blake's studio and you step into Guzak's workspace in the spacious, high-ceilinged sanctuary where old fir joists are trimmed with galvanized steel and industrial lights hang from the ceiling. Pews were replaced by a 30-foot-long work surface and storage bins line the perimeter. Guzak's desk occupies the former altar.
Like Blake, Guzak wears many hats with flair and balance, perhaps reflecting the 18 years she has taught and practiced yoga, running her own studio a mile from Angel Arms Works. She studied science at the University of Colorado, then art at Cornish College, honing right-brain/left-brain talents without a synapse break. At 68, Guzak is stylish without being trendy, determined and opinionated, yet compassionate and approachable.
She began her career as a painter and printmaker, but over the years her work has evolved to include carpet design, public art and an elaborate garden at Angel Arms Works. Last year she ran for city council, winning on a platform promising to help direct the town of 9,000 toward environmentally responsible growth.
"Karen is generous, committed to forging a community and good at it. She makes art out of an effort to connect people more deeply into their communities and with each other," says Regina Hackett, an art critic with the Seattle Post-Intelligencer.
Among other public art projects, Guzak was on the team that designed the stunning etched-glass elevators at Seattle-Tacoma Airport; collaborated with her son, Chris, on a 65-foot-long indoor/outdoor wall sculpture at Southern Oregon State College; and created a public art installation at the Overlake Transit Center in Redmond, Washington.
Her current project of rest stops and way-finders will dot a mile-long trail in Bellevue, Washington. Eight structures, including four eight-foot-tall metal shelters, combine seasonal plant images with swirling branches and flower-backed benches.
"I think it's the responsibility of public art to benefit the community," Guzak says. "Beauty is very important, of course, but it's also important that public art marks and celebrates a place."
Guzak and Blake would most likely be productive and creative under any roof, but both agree the former church has a subtle influence on their work.
"We are very aware that this was a house of worship. Years of prayers and forgiveness put us in touch with a sense of spirit," Guzak says. "I would call that spirit a universal life force. And, isn't that what artists hope to capture and reveal in their work? A life force that touches our souls."