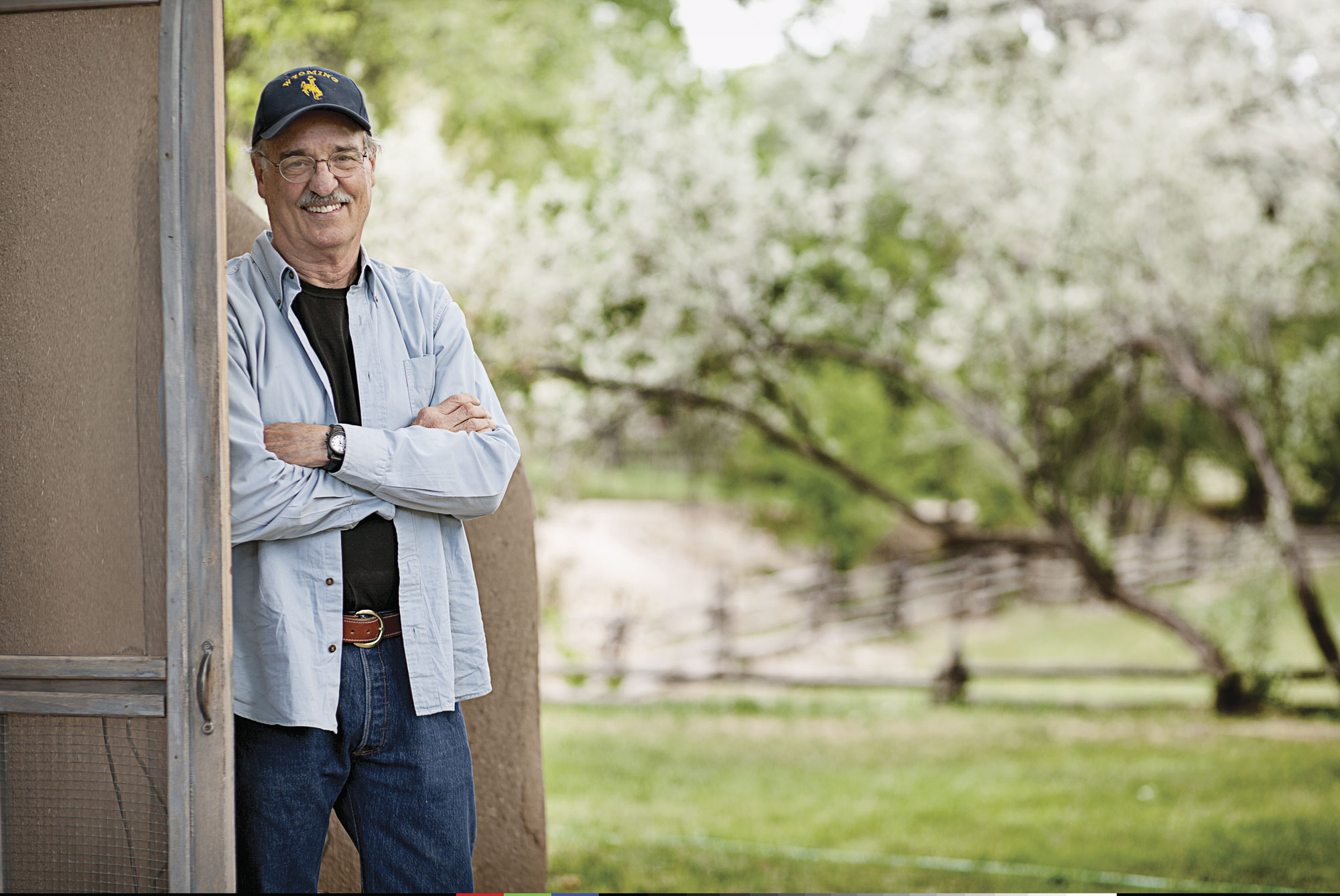 24 Jul

In the Studio: William Shepherd
---
High in the hills north of Santa Fe where dirt roads curve through wild ranch country, William Shepherd creates paintings that evoke the region's heritage in remarkable detail. His unpretentious studio is an old adobe built in 1890 as a one-room house by a man known simply as Don Amelio, a local who ran a grain mill still on the property. The building, once part of a larger complex, provides exactly the kind of privacy Shepherd requires to focus on work that engages both mind and spirit, each painting a synthesis of shape, composition and color and something even more intangible — perhaps magic.
Born and raised in Casper, Wyoming, Shepherd might be called a Western artist by some and a Realist by others, although his work defies label or category. In his own words, he follows in the footsteps of the South American painter, Claudio Bravo, or the legendary artist Antonio Lopez Garcia of Spain, whose visually visceral and compelling images are referred to by many European art critics as Timeless Realism.
Shepherd, nonetheless, carries within him the Old West of yesteryear. Growing up, he was fascinated by objects that ranchers often found out in the brush and took home to use as decorative objects: common tools or broken pieces of gear. Native American artifacts, often acquired in trade from Navajo shearing crews, were a part of ranch décor back then, too. Not surprisingly, Shepherd started to collect these artifacts, as well as Western kitsch, and still does to this day. Fine art works made by hand or simple cast-offs of everyday life often appear as elements in his vignettes, all rich fodder for his unfailing brush.
"I look for 'authority' in the objects I select for my paintings," says Shepherd. "They have to manifest a visual component that appeals to me. I often say the object needs to have 'presence,' an undefined quality that transcends. I arrange them so that the surfaces, colors and patterns all meet in a way that I find intuitively and visually satisfying."
To the casual observer, the random clutter that defines his work space, especially the assemblage of found objects and artwork that fill a high bookcase across the back wall, are essential to his process.
"I can look from where I'm sitting to the collection and back again," said Shepherd. "I like having things on the shelf to make a selection from. I often change things out if I'm not happy with the original composition."
With a Master of Fine Arts degree from the University of Wyoming, Shepherd began his career painting large scale landscapes and detailed beds of river rock, slowly transitioning into the rich complexities of his supra-realistic pattern paintings of the last decade. These deftly join textiles to wood to pottery to beadwork, no object or surface too complex for his keen eye. His current still lifes — which now include fruits, vegetable and flowers, as well as fine pottery and Western artifacts like trade blankets, medicine bags, bell straps and weapons — succeed in part due to their unexpected juxtapositions, proving the importance of the architecture of a truly successful work. By stepping back from his paintings, their greater achievement is immediately seen and felt in the tension of the abstract compositions that bend two- and three-dimensionality. For Shepherd, "objects serve only as a starting point for the greater goal of creating a painting. For me, capturing a precise reproduction is never as important as the relationship of one object to another and the space they occupy."
Shepherd's studio provides exactly the kind of closure that enables the artist to focus on that space and the moment. "Because the building is all adobe, not stucco, the walls are thick and heavy. It stays cool in the summer and warm in the winter. I can literally shut out the world. I have the proper lights selected and regulated so they illuminate the still life properly and control the glare, the shadows and the still life's proximity to me. I know exactly where the window shades need to be at any time of the day; have all my necessary reference and art books at hand and always have my music on tap. I tune my studio much like an instrument and, although it may not appear so, it's all calculated. It's taken years of constant adjustment. Today, the space is more than comfortable — it fits me like a favorite pair of Levis."
According to good friend and colleague, artist George Carlson of Idaho, who has known Shepherd for years, "Many who see Shepherd's work never get past the obvious. They only see the object, not what Bill is trying to do. Shepherd is in a class by himself, creating paintings that transcend the subject."
"My paintings are never preconceived," adds Shepherd. "They develop with an intuitive eye that addresses the play of light and shadow, the picture plane and the alignment of shapes and edges. During the course of development, I often perceive the next painting, either by the process of elimination or chance inspiration. I'm not sure we can ever paint reality, only our individual attitude toward it. In fact, once I've set up the composition, roughed in the under-painting, and clearly established the objects, I often disassemble everything. Then I go after the painting as a whole, seeking out what's needed and what's not there but what needs to be there, including color."
Approaching his work in an almost classical manner, painting on dry board in oil with as many as 30 glazes on a single work, Shepherd is still very much a Modernist. Although astutely observant, his work adheres to an interior and highly subjective world of his own preferences, not some academic boundary. As Carlson so aptly summarizes it, "In the wake of a return to Realism as a movement, Shepherd can be seen as the exception, not the rule. His work reminds me of the maxim credited to the renowned Russian painter Ilya Repin, who said 'Great painting takes over where words leave off.' "
Shepherd's paintings can be found in major collections throughout the United States, Mexico, Europe and Japan. His work was included in the exhibit Out West, the Great American Landscape, which traveled to the National Art Museum of China in Beijing and the Shanghai Museum. He's been invited to numerous American museum shows including the Buffalo Bill Historical Center, the Eiteljorg Museum, the Arnot Art Museum, the Rockwell Museum and Santa Fe's Museum of Fine Arts. He is currently represented by the Gerald Peters Gallery in Santa Fe, New Mexico, and the Astoria Fine Art Gallery in Jackson, Wyoming.
At home near Nambe, Shepherd admits he prefers small towns and the company of a few friends and family. Somehow he's able to resist the lure of nearby Santa Fe and savors the quiet and beauty of his rural environment instead, leaving the rest to tourists. He's settled in for the long run, certain that he's found a space that not only provides for but nurtures his art.
"Changing studios has a negative effect," said Shepherd. "It's not like you're unwelcome, but more like the feeling you get when staying in someone else's house and don't know where anything is. At this point, I'm certain that my studio proves that I'm right where I need to be.
Sometimes working seven days a week and producing four to five major paintings per year, it's evident that these adobe walls are a perfect vessel to Shepherd's boundless energy, a virtual launch pad to the creative.