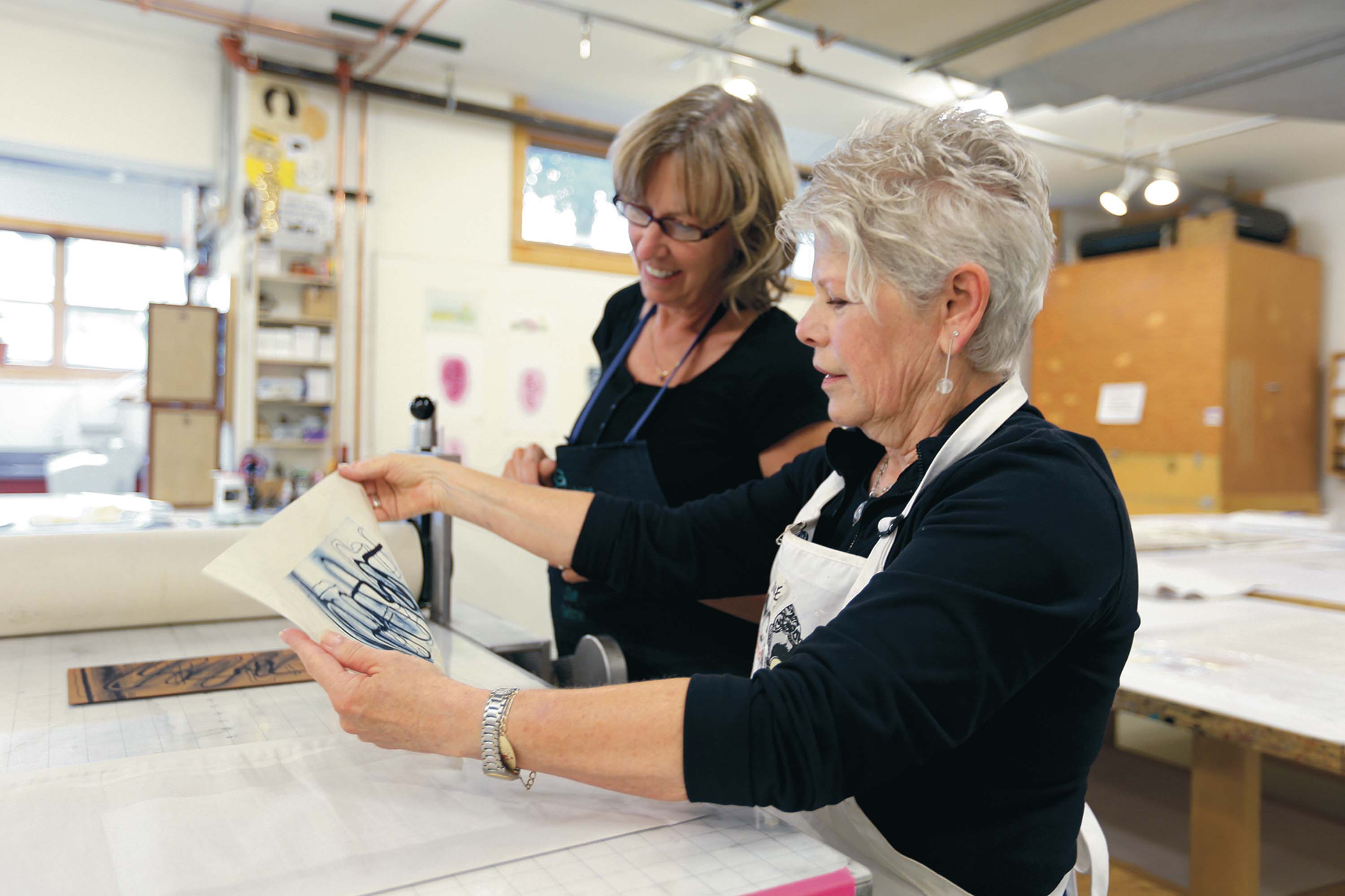 Aproned artist Sue Oehme lends expertise during printmaking workshops at Anderson Ranch Arts Center (ARAC).
02 Mar

Collector's Notebook: Learning from the Masters
---
Over the past eight years, award-winning landscape artist Cody DeLong has led many a sojourner on plein air painting and rafting trips along the Colorado River. For guests, it's the opportunity of a lifetime to spend a week under the tutelage of a nationally recognized professional while basking in the majesty of the Grand Canyon.
"Collectors are itching to paint because it is something they have wanted to do their whole lives," observes DeLong. "In the Grand Canyon, you are cut off from the rest of the world. You are in the elements of nature among bighorn sheep, condors and osprey. It's life changing. People leave with hundreds of photos they can use as reference pictures that will keep them busy painting for years," he says.
If you're a collector but never picked up a brush, perhaps it's time to see life on the other side of the easel. By taking an art class, you will appreciate your collection on a deeper level. You can connect with an artist you've been admiring for years. After a workshop, you may even view your surroundings differently.
Says collector Tanya White, "I don't look at things the same anymore. Everything is in shades and values." The Sedona, Arizona, resident, who went on a DeLong rafting excursion, is convinced that anyone with the patience can make a piece of art they enjoy. "After three drawing classes, things clicked for me. I can draw anything now." For collectors with a passion for adventure, the ideal field trip means travelling and studying under a favorite artist. It's not difficult to do. Through the Sedona Arts Center, the curious can embark on a 10-day aesthetic pilgrimage in Italy with Abstract artist Stuart Shils, or a five-day expedition in North Carolina capturing the Smoky Mountains with acclaimed plein air painter David Santillanes.
Collectors can dabble at their local art center, gallery or museum. They can start in a preferred medium and see what happens. However, many resist taking courses because they are either afraid or feel they are inept creatively. "We're all about taking the fear out of making art," says Kelli Klymenko, photography teacher and marketing director of the Sedona Arts Center in Arizona. In fact, instructors regularly address the issue of fear and timidity as they strive to unlock each participant's potential. The year-round center boasts a three-day Visual Arts Retreat with a tantalizing buffet of six art mediums including collage, journaling, mask-making, photography, ceramics and jewelry. By diving into a plethora of art adventures, people klutzy at one thing may find they have a knack for another.
Collector Tanya White always thought of colored pencils as a children's plaything, but when she took a course, she fell in love with the medium. "It's my go-to art that doesn't make a mess," she says with glee. "I can do it late at night in my living room and not have to worry about the hassle of cleaning up."
And there's no need to be intimidated by being around a professional artist. Many enjoy teaching novices. "Sometimes that is best because the absolute beginner is eager to learn, and I don't have to undo bad habits," says DeLong. "I have no issues teaching beginners. Many are collectors who have relocated to Arizona, and then they look me up." That said, collectors can check the websites of famous painters or sculptors to see if a private or group lesson is available. Many artists love to teach, and they have no qualms about sharing their trade secrets. In Billings, Montana, Impressionist wildlife painter Harry Koyama attracts students with his specialty in knife painting, and he has taught fully booked classes at the Carbon County Arts Guild in the town of Red Lodge. He once demonstrated how to paint a bear on birch panels as pupils followed. It takes a lot of effort for him to prepare for classes, but the artist is committed. "I want all my students to be fulfilled," he says.
"For most, it is their first time painting with knives. I tell them to be thinking of the end result rather than thinking about the tool. It is about creating with whatever means you have."
Clearly, you don't have to enroll in a university to obtain quality instruction. Art centers around the country often lure celebrated painters, sculptors and mixed-media experts to teach.
Professional artist Nancy Bush and her husband, Bill, a practicing CPA, started the Fredericksburg Artists' School in Texas, and revered experts serve as faculty from around the country. Artists such as John Fawcett, Mitch Baird, John C. Traynor and Cheri Christensen teach five-day classes on topics such as oil landscapes, portraiture and horse painting.
Art workshops in many communities are free for those afraid of long-term commitment. Stanford University's Cantor Arts Center in Palo Alto, California, hosts complimentary Sunday art-making sessions throughout the year. Every October, workshops are free at the Zootown Arts Community Center in Missoula, Montana, when it honors the Mexican holiday, Dia de los Muertos.
Collectors can scope out art festivals and skim the schedules for workshops. In Santa Fe, every March is DIY Month, where more than 250 renowned masters offer daily classes in a variety of mediums. Individuals can check out SantaFeCreativeTourism.org for the class lineup. Organizer Brent Hanifl says if something is not listed, guests can click on the list of artists and request a private session. Not only does such an event give the public the benefit of meeting artists and artisans, DIY Month provides craftspeople with more opportunities to showcase talents. "Every March people travel here because they want to hang out with their favorite artists who are leading workshops," notes Hanifl. "Collector's love it."
During non-festival season, would-be Picassos can look online for courses based on artist, location or media, no matter how arcane. Always wanted to create a snaggle-tooth metal dragon? In Oakland, California, The Crucible, providing industrial welding and blacksmithing workshops, among 13 other disciplines, makes this possible. Crucible's popular women-only courses put female metalworkers at ease.
Curious? Willing to invest the time? Pick up a colored pencil, torch or glob of clay. "Put your fears aside," encourages Klymenko of the Sedona Arts Center. "Life is short, and art is wonderful."
Collectors can check the websites of famous painters or sculptors to see if a private or group lesson is available. Many artists love to teach, and they have no qualms about sharing their trade secrets.