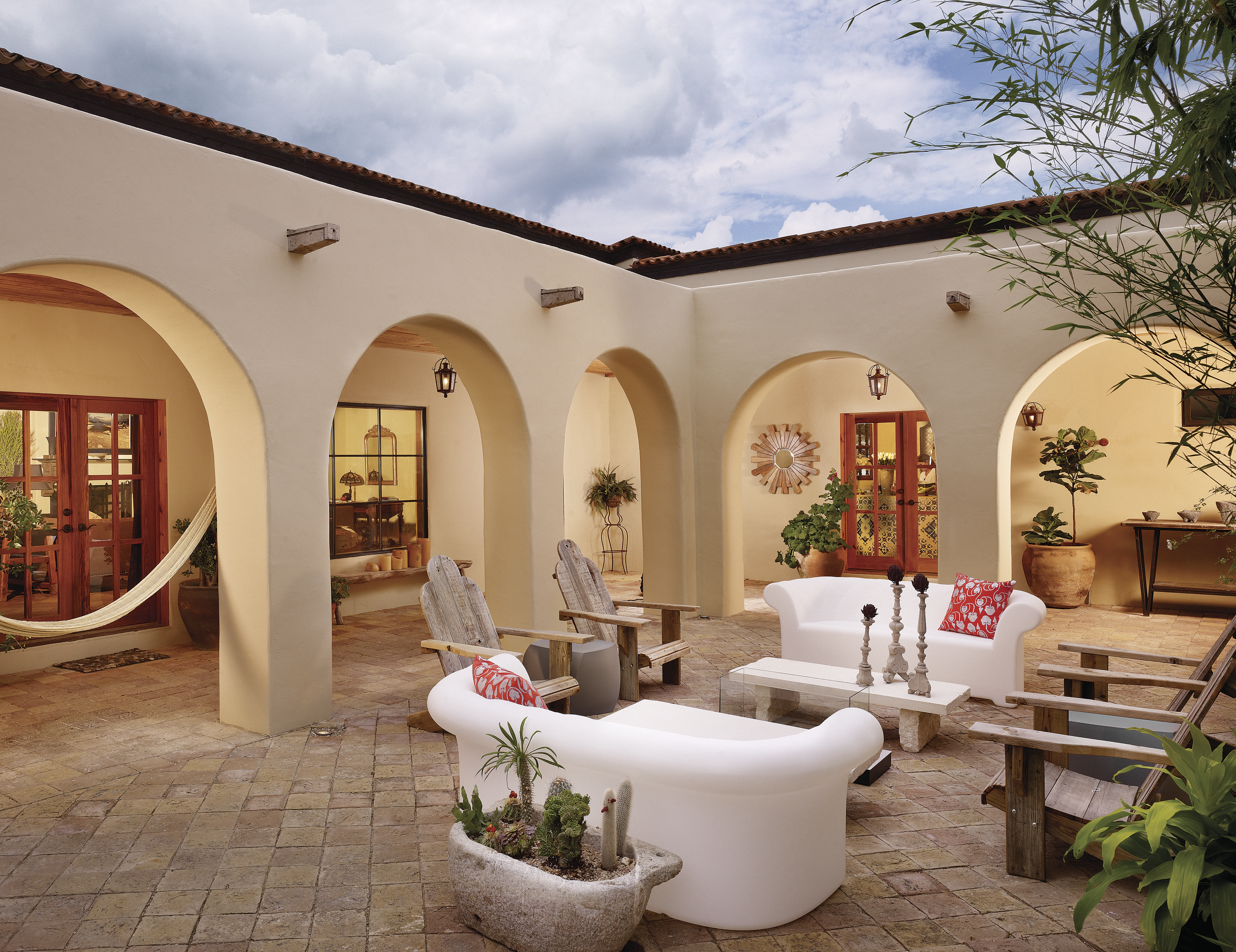 In the hacienda courtyard, traditional colonial architecture is contrasted by modern molded plastic "Chesterfield Sofas" that can be illuminated by Italian designers Raffaella Mangiarotti and Matteo Bazzicalupo exclusively for Design Within Reach.
30 May

Designing the West: Living Outside

Laird Jackson Design House is an architectural and interiors firm that guarantees surprises. For designer/owner Ryan Jackson, that translates to a style that pushes limits and combines the unexpected. Inside a home, that might mean he fearlessly layers modern furnishings with French antiques and contemporary art against classic gallery-white walls, while outside he can cultivate a sense of escape with a tin-roofed pavilion to transform a suburban backyard into something altogether exotic.

Jackson is an Austin native who studied architecture with an emphasis on urban planning and historical restoration. Disillusioned by the constraints of architectural design at his job with a San Antonio firm, he did some soul-searching and realized that his passion was for interior design. He opened his own firm in Austin nine years ago.

"I love the impermanence of interior design," says Jackson. "I like to create spaces that can change with your mood, with the season, with its utility."

Just as his design philosophy relies on contrast, so, too, does his lifestyle. After renovating two distinctly different personal homes — one in urban Austin and the other in nearby Wimberley, the heart of Texas Hill Country — Jackson observes that these projects reflect the true essence of Laird Jackson Design House. Both rely on compelling outdoor spaces to enhance the quintessential patterns of contemporary living.

At Onion Creek, after a complete reconstruction inside the home, Jackson directed his attention outside. He set out to create an outdoor room that extended from the living room to the back yard. Rather than a traditional patio, he strategically incorporated architectural elements and a raised pavilion to develop a separate outdoor kitchen, dining and living area. Exiting from the living room, a catwalk directs visitors to the tin-roofed structure, where crisp, white canvas-covered furniture contrasts with the thick green lawn. A twig chandelier hangs overhead, adding rustic whimsy. The branches of a Spanish Oak reach under the roof, connecting the refined area to nature, while the gracious curves of a teak settee and dark wood-accented chairs soften the poured concrete dining table. The pavilion floor is Ipai, a weather-resistant hardwood imported from Brazil and the frame overhead is constructed with steel beams, balancing an architectural sense of effortlessness and protective weightiness. The result is a functional outdoor area that is usable all year long as a quick escape from urban life.

In contrast to this city venue, Jackson's hacienda near Wimberley is a world away. Tucked into rugged Hill Country, the home was built in 2005 with a remarkable respect for historic Spanish Colonial architecture. Classic stucco, a clay tile roof, archways, antique doors and windows, as well as hand-carved pavers in the courtyard punctuate the authentic construction techniques. Situated on a creek, the property is an ideal weekend retreat; but Jackson's mission was to modernize the vernacular with simplification and a refined style.

"I felt it was important to honor the Spanish tradition of the house, but that everything in it and around it should reflect the present," he explains.

Outdoor living is intertwined with the footprint of the hacienda, since all the interior spaces connect to a central courtyard. Using a library of design languages, Jackson cultivated a juxtaposition of rustic Hill Country with modern and historically inspired architecture. He started with the color palette in every room and outside, moving from the deep Spanish oranges to soft neutrals.

"The hacienda transports you from the everyday," notes Kit Odom, partner and interior designer at Laird Jackson. "Ryan is amazing at mixing different eras and styles into his design to create flawless, livable and comfortable spaces."

In the courtyard, large terra cotta pots, an antique iron candelabra, a hammock and weathered Adirondack chairs anchor the casual outdoor space, but it's the refined modern pieces that give it a clever pop of style. A 17th-century harvest table is surrounded by high-design Lucite Phillipe Starck Ghost Chairs. The stalwart Adirondacks are married to playful white molded plastic Chesterfield sofas that light up. A spherical English fountain trickles with the soothing sound of water, while round concrete sculptures echo its shape. A set of double doors continues the tone of intrigue and ultimately leads outside to the creek and firepit.

Connecting indoor and outdoor living seamlessly and with eccentric flair is a hallmark for Laird Jackson Design House.
---
WA&A editor, Seabring Davis, is the editor of Big Sky Journal and the author of The New Montana Cabin: Contemporary Approaches to the Traditional Western Retreat (Globe-Pequot Press).