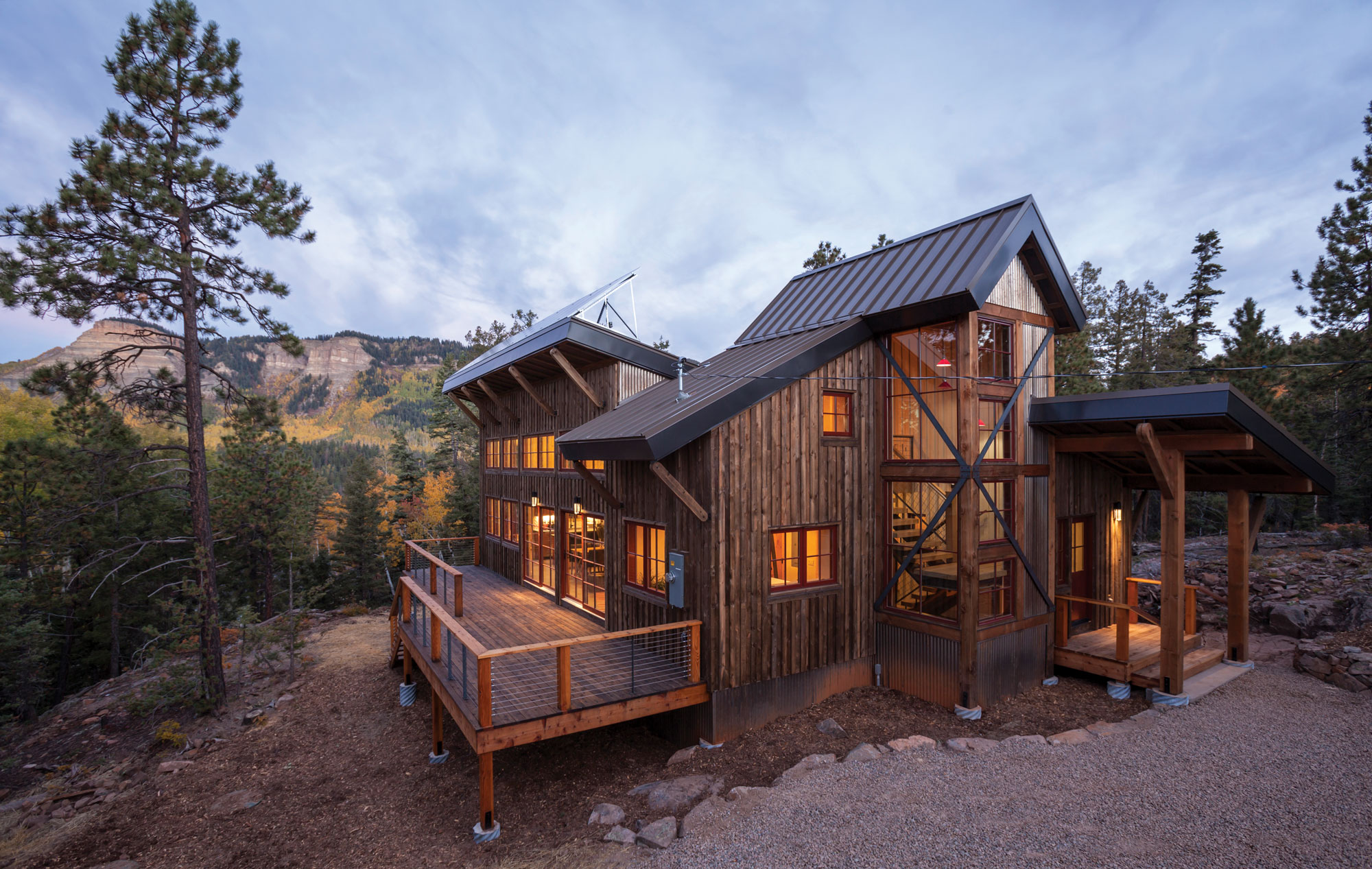 From the exterior, the modern home pays homage to the region's long mining history.
12 Nov

Ones to Watch: Greg Madeen
---
Architect Greg Madeen, of Madeen Architecture and Construction, has always been committed to environmental issues. He became a licensed architect 25 years ago so that he could get alternative and natural projects built. Today, the firm has offices in Aspen and Durango, Colorado.
The straw bale house in Colorado is an ideal representation of his many decades of design and building. It reflects his commitment to environmentally conscious construction and low-energy consumption homes. The 1,700-square-foot cabin also sleeps nine people. It has two bedrooms, a sleeping loft, and an office that doubles as a third bedroom with a Murphy bunk bed.
Since this project is at an elevation around 9,000 feet and within two miles of a major Colorado ski area where they can get up to 30 feet of snow in a year, the first challenge was dealing with lots of wet snow leaning against straw bale walls. "A situation like that could be problematic," Madeen says. "I came up with a solution to attach local
wood siding to the wood post and beam structure. We left an air space between the siding and the infill bales. Also, we added a few more layers of water management to further protect the exterior walls."
The property is about 10 miles from Silverton, Colorado, a historic mining town, and receives some 300 days of sunshine a year. Madeen wanted to take advantage of that and integrated both passive and active photovoltaic solar energy into the home.
"The challenge then was blending all of those elements to create a modern mining look," he says. "Additionally, what some would think of as a problem became a benefit. There was exposed granite bedrock prominent on the property. There was a lot of rock jutting out all over the place. So we pinned the pier foundation directly to the rock-solid granite."
They also needed sideways wind resistance, Madeen says. So they used exposed plate steel gussets and wood beams to solve that issue. Old-fashioned steel nuts and washers and exterior corrugated metal further enhanced the modern mining aesthetic. The interior of the house created an additional challenge, that of blending the softened earthiness of the straw bale with the harsher aspects of the exterior design. Madeen developed a mixed-media effect.
Madeen says straw bales have great insulation value and when they're covered with thick interior natural plaster the thermal performance is raised another level. The bales and many of the other building materials were sourced nearby, which led to a smaller carbon footprint.
"Straw bales are an environmental building material," Madeen says. "Straw bale walls are fire resistant. In the case of a fire the surfaces of the bales get scorched and oxygen is greatly prevented from penetrating further into the bales, so they resist burning much more than stick-built walls."
Madeen also designs buildings made with traditional sundried adobe, rammed earth, compressed earth block, cob, lightweight concrete, reclaimed and recycled components, and numerous other materials. Often he makes use of materials from the building site itself.
"Almost all of our projects have an environmental slant," he says. "We love complicated building sites. It makes life more interesting. We let the site and the client's preferences greatly determine our unique holistic projects."
Architect Greg Madeen's 1,700-square-foot cabin near Silverton, Colorado, feels expansive from the inside with soaring ceilings and walls of windows that open up to ample outdoor living space.
By using straw bales, Madeen created an environmentally sustainable structure with excellent insulation in summer and winter.