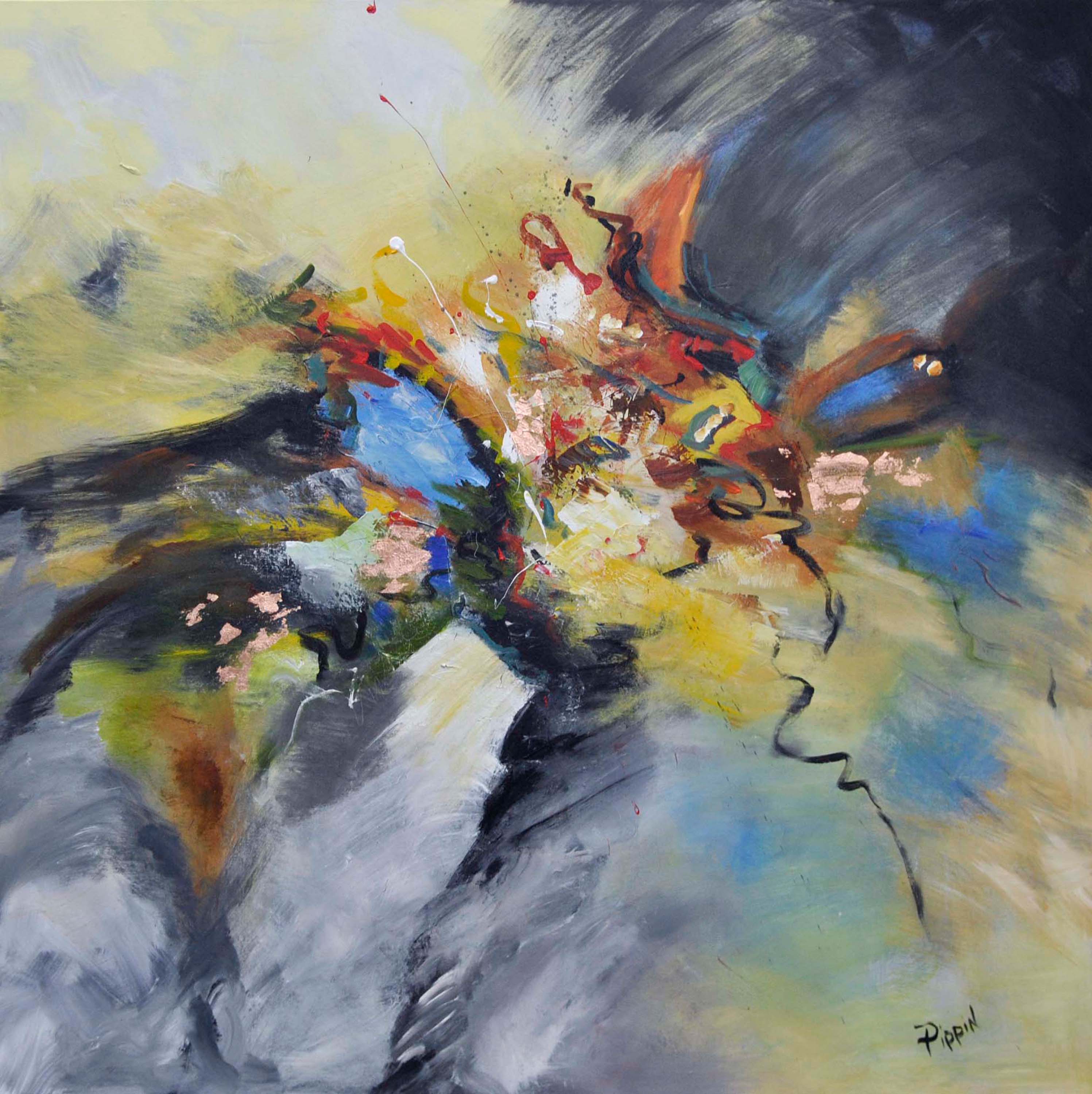 "A Trip Through Time" | Mixed media: Copper leaf, Acrylic on Canvas | 48 x 48 x 2.5 inches
19 Oct

Ones to Watch: Aleta Pippin
---
Abstract painter Aleta Pippin suffuses shades of sensations with infinite space and color, initiating subconscious conversations on the canvas.
"For me, painting is an emotional experience and it's all about color," Pippin says. "That's what inspired me at the beginning. I started with figurative work, but I needed to move forward."
While in her studio she realized she'd been painting moments in time on the surface of the work, but bubbling up beneath she saw aspects of her life interpreted as paint.
"It's not like a movie that has movement," she explains. "The canvas stops but continues through your observation of it. With Abstract painting there's more to be seen than when a piece is first observed. For me, with my work, I can continually find passages I've missed. I'm not looking for individual elements. It's not just a pretty little piece of art. It's more than that."
Pippin is always experimenting with new techniques and mediums, flipping between oil paints and acrylics, layering textures and applying resin to the work.
"It's still about color," she says. "Recently, I've started working with fused glass. I'm thinking of ways to incorporate the glass into the resin and make it part of the artwork … I'm trying to make my true expression interesting."
Her work resides in both public and private collections including those of Roberts, Markel, Weinberg, P.C., Houston, Texas; Wendy and Dominick D'Ambra, Stamford, Connecticut; SandRidge Energy, Oklahoma City, Oklahoma; Gary and Patricia Pollock, Oakland, California; and Skip and Ken Pollock, Phoenix, Arizona.
She is represented by Pippin Contemporary, Santa Fe, New Mexico; Forms Gallery, Delray Beach, Florida; Horizon Fine Art Gallery, Jackson, Wyoming; Syd Entel Galleries and Susan Benjamin Glass, Safety Harbor, Florida; and the Howell Gallery, Oklahoma City, Oklahoma.