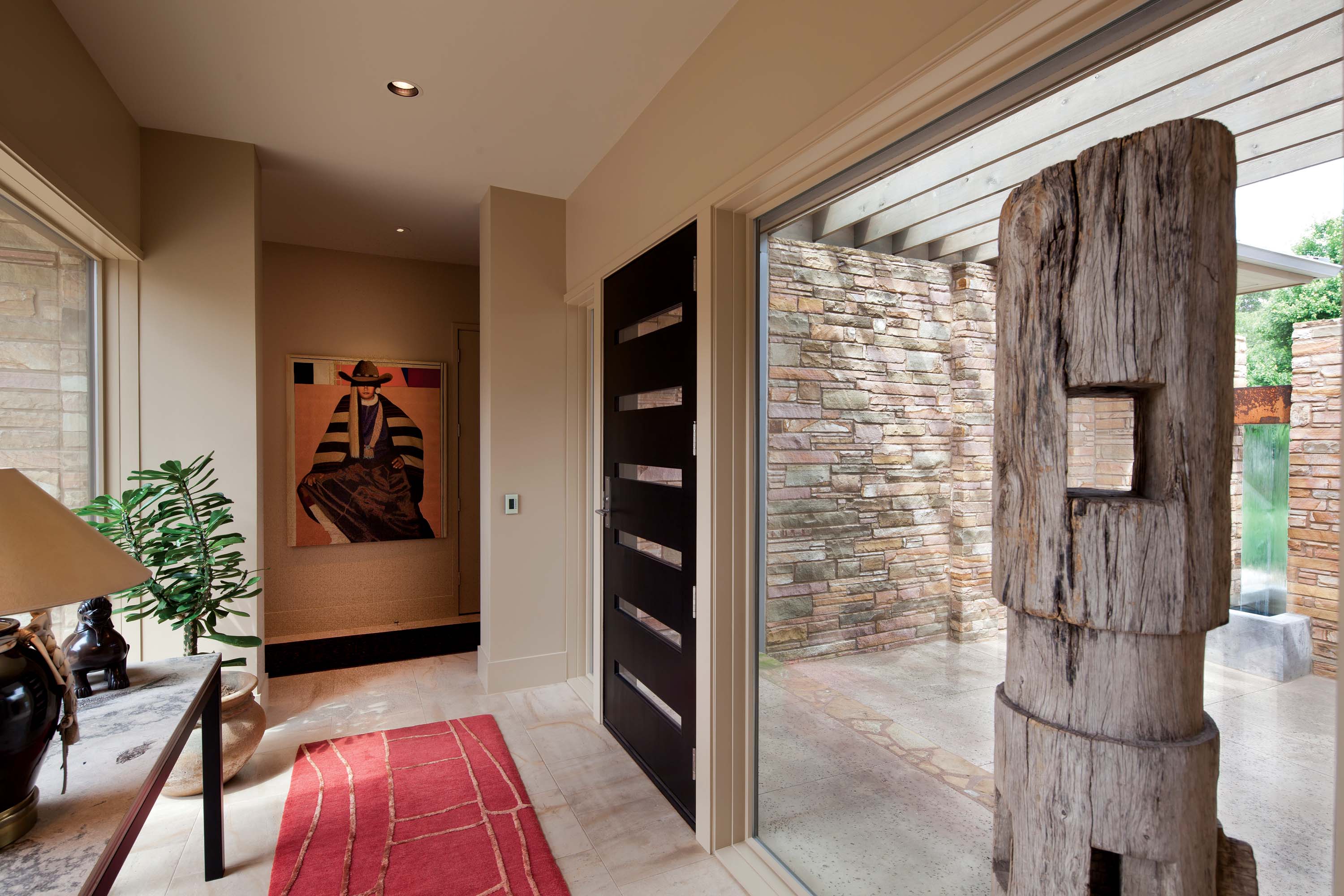 Built in tulsa's ranch areas dis- trict, this oklahoma home is built for privacy on the exterior and intimacy once inside.
19 Oct

Ones to Watch: Architect Brian Freese
---
Brian Freese, principal and founder of Freese Architecture, works within the fine line of listening to clients and adding a fresh new perspective in a living or office environment. While working with his client for the Ranch Court home, he understood she wanted seclusion from the world, but openness in her life.
"We made the entryway very private while using large glass windows to create unimpeded views," Freese says.
In the back of the house, Freese employed intimate indoor and out-door sitting areas using a water feature as a focal point.
"It's important for us to balance the client's needs and desires with our own unique spirit of collaboration," he says, pointing out his distinctive style which includes clean lines, modern forms, and open and light-filled spaces integrated at every opportunity to embrace the elemental beauty of nature.
"There are a few things that guide me," Freese says.
"Buildings and homes should respond to the climate and Perched on Yeomalt Bluff, the Ellis residence geography of the area, as well as the socio-political and enjoys a commanding 180 degree view of Puget Sound and Seattle, technologies of the time."
Freese feels great architecture should be a habitable structure that truly expresses the basic relationship with the natural laws of gravity, light and air in a sustainable way.
For example, in the Midwest, where summers are hot and winters are cold, Freese orients windows for a southerly exposure while controlling the exposure with deep over-hangs and louvers.
"These are simple devices that have been around for thousands of years," he says. "At the same time we believe in the honesty of our designs by revealing our current technologies, including construction methods."
This means showing how buildings are made modern by the addition of huge glass expanses, which could not have been done a century ago.
And lastly, the structure should be an expression of the people who live there.
"That is a result of trying really hard to get to know a client," Freese says. "When doing it successfully an architect needs to put aside his own notions of what a house should be and use the experiences of the client as an opportunity to express them in built form."
That said, Freese Architecture will always respect the materials.
"I like to use materials that are indigenous to an area and include those materials in an honest fashion," he says. "For example, a natural stone should be laid simply. If we're using wood it should be installed as it comes to us. And we join those materials in an unpretentious and elegant way. If we're using more modern materials such as a stainless steel panel, it should be incorporated in an unadorned fashion."
From the artful hand sketches that capture the essence of a concept to the finished project, each building is tailored to the client's unique aspirations. And custom residential architecture is all about the client.
"It's a very delicate and sometimes difficult balance to weave together the needs, the wants, the expectations and the allusive expression of the client and fold them in with the architect's own designs. Clients go to an architect for a wonderful artistic expression. They want to be wowed. But ultimately, it's about the client, not about us."