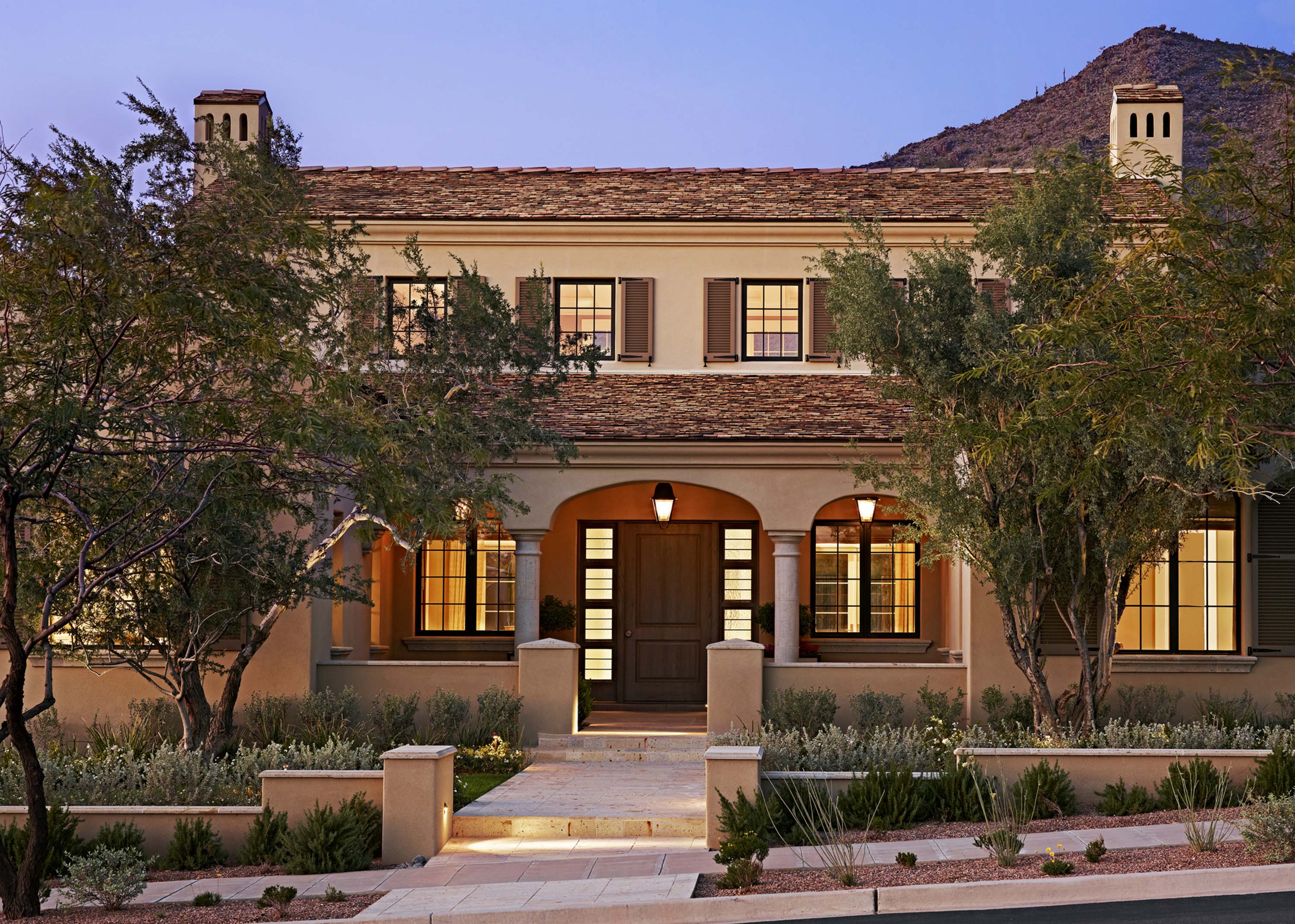 09 Jun

Ones to Watch: Architect Erik Peterson
---
When Erik Peterson, principal at PHX Architects in Scottsdale, Arizona, met with his client, he knew he had to come up with something that incorporated both the light-filled aspects of the Southwest and the aesthetics of the high-end Hamptons on Long Island. The problem was that kind of hybrid wasn't allowed for in the restrictive design structure of the Silverleaf Parks Community.
"We had to make some adjustments so it would fit in with the design review committee and our client's expectations," Peterson says. "We combined tall spaces with tall windows to allow indirect light to flood the interior spaces while keeping the moldings simple and elegant and then combining that with modern concrete floors."
Peterson worked closely with the interior designer on the project.
"The client had an East Coast interior designer who unexpectedly passed away during the project," he says. "We were fortunate to get David Michael Miller, of Scottsdale, take over the project. His style and look was very similar to the previous interior designer. He stepped in immediately, grasped the vision and completed the project."
By using classic symmetry to align the views into the other rooms, Peterson was able to provide a sense of overall balance.
"This project was all about scale," he says. "The living spaces were more proportioned to feel comfortable with room sizes and ceiling heights. The architectural color palette was simple and formal but expressed in a casual way by combining gray, warm white and clean lines."
Since Peterson had to meet the design guidelines, he chose a Spanish Colonial style but added a few contemporary touches.
"On the inside we took that contemporary feel and made it forefront," he says. "Using the clean white trim molding in the framed openings encapsulated the vision and kept it clean and contemporary while carrying the traditional style. We never really did this style before so this house established a style trend. Now we're getting a lot of people who want that look because it's so different. The look and feel appeals to a broad cross-section of clients. From the East, West and Midwest, they all respond to this look because of the clean style. We call it 'Classic Modern Traditional' — it feels right," Peterson says.
All the rooms are proportioned and scaled to the client's single lifestyle.
"With only one woman living in the house I configured the rooms a little smaller and made sure they flowed into each other," he says. "It doesn't feel like a bunch of boxy rooms but instead it feels like one big open home."
The views were also important to the client because of its proximity to the mountains.
"We wanted the pool to come as close to the house as possible so the pool would reflect the mountain," Peterson says. "To do that we created an H-shaped courtyard to expand the view and reflect the vistas."
Peterson says the key to a successful project is teamwork.
"Projects come out well because we work in a collaborative nature," he says. "The builder, the architect, interior designer and landscape architect all sit at the table and work together. That helps produce really strong projects like this one."