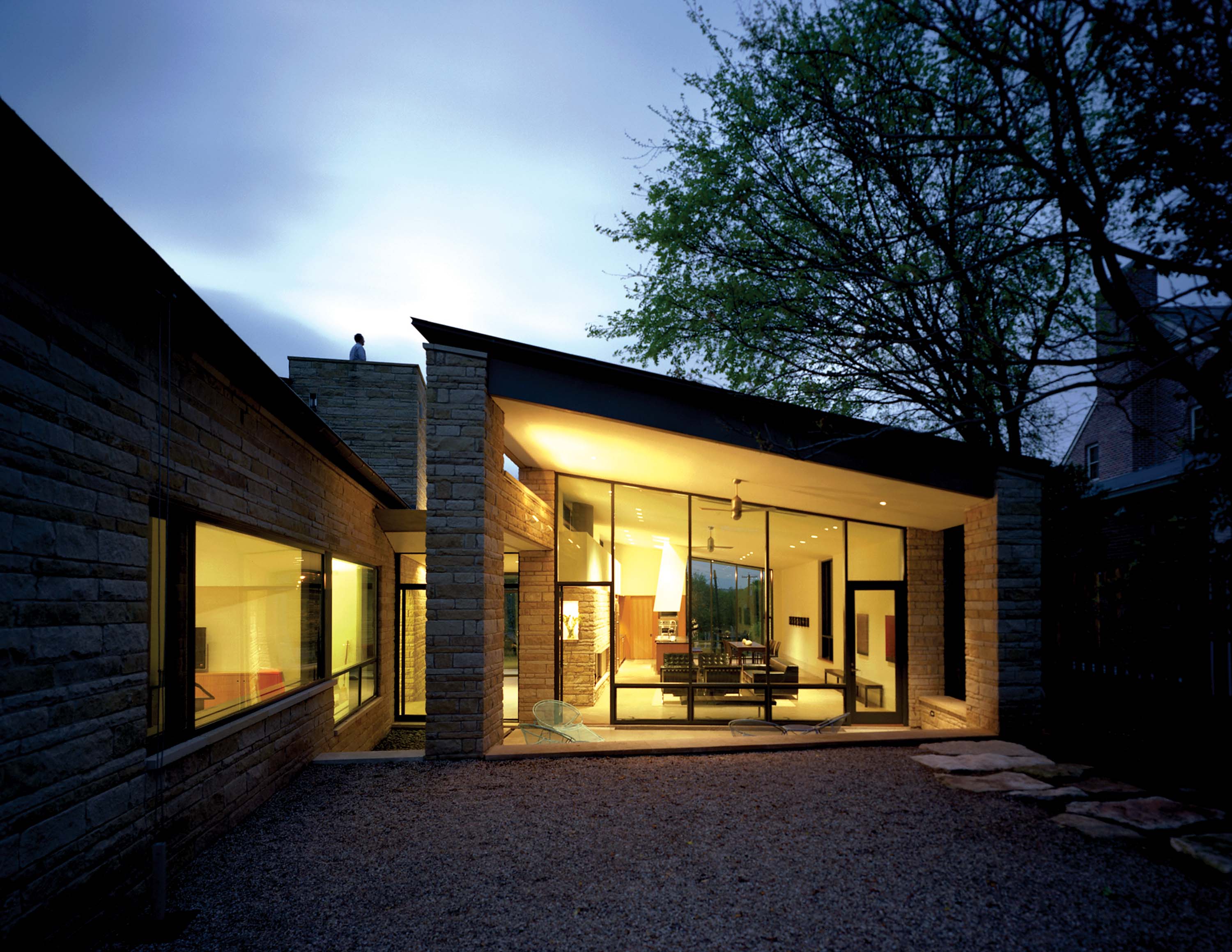 Opening up vistas with glass walls not only allows for light and ventilation but also forges a powerful connection between the indoor and outdoor living spaces.
19 Oct

Ones to Watch: Architect Nick Deaver
---
Architect Nick Deaver provides places for his clients to retreat from their workday lives and enjoy a sense of nature, even in a residential home. At Three Stones, a residence in Austin, Texas, that's just what he accomplished for his clients, an attorney and an IT specialist and retired boat builder.
"We think of buildings as repositories for the stories of our life, where people can store memories and collections," Deaver says. "The house is also a way for people to express themselves."
Deaver was able to skew the walls and vary the openings around the home to provide a drama reminiscent of narrow canyons or ancient ruins. Incorporating the native vegetation is also important to Deaver and in this case he was able to allow the living areas to open onto buffalo grass, live oaks and terraces of indigenous plants.
Working with his clients individually, each project becomes a journey of discovery.
"Clients come to me wanting to build a house and what I do is focus on making a place for them to live," Deaver says. "In doing that we end up making things that the homeowner has a close connection to. In this case, since the homeowner was a boat builder, we looked for ways to create simple and not overly complex things the couple could complete on their own. The wood detail throughout the house was created by the owner himself."
The project was named Three Stones because of the trio of Texas Lueders limestone forms that turn away from the harsh Texas sun. Northern walls have high, narrow windows to diffuse daylight to interior spaces, and the high and low windows provide natural ventilation. Stone elements also flow past each other, narrowly missing at a critical point where spring storms take center stage at the rainwater pool.
"Our first challenge was deciding our house could be a modern house in a historic neighborhood, as long as we clothed it in the materials of the neighborhood and paid attention to the scale of the surrounding houses," Deaver says. "One of the ways we did that was to break the 4,500 – square – foot house into three parts, separating our buildings into 24 – foot – wide sheds that twist on the property."
Deaver brought nature to the project by finding ways to have the rooms extend as you move through the house, staying constantly aware of the outdoors.
"We do that by making sure we have windows and skylights oriented in a way that illuminates the building throughout the day," Deaver says. "We also like to break down larger buildings into smaller parts with connectors, using lots of glass, so one is moving from interior space to interior space, with the feeling of moving through an exterior environment."
By allowing the footprint to be generated around the orientation to the persistent sun, Deaver found ways to cantilever large roof canopies to reach out into the front yard. He also kept the owners in mind at all times.
"Our owner was also a very accomplished chef," Deaver says. "He wanted a kitchen where he could entertain his guests while cooking. It was one of the reasons we turned the effort of the kitchen workspace toward the living room, giving the homeowner a stage to cook and entertain his guests at the same time."