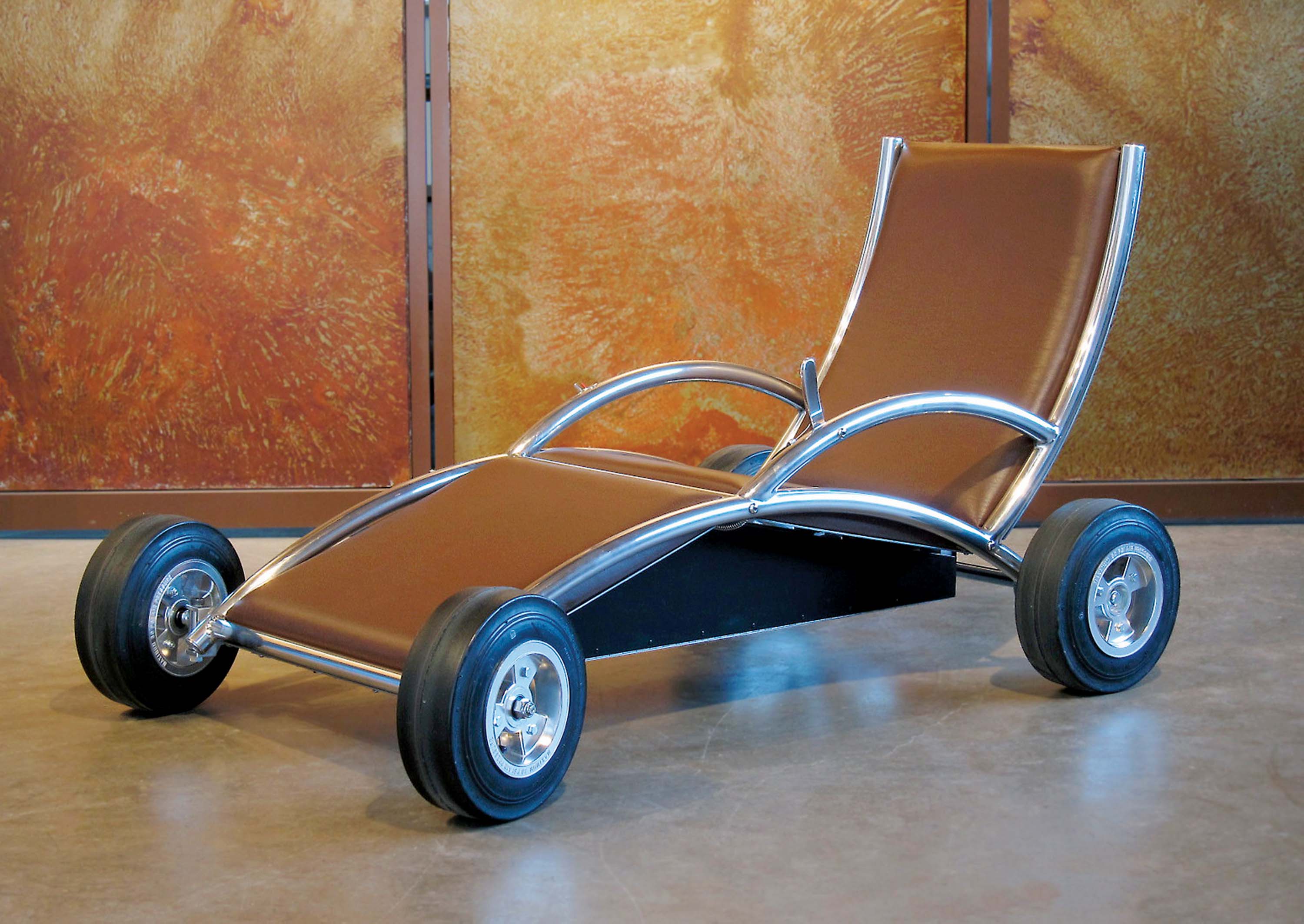 "Electric Lounge Chair" | Aluminum Frame, Leather Upholstery, 36V Electric motor, Rubber Wheels | 67 x 36 x 28 inches
02 Mar

Ones to Watch: Artist Glendon Good
---
Glendon Good's industrial art pieces span both sculpture and utilitarian work. Using the modern aesthetic of aluminum combined with an innate knowledge of what the material can do, Good builds everything from light fixtures to outdoor furniture.
"All of my work is sculptural, even though my customers are getting a useful product," he says. "One of the things I work with more so than most people are curves. Some people are afraid of curves, but I embrace them."
Good chooses aluminum as his primary medium because he feels it allows him unlimited freedom in style and design.
"I can build almost anything with it," he says. "Aluminum is available in a wide variety of shapes and sizes, so I scale the pieces depending if it is a big piece or a small piece."
He creates large projects such as trusses and petite items such as perfume bottles.
"It lasts a long time and it doesn't rust," he says. "You can polish it for a shiny surface or brush it for a matte finish. I love it because it's lightweight and really strong. Unlike wood or steel it has a great strength – to – weight ratio. I can bend it, shape it, roll it, machine it and weld it together to create different shapes and functions."
It started 32 years ago when Good made a set of wind chimes.
"I pored through the books until I found the lengths that resonated at different tones," he says. "I found out if I cut to a certain length I could hear a C or a D. I still have those wind chimes."
He's tried other materials, but always comes back to aluminum.
"Wood doesn't really jive with me," he says. "I just get all dusty and frustrated. Aluminum is stable and it carries electric current."
That is the characteristic he used when he created a surrealistic chandelier.
"It was commissioned by architects and loosely designed after a [Alexander] Calder piece," he says. "It was a fun project. There are a lot of curious aspects to it. There's sand in there to counterbalance the weight. And only one wire going to each light because I was able to use the aluminum as the negative contact."
His most popular and well – known piece is the Poseidon Screen. It comes in variable lengths and is made from light – weight aluminum tubes. When connected, they form a wave. The Smithsonian acquired one for its permanent collection of Decorative Arts; another is on display at the Cooper Hewitt National Museum of Design in New York.
"The screens roll up like a carpet and easily unroll to be freestanding in a curve," he says. "It's also been shown at the Guggenheim Museum in Soho, New York."
Although most of his work is commissioned, Good still sets time aside to work on his own ideas.
"I have special play time," he says. "I allow myself to mess around with something unusual that comes out of my heart and mind."
His work is represented by the Goldenstein Gallery in Sedona, Arizona.