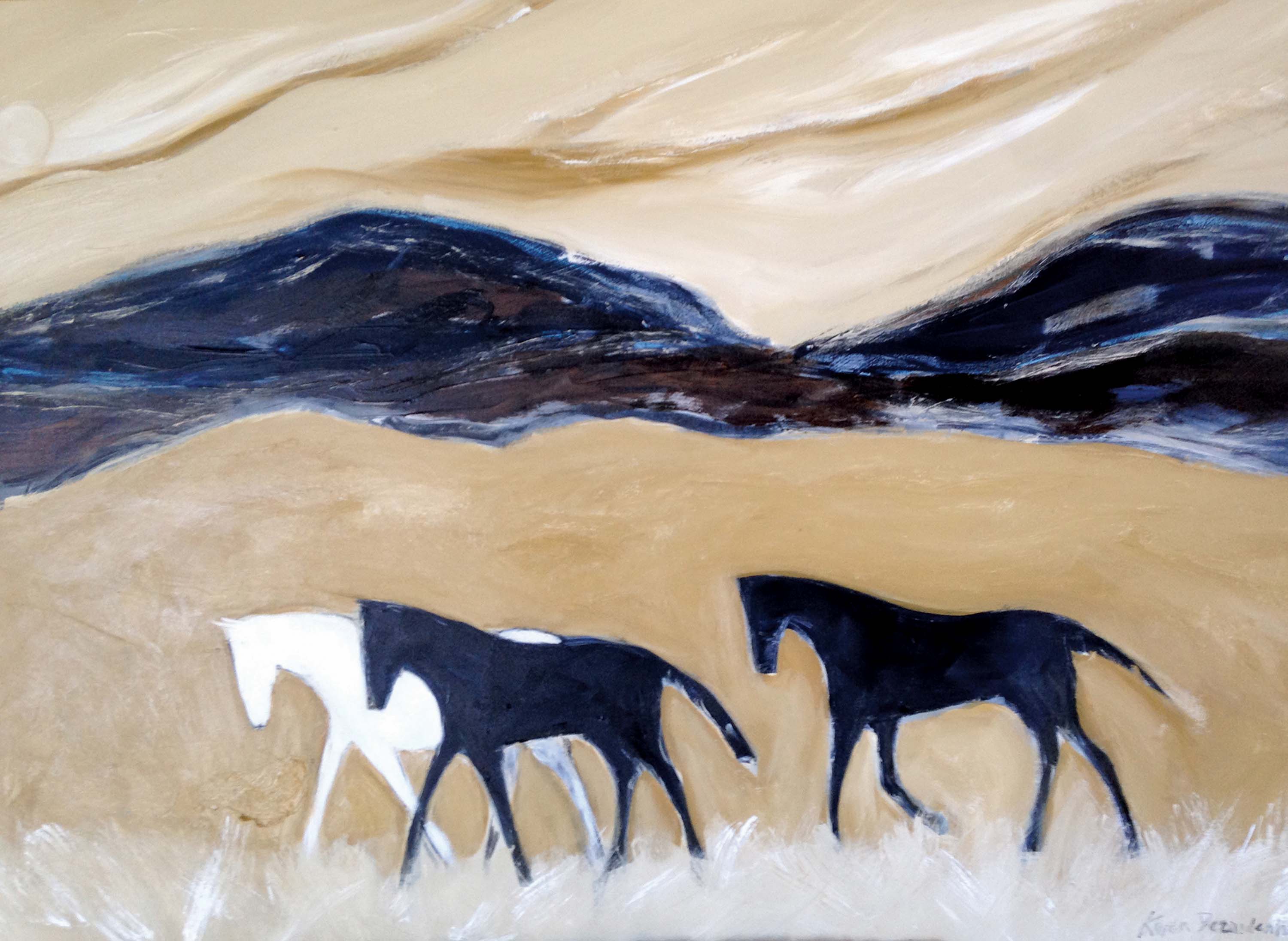 "Desert Ponies" | Acrylic on Canvas | 40 x 60 inches
02 Mar

Ones to Watch: Artist Karen Bezuidenhout
---
There is a primitive elegance to Karen Bezuidenhout's paintings, where her deep connection to the horses and land she loves is evident. Her wash of color, her simple lines etched into the land – scape, convey all that needs to be said. Immersed in her basics, we can remember the details. In the overview, we recall home. Bezuidenhout didn't start out with the idea of being a painter. She happened upon it.
"I never thought of myself as an artist," Bezuidenhout says. "I was in my mid – 30s and my sister was taking classes at a little art school. It was a rainy night. When I walked into the exhibition, it stopped me in my tracks. I looked at the art around me and knew right there and then I needed to be an artist. I signed up that night at the school."
Her choice was validated when she sold a landscape painting at her third exhibit.
"I paint from the sheer joy and love of painting," she says, which is clear from the emotional depth of her work. "My style developed along the way. I didn't have a style when I started."
Soon after, she moved from South Africa to California, where, submerged in a new country and a new landscape, her painting kept her grounded.
"I come from a rich, colorful place in South Africa," she says. "In San Francisco, everything felt dull and gray, so I compensated for it with art and paint."
After that she and her family moved to Santa Barbara where she met her mentor, Bill Woolway.
"He was a primitive painter and I was very drawn to his work," she says. Although a comparison can easily be drawn, Bezuidenhout's work is very much her own.
"People slowly began buying my paintings," she says. "A friend sent my portfolio to the Sundance catalog. They featured three of my paintings on their 2004 cover and that started the ball rolling for me."
To keep her creative channels open, Bezuidenhout hikes nearly every day and rides her horses bareback in the evenings. "I absorb the natural beauty," she says. "That sense of space inspires me all the time in a subconscious way."
In a very intimate way, her work draws on the environment. "It's not only what I see, but what it does to my heart," she says. "I'm so enchanted by nature and my surroundings, I feel it and take it in, and that is infused into the paintings. I paint primitively from the heart, using colors and shapes in ways that give people a good feeling. They exude a peacefulness."
Her ultimate goal is for people to enjoy her work.
"I have a very broad spectrum of collectors from young people that want my work and people in their 80s that love my work," she says. "I also have people that own valuable collections who buy my work as well, which I'm very humbled by."
She is represented by Upstairs at Pierre LaFond in Santa Barbara, California; Wilde Meyer in Scottsdale, Arizona; Sequoia in Santa Fe, New Mexico; and the Sundance Catalog, online.