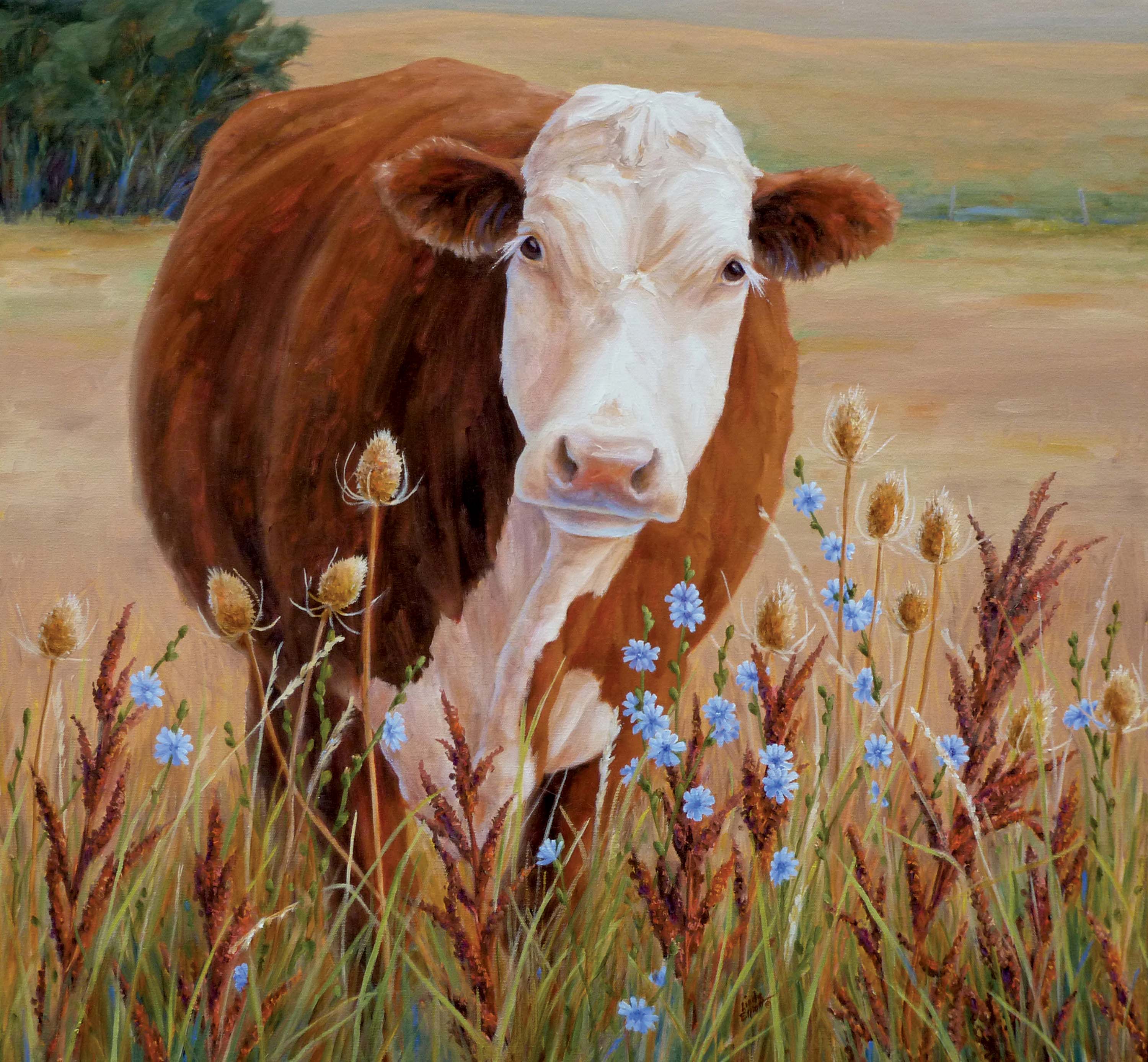 "In Wildflowers" | Oil | 28 x 34 inches
02 Mar

Ones to Watch: Artist Linda Elliott
---
Linda Elliott's brush traces the days of cows: languishing, sated, solemnly curious at the passing world. For her it's the palette of life. It's the stable foreground of emotions, of a fenceline delineating today from tomorrow.
"I grew up in western Washington, next door to a dairy farm," Elliott says. "My aunt and uncle had a dairy farm, too, so I was there with the cows. As a kid they left quite an impression: big eyelashes, big eyes, twitching ears and the big slobbery noses."
Add to that the fact that her mother was an artist and got Elliott painting in oils at 8 years old.
"When I got more serious about painting, living in eastern Oregon, cattle country, cows became my inspiration," she says. "They're beautiful animals. They provide food and clothing. And yet people don't really see them. I want people to see the beauty of the cows."
For Elliott, the appealing part of painting cows is to try to translate their nature into paint. But she also sees them as a blank slate for her own voice.
"I have lots of reference material around here," she says. "I take my own photographs. When I'm taking the photos, I don't really know what's going to provide the best material. It's fun to find out what's going to work."
She doesn't sketch directly from the photographs, but uses them as reference points.
"I really like to play with composition, placement of the animals, and the darks and lights of the painting," she says. "Composition is my favorite part and my biggest challenge, too. I want it to be an effective composition and to draw the viewer in, say what I want to say, but I don't want to use a formula. I want it to be interesting and unique in each painting."
Before the drawing gets to the canvas, Elliott uses a big sketch pad to work out the composition.
"I do an underpainting after the sketch is on the canvas," she says. "I put really bright glazes on oils and let that dry. When I'm painting something that's alive I want a certain life to the canvas."
This means an addition in some places, subtraction in others, painting thickly or wiping away so the underpainting and underlying warmth can come through.
"I've tried to paint in other mediums besides oils, but they don't have that ability to move," she says. "I like to drag the end of my brush through it or a paper towel. That's part of the joy of oil: It stays wet long enough to play with it."
The joy continues when people react to her work.
"I would hope they smile," she says. "People aren't used to seeing cows, maybe they don't know they have those beautiful long eyelashes or maybe it brings memories of their own 4 – H cows."
Elliott's work is collected throughout the United States and Europe. She is represented by Horizon Fine Art Gallery in Jackson Hole, Wyoming, and SmithKlein Gallery in Boulder, Colorado.