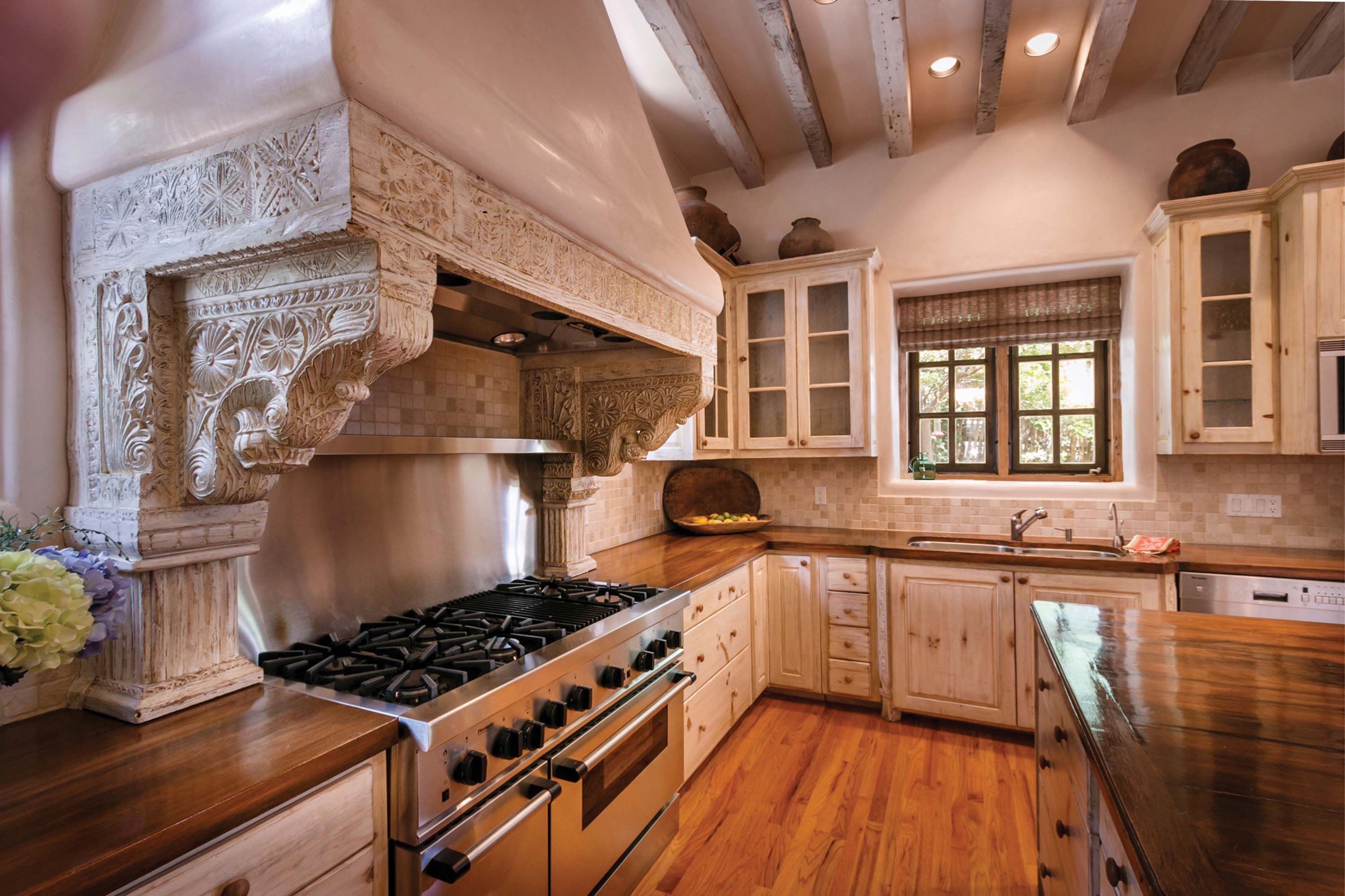 La Puerta Originals, based in Santa Fe, New Mexico, can also handcraft architectural details such as this beautiful range hood.
08 Jun

Ones to Watch: La Puerta Originals
---
Doors are such intimate yet public objects. They are our face to the world; the affectionate, open arms, or the locked, bolted gaurdian of our fortresses. A company in Santa Fe places a whole new twist on those portals to our homes. Or, rather, a very old twist. La Puerta Originals puts together intricately carved pieces from exotic places such as Mexico and Pakistan to create architectural statements in the guise of doors.
"It grew out of his construction and design company," says Melissa Coleman, president of La Puerta Originals. "He started collecting doors from Mexico and incorporating them into the homes. They became so popular people just wanted the doors."
La Puerta Originals maintains an inventory of several thousand antique doors and architectural elements from all over the world. Then, using reclaimed wood, they create custom pieces.
"The aesthetic of what people are looking for is something old, something handcrafted," Coleman says. "We may take a Mexican door from the 18th century and combine it with antique carving material from the Swat Valley, an area that developed its own culture and carvings."
Coleman and her husband collected salvaged pieces from the Swat Valley in the Hindu Kush, Pakistan, when it was being bombed a few years ago. "There's an interesting connection with that culture because it was on the Silk Road, a trade route from Europe to India to China," Coleman says. "A lot of the traders were from Spain, so you can see the similarities in the design and the materials. For example, the squash blossom and the pomegranate motif were both prevalent in Afghanistan, Spain, Mexico and South America."
It's not unusual for clients to walk through La Puerta's inventory yard and fall in love with a distinctive architectural element.
"We may not have the amount of material necessary to do an entire kitchen or a series of doors, but we're still able to reproduce the same design motif for the project," Coleman says. "We have a team of very talented craftspeople and carvers who match the wood and the finishes, as well as the carvings themselves."
La Puerta also builds solid wood kitchen cabinetry, using the same techniques and one-of-a-kind inventory.