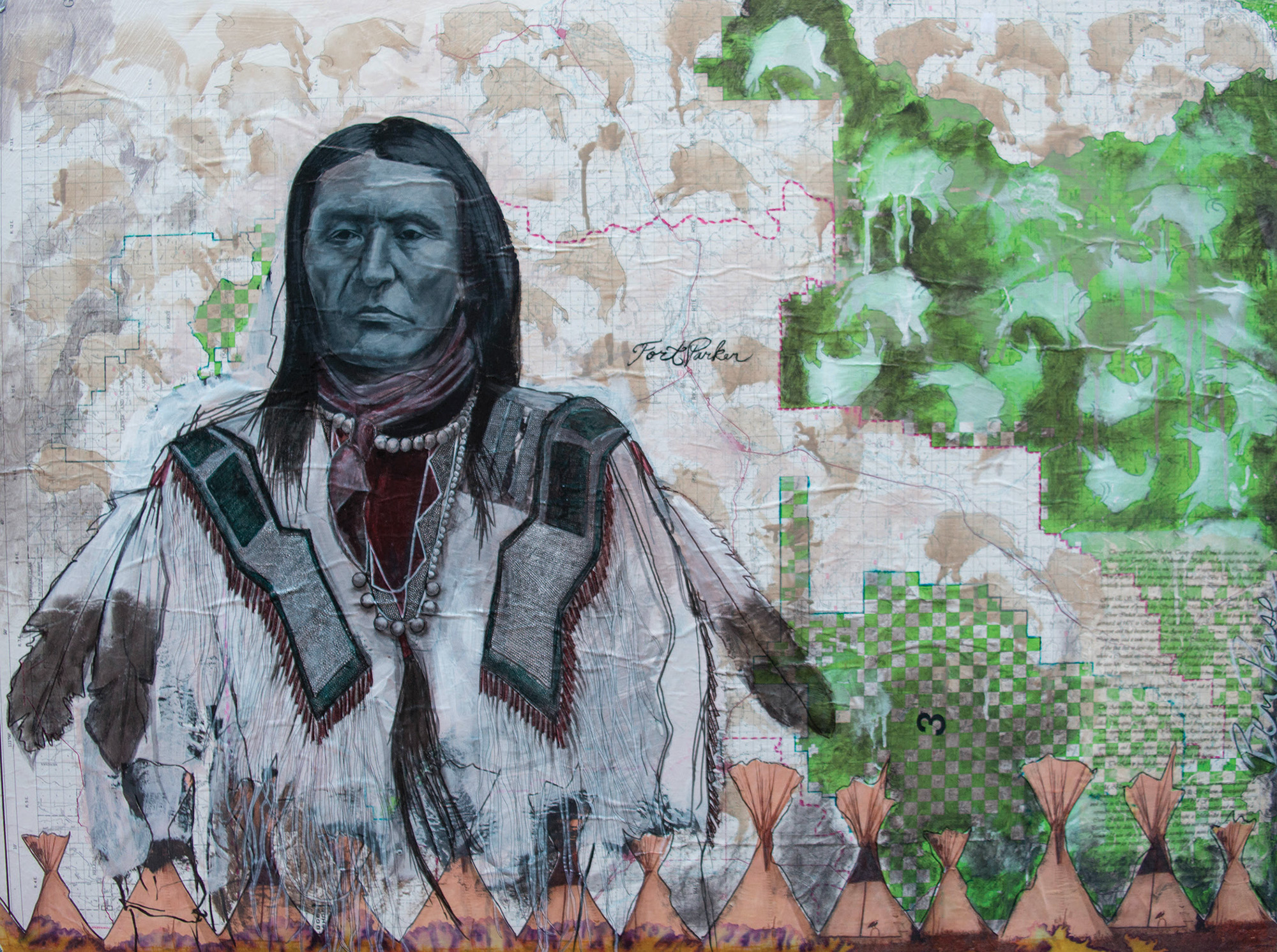 "Sits in the Middle of the Land" \ 1889 Ledger Paper, India Ink, Acrylic, Digital Photo Alteration on Platine Fibre Rag on Canvas | 14 x 11 x 1.5 inches | 2016
04 Aug

Ones to Watch: Ben Pease
---
Through the use of historical photographs, vintage ledger paper and mixed media, artist Ben Pease creates work that pivots on self-discovery and cultural identity.
"My process begins with who I am and where I'm from," he says, referring to the Crow and the Northern Cheyenne nations. "I try to document relationships and experiences within a cultural context."
Pease's work is both chronological and contemporary. He explores the medium of ledger drawing, an art form of 19th-century Plains people, who documented their experiences on ledgers or account books using pencil, ink or watercolor. He takes this historic practice into the modern era, by incorporating digital photography that is collaged on canvas and illustrated with India ink, oil paint or spray paint. "In choosing images, I try to connect them with some kind of antique paper, like the Yellowstone Dairy milk carton. I'll use anything from the 1700s up to today," he says. "I try to confront sociopolitical issues because I'm trying to be a modern-day storyteller."
The narratives differ from piece to piece. Some refer to popular cultural icons of Native Americans and some reflect on an insider's perspective. For example, Pease will incorporate designs from beadwork that was passed down through generations, from stationery used by the Bureau of Indian Affairs or pages from history books — any image that conveys a meaning that's both personal and social.
"I'm trying to understand our position and trying to help others to understand it," Pease says. "It comes with the storyteller kind of artistry, where I can share what I'm learning along the way. I feel like I'm helping, not only myself, but other members of my tribe, my generation, the youth and even older generations that were not raised on the reservation. Being raised on a reservation is totally different than being an urban Indian, raised in the cities, stripped and removed from the land and their culture."
Awé Kúalawaachish/Sits in the Middle of the Land, a mixed-media piece on a topographic map, includes a large portrait of the principal Crow leader from the mid-1800s in the foreground. This leader used the metaphor of four tipi poles to describe the borders of Crow Country. In the background, painted on the map, are abstract silhouettes of bison and a traditional geometric pattern. Here, Pease uses the idea of boundaries to create his own interpretation of what it means to be in Crow Country, pointing to iconic images that continue to hold meaning in contemporary culture.
"Being a young artist, I'm still figuring out what I want to say … I'm trying to redefine ledger art for myself, not for everyone," Pease says. "It is its own type of storytelling, similar to oral traditions. I'm not concerned with painting pretty pictures. I can paint realistically. I've done it. But straight wildlife doesn't do it for me."
Having found his voice in mixed media, he's begun to experiment with installation work, incorporating digital imagery and vinyl wall wraps with traditional mediums and sound. He's looking to create a total "assault on the senses."
This year, Pease participated in the Out West Art Show's Young Masters Educational Program, which took place during Western Art Week in Great Falls, Montana. He received Best of Show and the People's Choice Award in 2016.
Pease is represented by the Catherine Louisa Gallery in Billings, Montana; Creighton Block Gallery in Big Sky, Montana; The Architect's Wife in Bozeman, Montana; Modern West in Salt Lake City, Utah; Four Winds Gallery in Bozeman, Montana; and Mister A's Fine Art Gallery in Hardin, Montana.