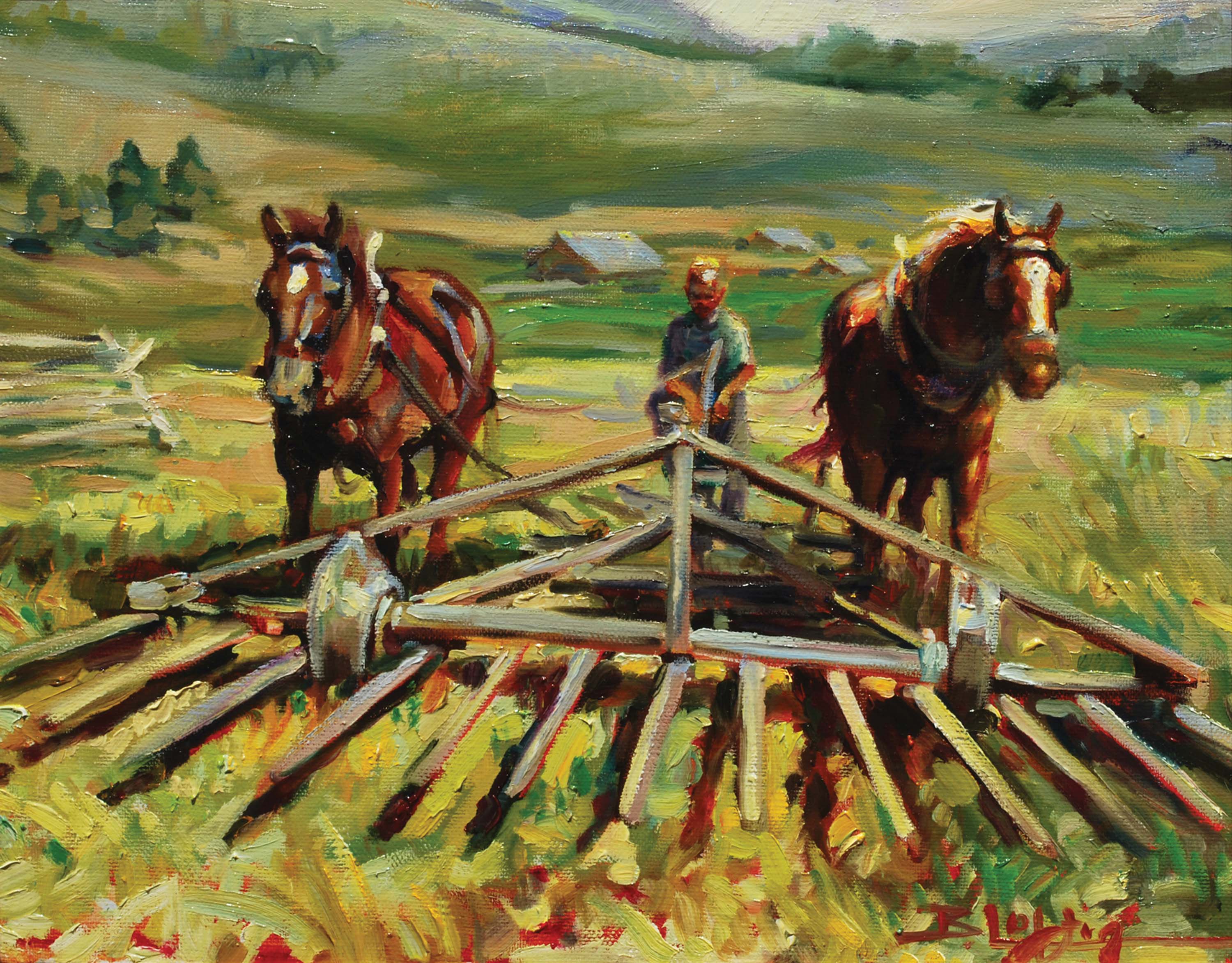 "The Bull Rake" | Oil on Canvas | 30 x 24 inches
04 Aug

Ones to Watch: Beth Loftin
---
Beth Loftin's sculptures and paintings guide us through the natural elegance of both the human and animal form. She touches the periphery of a collective memory, gilding it with a wash of yesterdays that leaves us imprinted.
"With my sculpture and my painting, I'm more after a feeling, trying to capture a flash of grace," Loftin says. "Painting is like a tightwire act, you're balancing in the moment. It's not about technique. I'm trying to get to notions like vulnerability, strength, passion. As I get older I concentrate on peace, quiet and acceptance. It's like sleight of hand to be able to do that through line and color."
Inspired by old postcards and photographs she's collected, Loftin is interested in the relationships she sees. Simple people with a simple story to tell — and a lifestyle dependent on the kindness of neighbors.
"If I'm painting a strong male figure, what I want to get is all the layers of vulnerability, strength, rigidity, surrender," she says. "With a bucking horse, it's not just a bucking horse, it's the struggle of the horse trying to get rid of the man and the man trying to hang on to the horse; there's a grace in that relationship and of all things on this planet. Army buddies, hugging each other, even girls who are bundled together in friendship, it's like this tenderness of what it is to be human, to love in a brotherly and sisterly way, but we still have the constraints of the human form. We embrace. Farmers embracing, it's like something that used to happen — when people used to work in the fields — when they were much more interdependent on each other in physical labor, it created a bond that I miss today."
And so she paints a farmer with torn clothes. A tired ranch-hand holding a kitten.
"It's those places where all things are taken to, where you only have what you need and you only have with the work of your own hands," she says. "The other things that make you human are all internal and based on relationships: birth, food, family, animals that keep your family alive. It's that simplicity drawing me back to those times. A longing and a search for that part of us that connects on a very instinctual level. Whereas in this society, my senses are bombarded with the speed we don't need and the technology we don't need to be human. All the stuff that keeps people distracted, fractured."
The same holds true in her sculptures, a medium she's always wanted to try but until a few years ago, held off.
"I love the human form and animal form so much I wanted to be able to create all the curves and action I saw," she says. "I wanted to be more intimate with the form, touching it. Whereas with a painting you have to imagine the parts you don't see, and pretend the form on the canvas, with the clay it's a real thing. And I use both hands when I sculpt. Not like painting."
Beth Loftin's work is represented by Banks Fine Art in Bozeman, Montana.