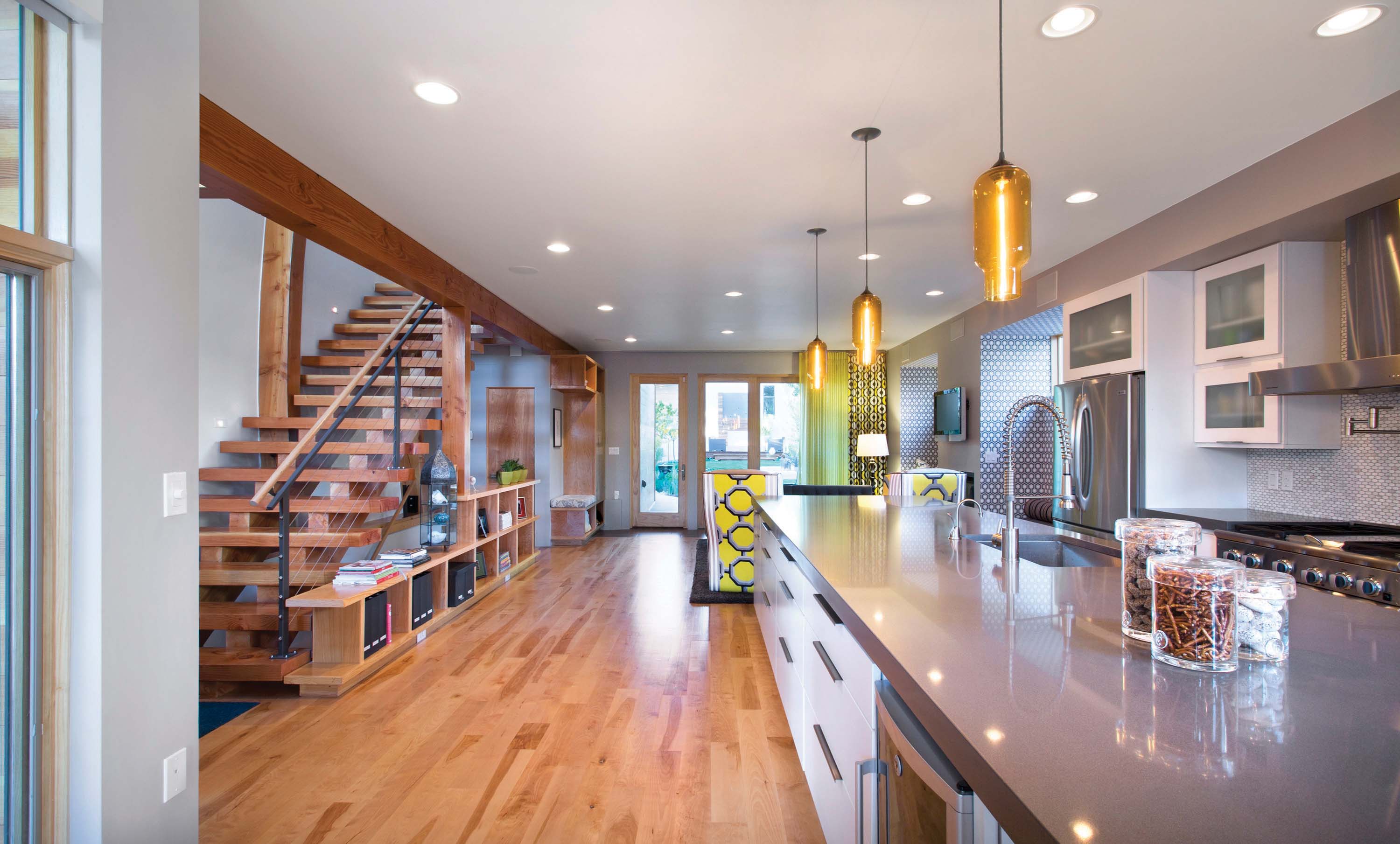 The use of authentic materials was important to the homeowners. The bookcase below the stairs doubles as space for storage and a handrail for the basement stairs. "It was important to introduce wood elements to give warmth to the house," Tomecek said.
09 Jun

Ones to Watch: Brad Tomecek
---
Architect Brad Tomecek enjoys blurring the boundaries between "poetic solutions and inno- vative building systems." And his approach — along with his structures — has not gone unnoticed. He received the national 2012 AIA Young Architect Award for his design of the Shield
House in Denver, Colorado. Tomecek's approach for the Shield
House, named for its slender curved wall that provides privacy, was both site and client specific. These are two guiding principles in Tomecek's work at Studio H:T, a process-oriented firm he co-founded in Boulder, Colorado, in 2005. The firm's body of work includes designing commercial spac- es, such as the corporate headquar- ters for Crocs, and residential spaces, some of which explore prefabrication construction with shipping containers and wood-framed boxes.
"We feel design could be applied to anything and that taking a fresh look exposes innovation," he says. "Doing the same thing each time gets you into a rut; we live in action. Over the span of 10 years, technology and industry have changed. We like to ask, 'Why do we do it that way?' Researching and innovating around new technologies and ideas keep us fresh in thinking about the possibilities."
The homeowners of the Shield House were open to ideas, but also had a few guidelines. They wanted to use real materials, like wood and steel, and though they liked Modern homes they also wanted warmth, Tomecek says. And a backyard.
The urban site offered some unusual challenges. It's a narrow lot, about 35 feet wide and 200 feet deep, and directly to the left of the site is a three-story triplex with multiple public decks. To the right of the site is a monastery
inhabited by nuns who've taken vows of silence and who tend a luscious garden and play the occasional game of volleyball, Tomecek explains. "And here you are, trying to be a family home in between these two interesting conditions."
The four-bedroom, 3,250-square-foot home is four stories, including the basement. The top level, or sky parlor, provides access to a deck with cityscape views of Denver.
"In a way, we tend to like simple structures and to us it was a simple idea," Tomecek says. "You have these two boxes — in my mind it looks like a mushroom — and then this piece that is about craft, lighting and circulation attaching them."
The curved wall that bends around the home's rectangular living space provides protection and separation while becoming an interesting focal point for the home. As the wall bends, it provides more interior space and windows allow light to filter through the home. It was constructed in four pieces that are held together with tension and traditional joinery methods instead of glue or screws.
"I would say all of this is based in inquiry and exploration, with the idea that by supporting design, you can better life," he says.
Exterior lighting creates a feeling of elevation in the home's upper volume by washing the warm wood in light. There is also a glass space between the curved wall and the "boxes" of the house, which adds warmth as it glows by night.
Courtney mcrickard, of landscape architecture firm three sixty Design, created a curved pathway to the attached garage that mirrors the home's slender curved wall.