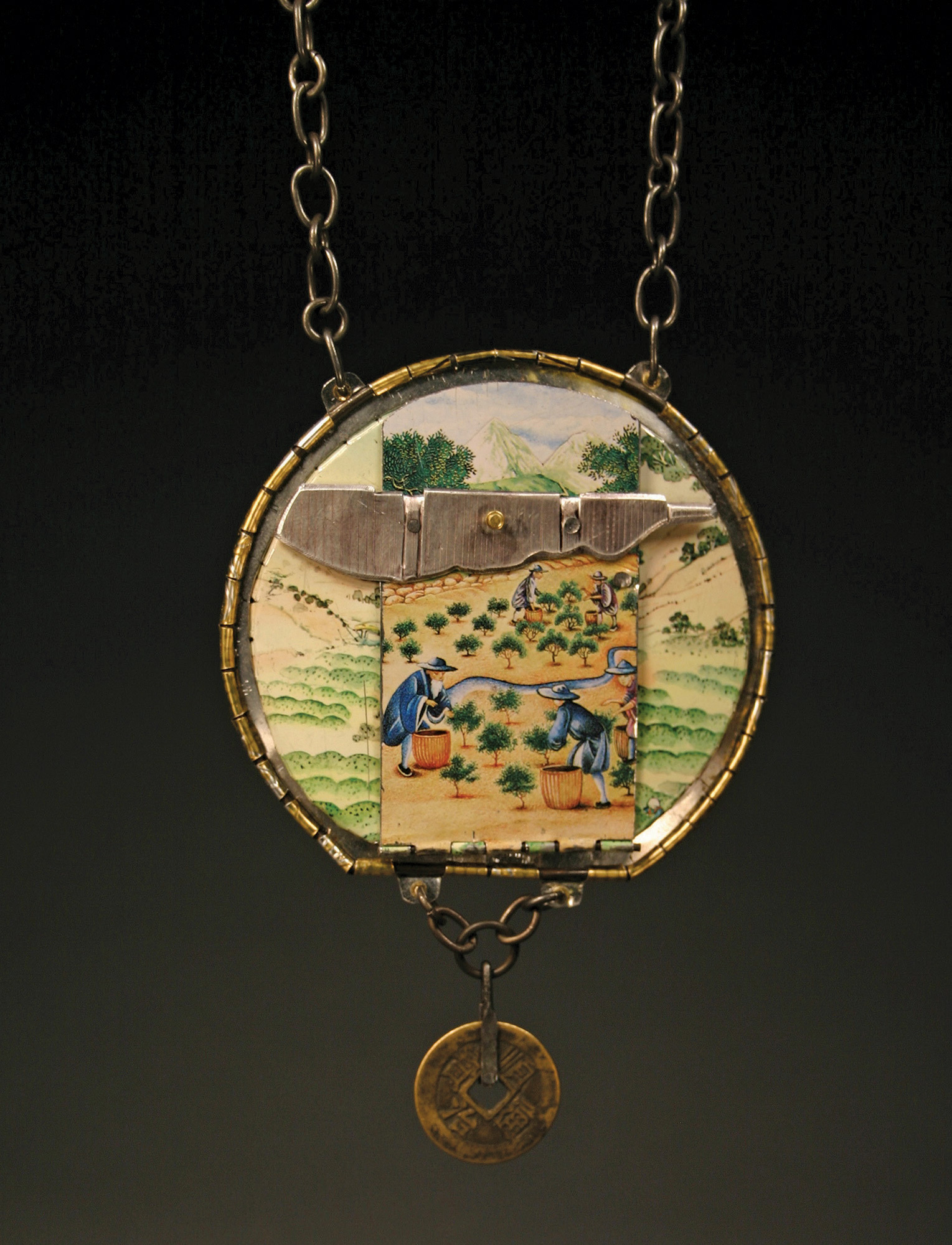 "The River That Went to Heaven; The Yangtze River and Three Gorges Damn," Steel, Tin, Magnet and Found Coin, 12 x 7.5 x 0.5 inches, 2010
07 Jan

Ones to Watch: Bryan Peterson
---
Bryan Petersen's metalwork combines the ubiquitous iconography of pop culture with the historical precedent of wearable art. Making use of vintage tin, recycled metal and jewelry, Petersen converts the original intent of an object, completely transforming its meaning. Buckles, earrings and brooches all speak to Petersen's ability to use metal as an agent and the human body as his canvas.
"My work is more like a painting on a human rather than a painting on a wall," Petersen says. "If you look at buckles, they're really small sculptures. Some people believe that as soon as you wear something it is delegated to a step below art. But jewelry does have a huge history of signifying wearable status pieces."
For Petersen, the process begins with the material itself. The collecting of street signs, imagery and patterns on tin cans, what junkyards and recycle yards yield up to him influences his next project.
"I think a lot of those are advertising tins which are loaded with commentary on society," he says, citing Uncle Ben's Rice and George Washington on tobacco tins from the 1920s. "I also look for color and pattern. That's a big part of my content."
As far as his smithing techniques, Petersen stays away from the toxic chemicals inherent in the craft. "Metalsmithing can be filled with acids and most metalsmiths are putting out fumes, having to dispose of the toxins used to clean their materials, but I don't need to do that. I use cold connections with rivets and tabs."
He uses the term "sustainable jewelry" and feels there's a direct connection in the way he works with what his pieces say. In his field there is a movement toward ethical metalsmithing, making use of ways for jewelers to gain access to responsibly sourced materials and to stay away from places that mine for gold or diamonds using inhumane practices.
"The materials I use are things like baling wire from the hardware store, copper electrical material, roofing copper. If I'm not using the found material, I'm looking at somebody else's scrap," he says. "And I've done a lot of wedding rings that reuse other, older pieces of jewelry to create something contemporary."
Currently, he's mulling over the idea for a piece that would incorporate an environmental statement, specifically the Animas River spill of toxic mining chemicals.
"It turned the water to Tang," he says. "That's how I get a start with a piece that has social relevance. To create that imagery, I may try to find a river scene and the right color orange. I'll look for images that speak to me. It was a gold mine, so should this be a brooch? Or will I need more real estate and go for a necklace? The chain itself can connect things and say things. It becomes like a triptych, including the clasp, with a message or a text. I don't get to the bigger message until I find the images. I let the materials lead me. I like to add art to social history, activism, geology or science. It raises consciousness; it creates awareness."
Petersen's work is in museums including the Racine Art Museum in Racine, Wisconsin; the Victoria and Albert Museum in London, England; NCSU Art Museum in Raleigh, North Carolina; and The Arkansas Arts Center in Little Rock, Arkansas, as well as many private collections and commissions around the country.
Petersen has garnered several awards for his work including the 2012 World Championship Belt Buckle Competition. His pieces are shown by Society for Contemporary Craft in Pittsburgh, Pennsylvania, and have been published in numerous metalsmithing books.