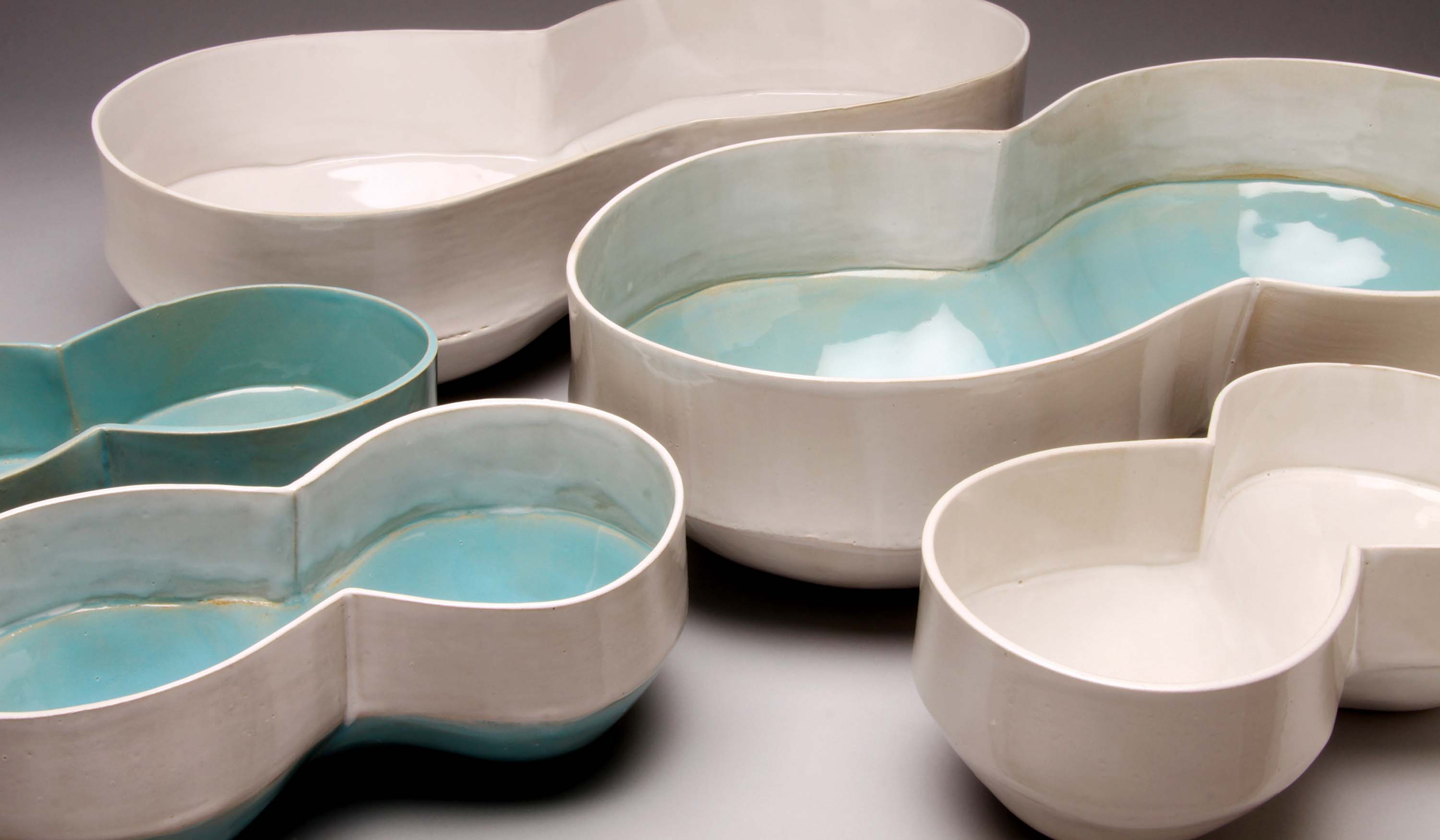 "Infinity Bowls" | 5 x 20 x 10 inches
01 Dec

Ones to Watch: Jill Zeidler
---
Jill Zeidler's clean lines, simple forms and smooth glazes make for very understandable pieces that speak to emotions and the moments in life endowed with meaning.
Although her sculptural pieces are also purposeful, each one is made by hand and in little ways reveal her subtle maker's mark.
"Everything I make is first an art piece and secondly is also functional," Zeidler says. Of her process she says, "My studio is where I'm most grounded. When I create it fulfills something in my life that nothing else can fill. I first think about what it is I'm going to make and I cultivate it from within at that point. If it's going to be dinnerware or a mug, I'll keep working it and working it until I've perfected it."
Because she doesn't throw on the wheel, not everything is perfect — which gives her pieces individuality.
"I do all hand – builds with clay slabs," she says. "Ever since I studied ceramics I've loved the wheel but I don't feel I can achieve what I want from the wheel. I'm definitely more of a sculptor." Her new pieces also contain images, a kind of memento – style narrative that resonates on several levels.
"When I make those images a lot of people think it's a stamp, but it's actually a monoprint that I do with a colored mason stain, which is colored clay," she says. "It has to be an image that moves me and is also universal — a Buddha, a bird or a tree — inspired by imagery that I love." They are more than images; they're symbols.
"I've started doing arrows," she says. "And the tipi is one I'm falling in love with, bringing me back to what's simple in life… the basic quality you find when you simplify everything."
If she's going to put an image on a particular piece, she'll think about that before she even creates the piece.
"I've scaled back the number of images I use, which has made each one more potent," she says.
"Most of the time it's an image that people are drawn to, especially the tractor image. I've heard so many stories about how someone's grandma still drives a tractor or how they remember that tractor from their childhood — those stories excite me and make me happy."
One of her favorite pieces is the gourd bowl, made from two pieces of clay.
"It's big and I'll never get sick of them," she says. "They're so interesting. There's a lot going on to make one piece successful."
On another level, Zeidler brings in color — lots of blues, oranges and greens, even her white glaze seems expectant.
Although her sculptural pieces are also purposeful, each one is made by hand and in little ways reveal her subtle maker's mark.
"I deliberately use those colors," she says. "I graduated from an art school with a lot of brown and wood-fired pieces. Sometimes the clay needs those colors to lift them. I like the bright colors, I'm a bright person. I'm a contemporary artist and I feel they work really well with the style of work I create."
Zeidler has been accepted into several prestigious juried art shows including the Art Fair in Jackson, Wyoming, and Art in the High Desert in Bend, Oregon. Her work is represented by the Gallatin River Gallery in Big Sky, Montana; Perspectives in Bozeman, Montana; Turman Larison Contemporary in Helena, Montana; Work Shop in Jackson, Wyoming; and the Plum Goods Store in Santa Barbara, California.