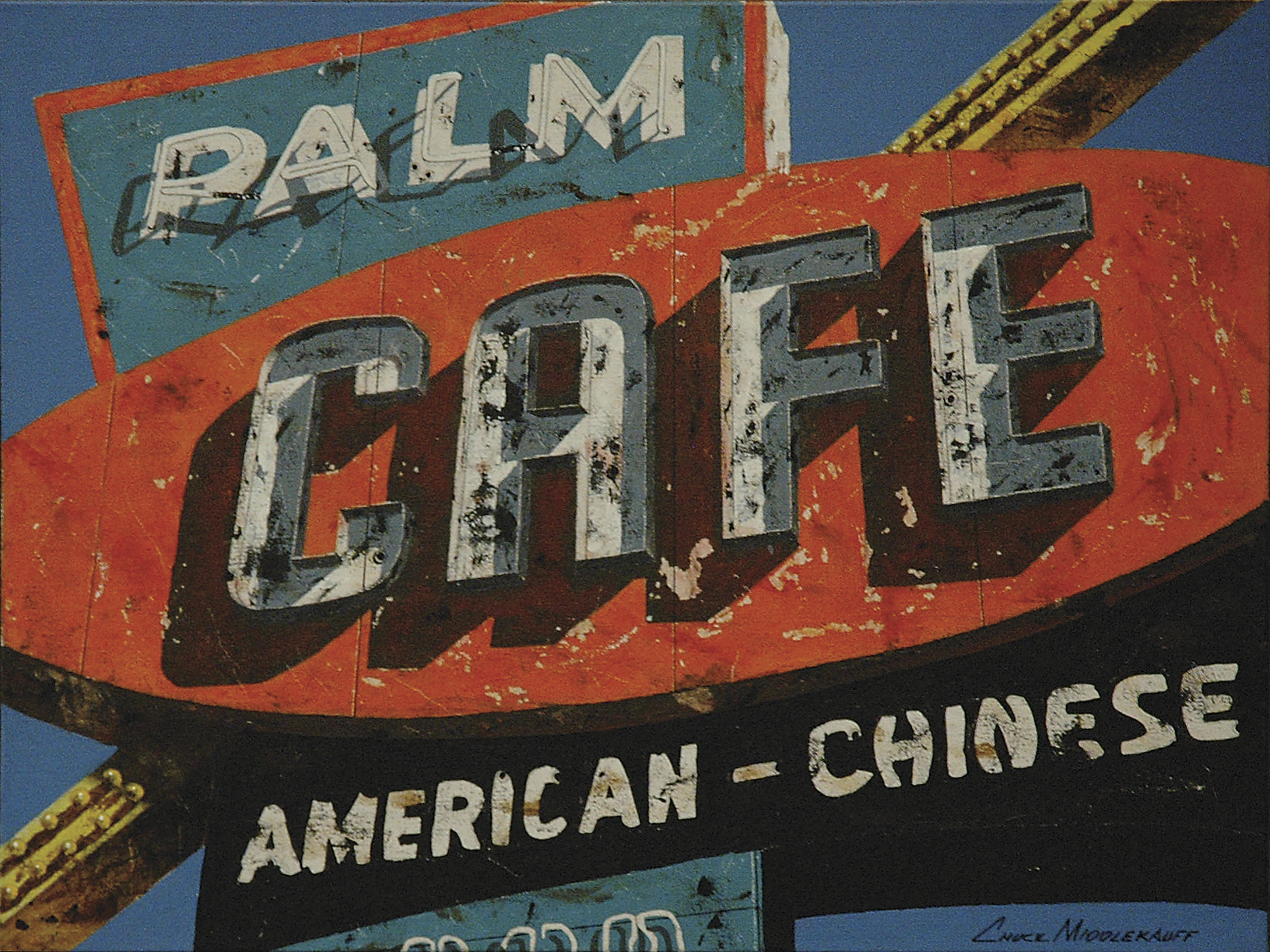 "Disoriented" | Acrylic | 18 x 24 inches
24 Jul

Ones to Watch: Chuck Middlekauff

Chuck Middlekauff's vibrant retelling of the American West through billboards, surfboards, Coke cups, candy wrappers, pay phones, toys, records and stuff from the workbench brings a fresh perspective to nostalgia. Excerpting fragments of roadside reality with bits of pop culture, Middlekauff's West reflects the modern cowboy at rest, the iconic gas pump encased in memorabilia, a time-weathered billboard offering a night's rest.

His bold color vocabulary speaks to the heart of Americana, regaled in pageantry and showmanship. Middlekauff's motifs undergo a degree of transformation, filtered through his memory, rusted by his own childhood recollections, tinged with a collagist's humor.

His solo exhibit at the Legacy Gallery in Scottsdale, Arizona, was titled, Route 66 Meets Highway 41: Roadside Impressions. He has also shown at the Milan Gallery, Fort Worth, Texas; New West of Jackson Hole, Jackson, Wyoming; Cogswell Gallery, Vail, Colorado; Susan Drake Galleries, Laguna Beach, California; Sutton West Gallery, Missoula, Montana; and Art in the City, Houston, Texas.

His paintings hang in private and corporate collections across the U.S. and Europe including the Booth Western Art Museum's Permanent Collection, Cartersville, Georgia; Raymond James Financial, Inc., St. Petersburg, Florida; One Steamboat Place, Steamboat Springs, Colorado; Bank of Telluride, Telluride, Colorado; The Big EZ, Big Sky, Montana; Rainbow Lodge, Big Sky, Montana; Cactus Cantina Restaurant, Washington, D.C.; Pischke's Paradise Restaurant, Scottsdale, Arizona; Gray-Barron Ranch, Park City, Utah; Ken Link, P.C., Fort Worth, Texas; Mr. & Mrs. Philip Schutz, Fort Worth, Texas; and Edward Bazinet, Livingston, Montana.

He is represented by the Legacy Gallery, Scottsdale, Arizona.