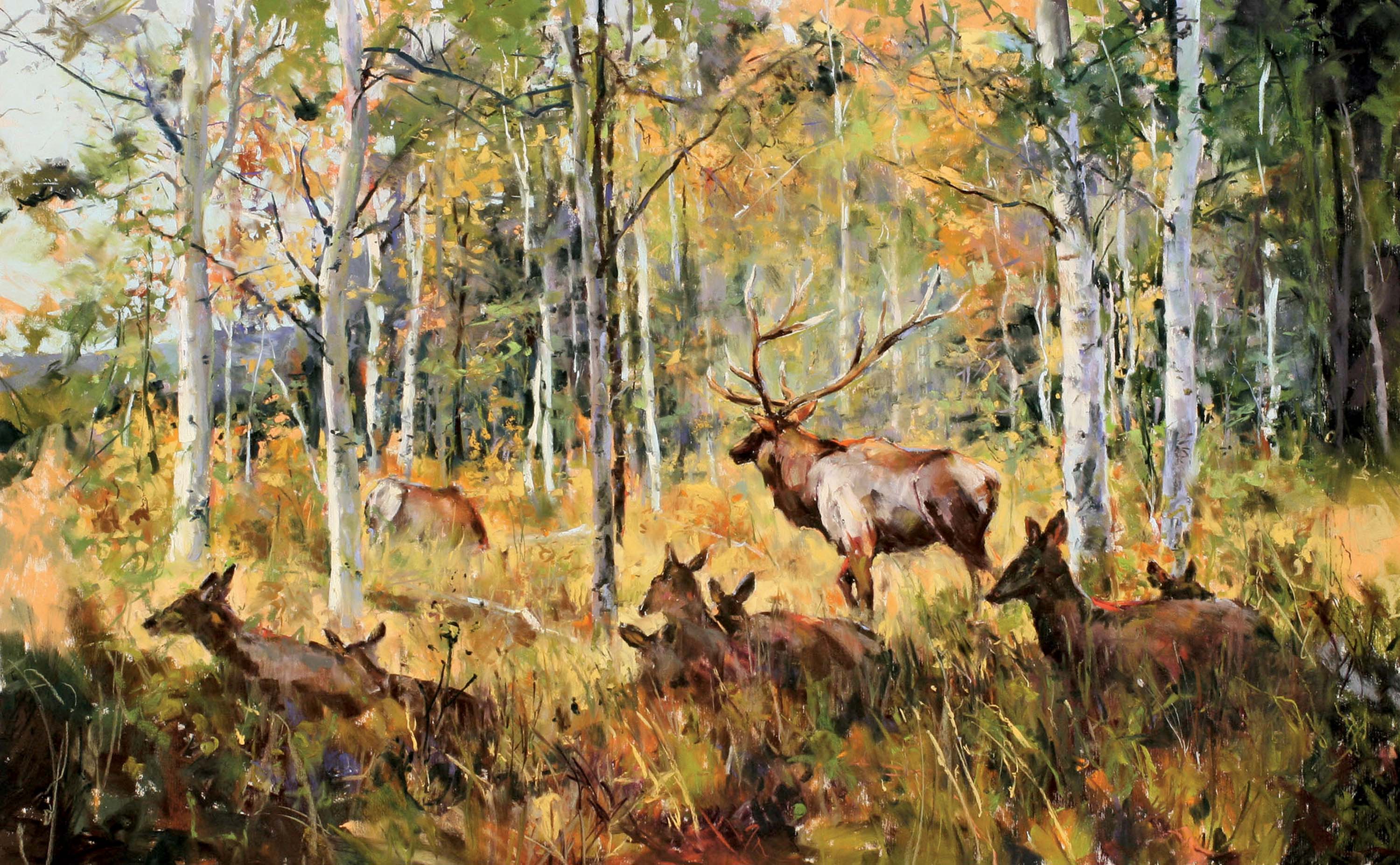 "Rocky Mountain Gathering" | Pastel | 17 x 27 inches
01 Feb

Ones to Watch: Clive Tyler
---
Soft pastel artist Clive Tyler's sense of place conveys his strong ties to the environment. Embodying the nuances of light, water and vegetation, his use of color saturates Tyler's paintings while his composition leaves the viewer feeling invested in the experience.
"I decided a long time ago what kind of artist I wanted to be and what subjects to paint," Tyler says. "I wanted to pick a category I'd never get bored with, so I chose the richness of nature."
An enthusiastic outdoor painter, Tyler may set up his easel in a forest or along the Rio Grande. "I go out and paint all day, really observe it and watch it, to see how the colors change," he says. "If I think something is gray, I keep looking. It might actually be blue. I keep all the information in my head until it gets embedded."
Quickly going through five or six pieces, one after the other, he is able to maintain a record of his experiences. "It's how I felt that day, how I interpreted what I saw," Tyler says. "The colors I choose may not be the colors I'd choose in a studio. I like to keep it pretty loose to try to capture the essence or the quality, the color, the flow, the character of something without it being exactly the tree I painted."
Utilizing his prior experience as a graphic designer, Tyler leads the viewer through the painting with a deft hand. "I'll bring them in through the front, then wander a bit, have their eye move to the top and then have a bit of color move them back into the painting," he says. "I like to keep them engaged, and give the viewer the experience I had when I painted it."
Tyler's style is unique for a pastel artist.
"I underpaint and layer lots of colors; it might look like white snow or blue sky, but within it is a lot of colors," he says. "From a distance it seems like a representative style, but up close you can see it's more stylized. You see how the swirls of color lay next to each other so that the painting works on many levels. I prefer my paintings to have movement, texture and excitement within the color everywhere. Sometimes it feels crazy. It's complicated, but when you look at it from a distance, you get a sense of place, a quiet feeling."
Tyler creates that emotional sense of place through the use of color and light. "I'd rather be a painter that connects on an emotional level immediately than a painter who creates something that people respond to visually first and emotionally if they like what they see," he says.
Over the last three years, Tyler has won the Award of Excellence from the 2013 American Impressionist National Show; 2013 Artist Choice Award, Waterfowl Festival of Easton Maryland; 2012 Grand Prize Winner "Paint America Top 100" Purchase Award, Coutts Museum of Art; 2012 Best of Show, Southeastern Wildlife Exposition, Charleston, South Carolina; and the 2012 People's Choice Award at the Buffalo Bill Art Show, Quick Draw & Sale, Buffalo Bill Center of the West, Cody, Wyoming. This year he will be on the faculty of the National Plein Air Convention.
Collected publicly and privately, Tyler's work is represented by InSight Gallery in Fredericksburg, Texas; Settlers West in Tucson, Arizona; Adelante! Gallery in Ashland, Oregon; Elkhorn Gallery in Winter Park, Colorado; Horton Hayes Fine Art Gallery in Charleston, South Carolina; and the Saks Gallery in Denver, Colorado.