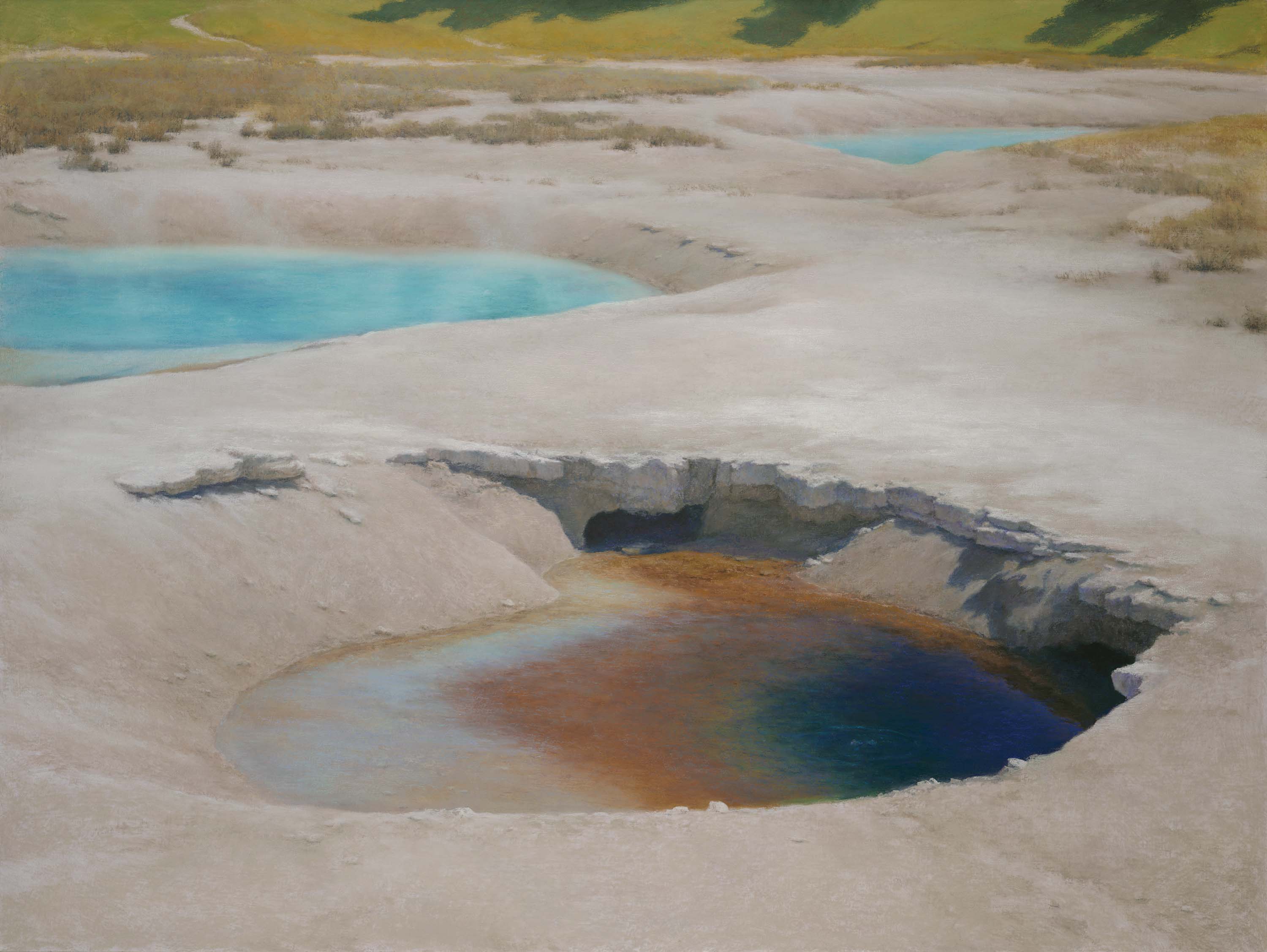 "Connectivitiy" | Pastel | 36 x 48 inches
06 Mar

Ones to Watch: D. LaRue Mahlke

In between the soft colors and the vast lines of a horizon, pastel artist D. LaRue Mahlke bestows upon us not the sirens and agonies of myth, but the simple songs of the day, like a hidden swallow under the eaves.

To get to that sweet spot, Mahlke does a lot of sketching.

"I love that part," she says. "I don't do Photoshop; I sit with my sketchbook. It's not too detailed. I place where the shapes are and then start in with pastels."

Mahlke began focusing on landscapes when she moved away from the beach.

"I always had it in my heart to do landscapes," she says. "That's when I started painting outside more and that's when I learned a lot about landscapes."

About 20 years ago, there was a resurgence of pastel artists and so the materials Mahlke needed to use became readily available.

"And I'm still in love with pastels," she says. "It's been a funny relationship from the beginning. When I started using pastels I did not like them at all. Much later I got into it again and then it was love. It's been that way since 1990."

It's important for the paper to be just right.

"And the colors can be limiting," she says. "I've been working with pastels and you never seem to have the right color because you can't mix them the way you can with paint. But those limitations are also freeing. You can deepen a river color or lighten it. It's very forgiving. If you're on the right paper you can take it back down to the initial staining just by brushing, erasing or scrubbing it off."

There is a certain joy in working directly with pure pigments. A connection to color that isn't there in other mediums.

"I don't need to use solvents, unless I want to," Mahlke says. "I do use mineral spirits to push the color on the first layer. You can actually get them wet. It's like you're painting with the pastel. Once it dries it goes back to being an opaque medium, but it becomes an underpainting I can draw on. You can get a very painterly effect. I do love to do those underpaintings because it all starts with the surface of the paper. Sometimes when I'm doing my underpaintings, I use the dust from the pastels."

Lately, Mahlke has begun working with charcoal, which in some ways is similar to pastels and in some ways goes in completely the opposite direction.

"I call it charcoal painting," she says. "I use charcoal and rubbing alcohol, working on a board with a brush. I just have so much fun moving it around with a paintbrush. Then I come on top of it and lift out the highlighted areas with white chalk."

Mahlke won the 2013 West Select Gold medal for her works on paper and the Best of Show award for Connectivity with three pastel landscapes and a charcoal painting.

"I was doubly thrilled," she says. "I was not expecting to win any awards. It was icing on the cake because just being there was pretty amazing."

She is represented by Biltmore Galleries in Scottsdale, Arizona; InSight Gallery in Fredericksburg, Texas; and Principle Gallery in Charleston, South Carolina.