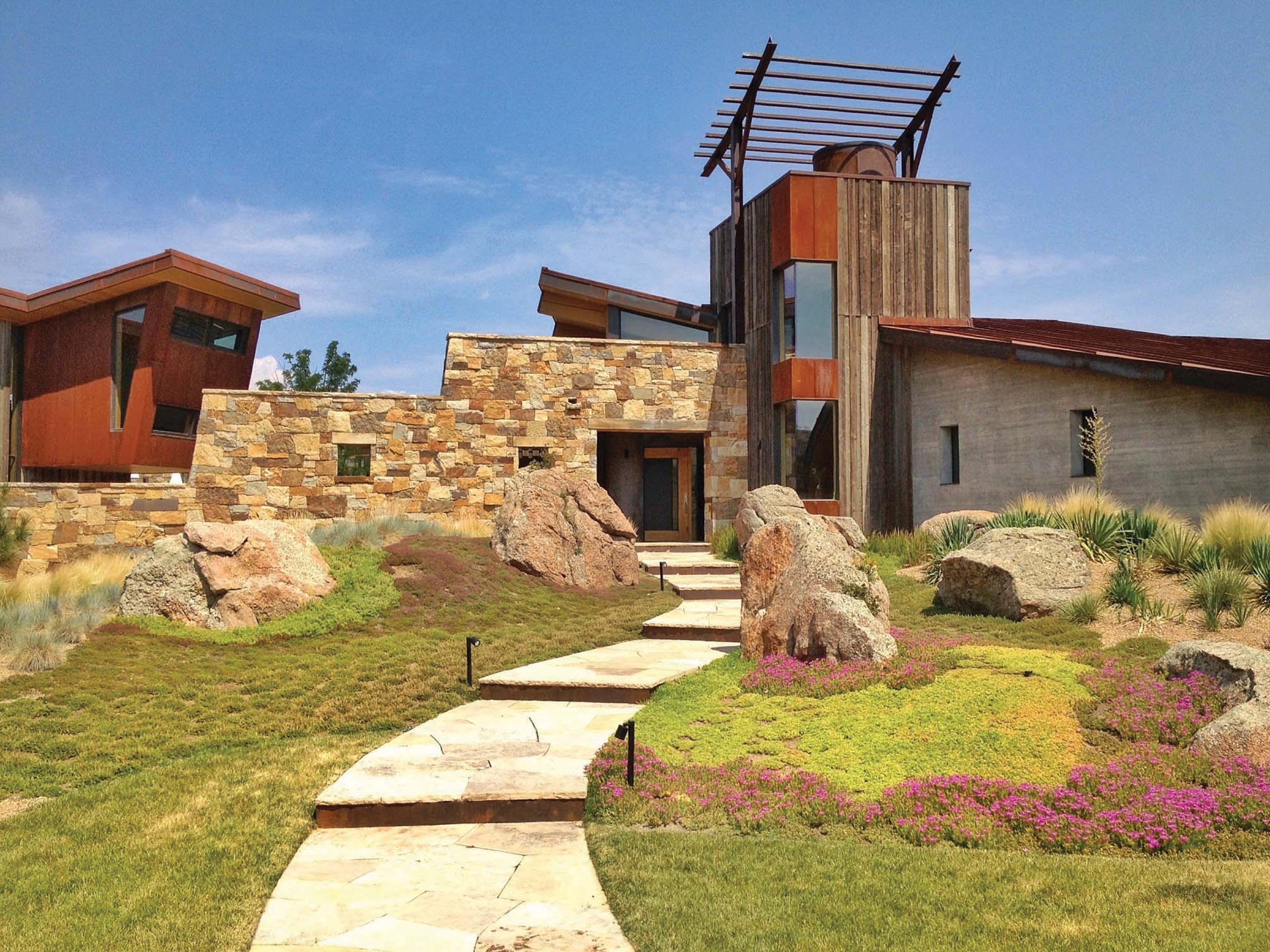 A variety of angled roof planes and a chromatically consistent material palette reinforce the Western nature of this home. A contemplative landscape designed by Marpa Landscape Studio, including native perennials and local boulders — further grounds the home in its natural environment.
19 Oct

Ones to Watch: David Barrett
---
The fact that architect David Barrett can nestle 7,000 square feet of anything into the arid landscape south of Boulder, Colorado, speaks volumes about his commitment to "living architecture," a term he coined early on in his three-and-a-half decades of practice and a philosophy he lectures on across the globe. It is, he explains, an approach to architecture based on patterns and relationships: between structure and earth, between architect and client, between materials, space and even time. "Everything is trying to relate to something else," Barrett explains. "Nothing is done in isolation." Architecture for Barrett is not about the way something looks, but rather how it came to be and how it continues to unfold.
Indeed, Home on the Range is a stunning reflection of the architect's philosophy and talent. The project, designed for a young family with three daughters, is a series of three interconnected structures — a residence, working studio and guest quarters — that are woven together using three massive and curvaceous walls. The buildings flow, individually, from one to the next, and within the surrounding landscape. The lines — linear and curvilinear — mimic both the nearby flatirons and the undulations of the surrounding foothills. In that way, the property is a splendid marriage of symmetry and contrast.
Barrett, who heads Boulder's award-winning Barrett Studio Architects, was careful to let the land speak loudest in this design so that the residence would never dominate. "By breaking it up (into three structures), it nestles into the landscape and breaks down the scale to become much more human," he offers. "There's some humility to it."
That humility includes the thoughtful selection of materials, chosen as much for their rich texture and durability as for their eco-consciousness. Barrett incorporated rusting steel, board-formed concrete (which leaves the impression of the wood board), buff sandstone, weathered reclaimed snow fencing, beetle-killed Douglas fir and reclaimed white-oak floorboards. The result is at once striking, beautiful and humble. "Imperfection with the simplicity and order of Modernism was what we were going for here," says Barrett.
In the bedroom and throughout the home, Tim Harrington of Harrington Stanko Construction and myriad artisans brought both precision and craft to materials including reclaimed white oak from a Wisconsin log cabin, white oak and Douglas fir veneer cabinets and local buff sandstone.
Barrett Studio Architects pays thoughtful attention to the interiors as well, working with clients to select furnishings, art, and all the finish details that create an aesthetic in harmony with the architecture. the light-bathed entry beautifully showcases the couple's eclectic art collection and frames extraordinary views.