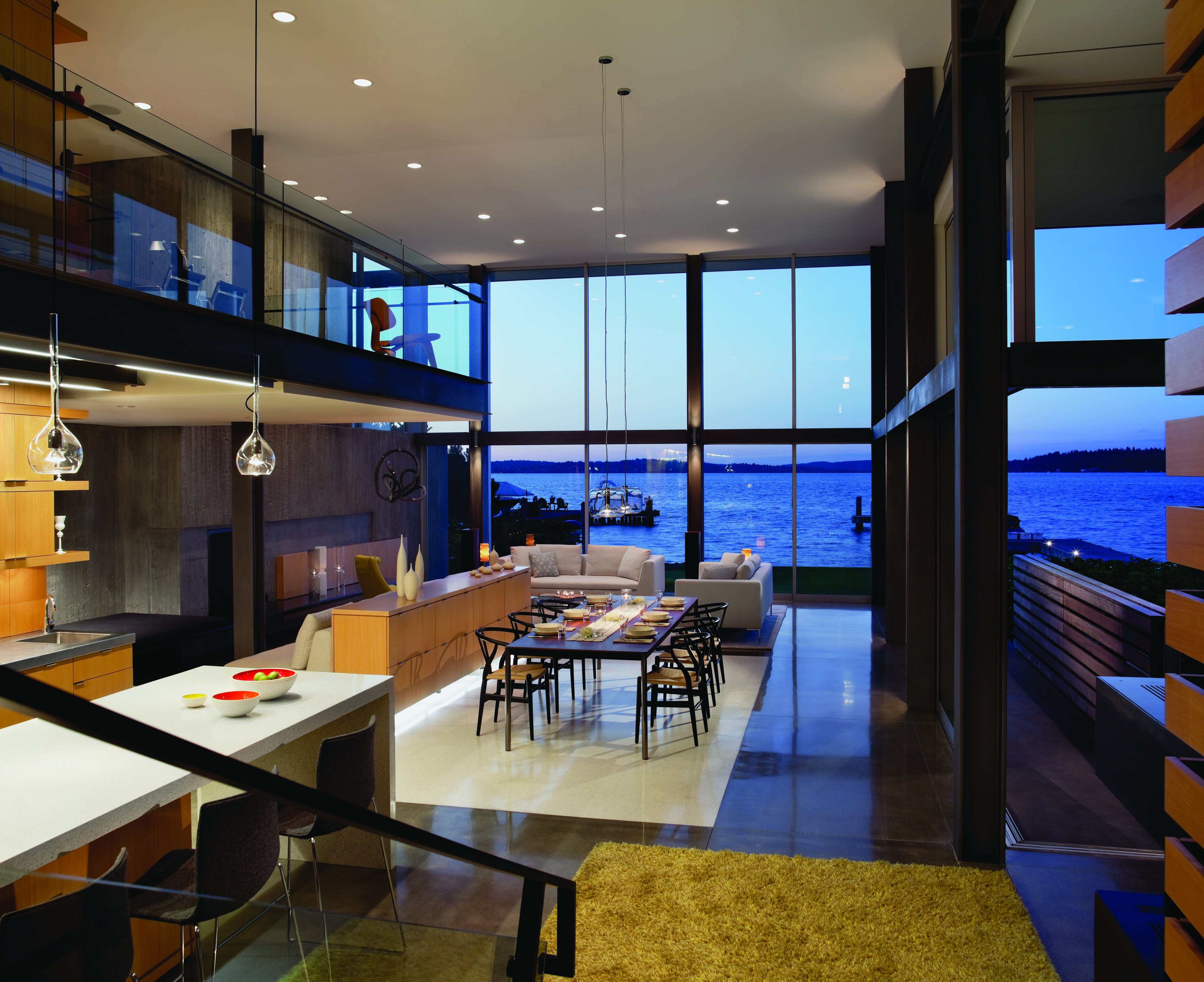 In all their work, the architect welcomes different users and contexts, but explains that the same open-minded design methods apply. This stunning steel, glass and concrete masterpiece shares similarities with a steel-framed prefab prototype E. Cobb Architects developed for a site at the base of a cliff on Lake Washington. "It's rugged off the charts and comes on a truck," says Cobb.
01 Dec

Ones to Watch: Eric Cobb

In every sense true works of art, architect Eric Cobb's structures shape and define space, create visual connections and function as habitable vessels of light. Part artist, part engineering fanatic and part alchemist, Cobb, founder and principal of E. Cobb Architects Inc. in Seattle, Washington, has an inspired and definitive vision of the work he does. "From a distance, it may simply appear as modern work, but in spending time in the spaces, you literally feel the integrity and honesty of the assemblies," he explains. "You can't separate the architecture from its function. You can't separate the structure from the architecture." The words have the quiet force of a mantra.

Cobb's Graham residence, completed in 2010 on Mercer Island, is, like all of his work, a precise reflection of his beliefs. Unbelievably well-developed in terms of its compo- sition depth, the waterfront home is fluid and drenched in natural light with very powerful spaces both inside and out. The process, for Cobb and his AIA-award-winning, eight-person firm, is both non-linear and "somewhat magical," the architect admits.

What starts with words and perhaps a couple of images from the client, and factors in everything from code requirements and seismic loads to ideas about form and space, necessarily finishes with precisely what the structure was meant to be. "It is what the project must be. … You can't strip the aesthetic away from the function and the truth of the project," he says, explaining that architecture is often mistakenly interpreted as cladding, or an outer layer of style.

Cobb is also quick to credit his team on every project. "Guiding, coordinating and blending ideas with reality is an artform in itself" says Cobb, "and I am fortunate to have an extraordinary team of project architects … Jacek Mrugala was the Graham Residence work horse."

In all of his projects, about 75 percent of which are residential, Cobb employs a small set of consultants early on, and urges everyone to cross disciplinary boundaries. The "brilliant" landscape architect, Bruce Hinckley, who worked on the Graham residence, for example, "had something to say about the interiors," says Cobb. As a result, the lines between indoors and out are more than blurred. "We really work hard to blow that distinction away completely," Cobb says.

Another part of the process that Cobb embraces is striving to develop inventive solutions. He cites revisions necessitated by budget. "It's never just a compromise," he offers. "New ideas and details come to mind. What can you be smarter about? The opportunity to revisit our design to reduce costs results in design improvement 99 percent of the time," he says.

Cobb's body of work manifests the architect's absolute commitment to authenticity, innovation and, not least of all, beauty.